Greenville has struck gold with a long-overdue new release from one of its own favorite sons. MAC MCCLOUD's deeply personal new solo effort, My Heart is Sinking is more than rocket science; it's the blues. It's Mac's first album since 2002, and he sounds better than ever. What we got here is six songs split evenly between solo acoustic numbers and those with a band comprised of a veritable who's who of veteran Southern musicians: Frank Wilkie (The Marshall Tucker Band) on bass, Tez Sherard (Edwin McCain, et al.) on drums, Kym MacKinnon (The Hipshakers) on guitars, and Ricky Godfrey (Garfeel Ruff) on piano.

The traditional "Frankie and Johnny  Boogie" opens the album, a jump blues number with a snug feel that immediately lets the listeners know that they have found the real thing. The astounding intertwining solos are, well, music to the ears. Next comes a McCloud solo rendition of Eric Bibb's "Don't Ever Let Nobody Drag Your Spirit Down", a wonderful showcase of Mac's command of for-real, heartfelt, close-up blues. The third cut is a McCloud original, a slow blues tune called "My Heart is Sinking", where the band demonstrates how the blues should be played. "Can't Stand the Pain"  the fourth track, is another acoustic cut in which McCloud displays his decades-long knowledge of the guitar. Another original  a fun rumba tune called "Henry the VIII" that again showcases the band, with Ricky Godfrey playing great piano under McCloud's scalding solo work. Kym MacKinnon caps off the tune with a blistering solo. The final song on the album is Charlie Rich's "Feel Like Going Home", an acoustic effort that effectively puts the listener in the mood to either bay at the moon or crawl under the bed, but in a sublime, melancholy way. Mac makes the tune sound like a McCloud original.
When we asked Mac what made him decide to release this album now, he answered, "I've learned a bunch of new stuff over the last year or year and a half, jump blues and some fun acoustic stuff. I thought I needed to put some of it together and release it. It's been too long." We're sure glad now is the time; this album has all the earmarks of one for the ages.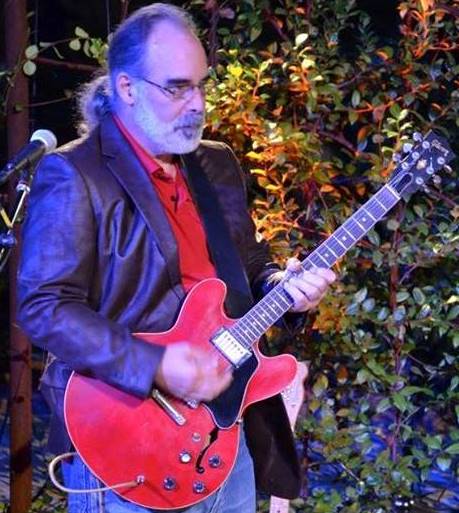 Mr. Gene's thoughts on Mac McCloud, from the liner notes of 2002's "Mac McCloud & The Hip Shakers:"
Blues music from the time of Robert Johnson through to Buddy Guy and on forward past Stevie Ray Vaughan has been all about putting the song over and doing so using real emotions, real life experiences and a whole lot of passion. Living in and around South Carolina also probably had a lot to do with it for Mac McCloud. The blues never went out of favor around here – from the hillbilly roadhouses to the soul-town juke joints, the blues has always been nearby for the Southern locals. Mac brings a spiritual intensity his music that springs from 20 years of hard-won blues education and his early experiences in Southern gospel. Yeah, he can play guitar behind his back or with his teeth and all that, but if you ask him he'll grin, shuffle his feet and say, "Uh, what I'm really into is this new song I'm workin' up and trying to steal some ideas from a Jimmy Smith CD I'm diggin.'" Just go see him live; you'll remember why the blues are one of America's greatest gifts.
My Heart Is Sinking is in-stock now on CD at Horizon Records, along with Mac McCloud & The Hip Shakers.