With his just-released full-length debut album, BLACK POWDER SOUL, the Greenville, South Carolina native TAYLOR MCCALL digs deep into the explosive potential of everyday life, exploring the highly reactive elements that make each of us tick. From good times to (more often) bad, he chips away at our everyday facade with an edgy and blues-soaked roots-rock hammer.
We're thrilled to bring that music to you with a short SOLO ACOUSTIC IN-STORE PERFORMANCE from Taylor on SATURDAY, NOV. 20th at 2pm right here at Horizon Records as a preview for TAYLOR'S FULL-BAND SHOW at the RADIO ROOM at 8 pm.
Get your Radio Room tickets HERE. Join the Horizon event HERE.
BLACK POWDER SOUL, out NOW on vinyl LP and CD, is the product of TAYLOR MCCALL's winding musical journey that began in earnest at age 7, when his parents first gifted him a guitar of his own. Equal parts
miraculous and tragic, the guitar was delivered at the very moment his childhood home in South Carolina — self built by his enigmatic father — burnt to the ground in a heartbreaking accident.
"The postman wasn't even going to come because of the fire, but figured someone needed to have this guitar." That same watershed year, his beloved grandfather passed away.  In the years following, Taylor dove head first into mastering the instrument, completely self taught. Throughout his life, the only thing that has rivaled his obsession with music is the pull Taylor feels toward the outdoors and fishing. During his days in the mountains and streams of South Carolina, Taylor learned to fly fish from his father and then found his own path. Similar to learning guitar on his own terms, Taylor started creating his own flies unlike the standard and conventional ones most anglers use. After high school, he needed a change of scenery, which led him out west and enrolling at Montana State University. After school, he bought a drift boat and was settled on becoming a fishing guide, but the pull toward music called him back. He sold his drift boat, packed up and moved back to South Carolina, renewing his dream of pursuing music full time and, eventually, leading to realization of Black Powder Soul.
Buy it on vinyl LP or CD HERE
In the years since, the South Carolina native and avid outdoorsman and fisherman has formed his own sense of unique musicianship incorporating self-taught styles that fit each song rather than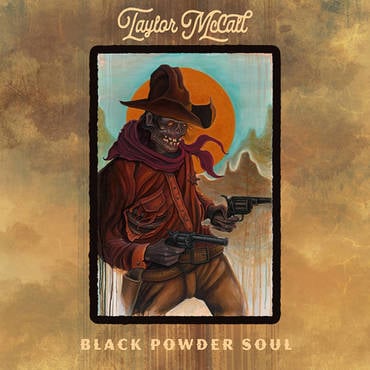 following conventional techniques. With Black Powder Soul's fourteen tracks, including a special prologue featuring the voice his late grandfather, McCall explores the balance of good and evil, destruction and healing and the importance of having faith in the darkest of times.
Reflecting on the album, McCall shares, "This, to me, felt like what I'd been dreaming about for years. Black Powder Soul is the circle of life: you're dropped off here, by the old ship of Zion, and everything in between is life itself, from good to bad. The things that clutter up the pure soul are all in here. We all have a black powder soul that can explode, but there is redemption in all of us too."
"With spooky percussion and a vocal rumble reminiscent of Johnny Cash's version of "God's Gonna Cut You Down," Taylor McCall's "Highway Will" is a brooding, at times menacing, introduction to the South Carolina songwriter. "If the Devil don't kill me, then the highway will," he sings in the slow-burning ballad about the dangers of the rambling life." – Rolling Stone