Horizon is all about boundary-stretching, beautifully weird music, and there are three new albums out by three artists whose work scratches our experimental itch. And the work of our friend WILLIAM TYLER, MARY LATTIMORE and NORTH AMERICANS (aka Patrick McDermott) intersects and intertwines like musical DNA strands; where you find one of these brilliant players, you'll often find one or both of the others.
THE ALBUMS: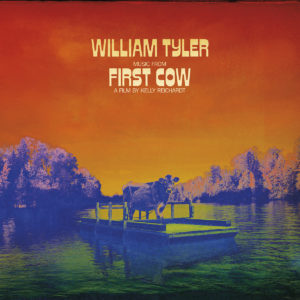 WILLIAM TYLER & KELLY REICHARDT, Music From First Cow (LP) Buy it HERE.
American history has historically been painted on a large canvas. By purposeful contrast, KELLY REICHARDT'S FIRST COW is very small, a frontier story you can hold in your hand—Reichardt renders her version of America's emergence as the gentle intimacy between two men, a purposeful pushback against the grand narratives of our past. Reichardt occupies a unique position within American independent cinema; she's a known name who regularly works with familiar faces, but the compass that orients her vision remains experimental.
WILLIAM TYLER similarly sits at the crossroads of accessible and avant-garde — he's the son of the couple who wrote country standards for legends like The Oak Ridge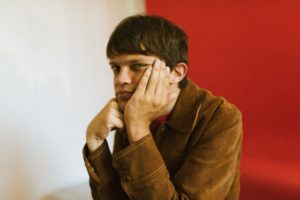 Boys, but his instrumental Americana work approaches post-country. There's an expansiveness to Tyler's music that owes as much to ambient music as it does to John Fahey. Merge Records has released Tyler's score for the film, along with snatches of dialogue, as MUSIC FROM FIRST COW. Reichardt applies a tiny lens to an overwhelming subject, so it's only fitting that Tyler reduces the scope of his work in turn. His score is only one small part of the movie's audio track, a subtle human presence within Reichardt's typically rich palette of natural sounds.
Each cue builds on repeated themes, which Tyler introduces by way of lone electric guitar on "An Opening." The film begins in the present day, but as a single cut takes us back over a century, Tyler's signature instrument is swaddled with era-appropriate accompaniment, as a familiar tune is translated across varied timbres: toy piano on "Cookie's Theme," mandolins and banjos on "Arrival" and "A Clearing in the Field." Emptiness and absence are key players; on "The Separation," he lets the notes hang, the harsh slide of a guitar and faint piano keys suggesting the distance between human beings in this unknown landscape. The only time he is surrounded by a full ensemble is on "A Closing," as our two drifters have been subsumed by a rigid world of capitalist civilization.
Tyler and Reichardt are both artists who flirt with pop structure while remaining committed to a more experimental ethos. But they are more than stylistic kindred; each uses their work to push back against the coming reality First Cow gently warns of. The problem with being an artist on the avant-garde frontier is that frontiers exist to be closed—through their union, William Tyler and Kelly Reichardt express a continued commitment to a harmonious existence between humanity and the landscape it inhabits.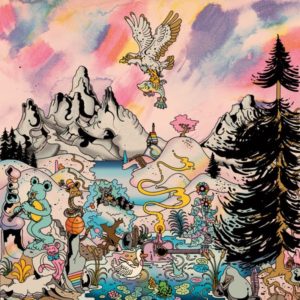 NORTH AMERICANS, Roped In (LP) Buy it HERE.
Patrick McDermott began his North Americans project with two albums: 2013's NoNo, and 2015's Legends. Both records were dense affairs, with blocks of sound shifting and moving like melting glaciers to create a gorgeous, impenetrable, collection of digital drones. Though they sounded nothing like what would come a bit later, both records showcased McDermott's understanding of mood and composition. On 2018's Going Steady, McDermott blended his love of American Primitive guitar playing  with playful pieces that never overstayed their welcome. Now, two years later, McDermott has released Roped In, a gorgeous, intimate, and often spare album that pulls back from the collaborative nature established on Going Steady for a collection of fragile drone pieces anchored by McDermott's intricate but direct guitar playing and haunting pedal steelwork from Portland, Oregon's Barry Walker.
McDermott began work on Roped In as he was finishing up Going Steady. In his spare time throughout the day, he'd record short instrumental passages in his voice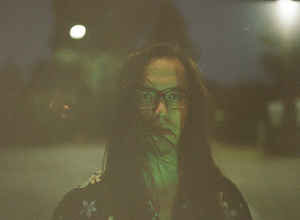 notes app. There was no specific goal or intention at the start, but soon a new album began to take shape. "Every time I picked up the guitar, I'd play something that made sense for what I was doing," McDermott says. "I had like 40 demos and literally in one night I went into the studio with my guitar and I recorded all of the pieces," McDermott says. "I selected 15 of those and sent them to Barry." The original plan was for McDermott to travel from Los Angeles to Portland to work directly with Walker, but work got in the way, so the pair sent demos back and forth over email, with McDermott laying down a guitar loop, and Walker adding ghostly strains of pedal steel over the top. "[The guitar tracks] were little coherent packages," Walker says of his working relationship with McDermott. "All of these different ideas bubbled up out of listening to these things—this texture and these little nuances that we were able to explore."
Where Going Steady was brimming with ideas and micromovements, Roped In is relatively sparse, built on patience and the kind of once-in-a-lifetime collaborative energy between McDermott and Walker, and accented by occasional collaborations from harpist Mary Lattimore and guitarist William Tyler. "I wanted to focus on the simplicity of the music," McDermott says. "I didn't want to be beholden to this massive goal of [making music] to see how progressive and experimental it could be. I was attempting to cherish the pureness of this type of music."
Across the album's nine tracks, McDermott and Walker use that simplicity and the directness of communicating emotions through music as both a jumping off point and a parameter. "Greetings From a Distant Friend" initially seems like a foray into dusty western atmospherics—think an abandoned border town with a lone vulture circling overhead—but gradually opens up into an unsettling, crystalline drone that warps textures and moods so that its desolation feels less uncomfortable than it does weirdly compelling. Meanwhile, on "Furniture in the Valley," McDermott's restraint is on display, as his guitar fades behind dubby twinkling harp from Mary Lattimore, creating a solid counterpoint for the overwhelming fragility of the track, which is filled with so much subtle detail it's worth putting on repeat for an entire afternoon. Elsewhere, on "Rivers That You Cannot See" McDermott's soft strumming forms a hypnotic bed for Walker's fragile pedal steel work, which arcs over the top of the track repeatedly before quietly trailing off. The song is something of a thesis statement for all of Roped In, it's deceptively uncomplicated, but easy to get lost in—not so much a product of McDermott's interaction with the natural world around him, as it is a product of the ups and downs of life itself. Like much of Roped In, it's about the clarity that can come from quiet moments, and how those moments are worth sticking with for as long as we possibly can.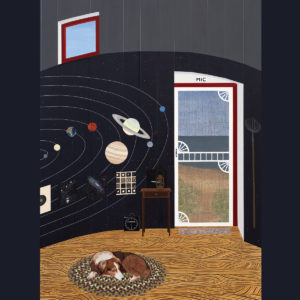 MARY LATTIMORE, Silver Ladders (LP/CD) Buy it HERE.
Recorded over nine days at Halstead's studio stationed on an old airfield, Silver Ladders finds Lattimore exercising command and restraint. Her signature style is refined, the sprawling layers of harp reigned in and accented by flourishes of low-end synth and Neil Halstead of Slowdive's guitar. The music can feel ominous but not by compromising vivid wonder, like oceanic overtones that shift with the tides. This material is colored by specific memories for Lattimore; "Neil has this poster of a surfer in his studio and I'd look at it each day, looking at the sunlight glinting on the dark wave. In these songs I like the contrast between the dark lows and the glittering highs. The gloom and the glimmer, the opposites, a lively surfing town in the winter turned kinda rainy and empty and quiet."
Lattimore's song titles often evoke fragments of things heard or misheard. In an anecdote from Lattimore, "I chose 'Chop on the Climbout' as a title because a pilot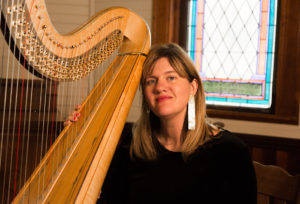 once said, 'Folks, there's going to be some light chop on the climb out' and I thought the language had an insider mystery that was compelling. The song reminds me of plane traveling." Listeners can feel the drama of aeronautics; the thrust of liftoff, the rumble of overhead luggage as the craft ascends into the belly of cloud cover. Passengers yearning to traverse wide distances in brief moments. The hum steadies into a mesmerizing drone, a synth on top of which Lattimore and Halstead take turns exchanging chiming leads smeared with static-laden air pressure.
These songs are clearly tales, and yet Silver Ladders is open to interpretation. Her memories — "the Cornish landscape, the hotel from the movie The Witches, the cream tea, winning the pub quiz, the Sunday Roast, the ghosts of all of the surfers who had died in the wild waves, the night walks to the top of the hill to see the moon shining on the water…" — shine through these works without defining them. In a way, much like the sea, or the sky, they belong to everyone. Such is the beauty of her craft, which stands here in unprecedented company and clarity, the confidence of an artist in full.
Music From First Cow,  Roped In and Silver Ladders are all in-stock now at Horizon Records and in our webstore.