The City of Greenville recently announced something big: The first-ever GREENVILLE JAZZ FEST this SATURDAY, JUNE 3rd in downtown Greenville on Main Street from Broad Street to Falls Park Drive, featuring performances from the Grammy Award-winning Rebirth Brass Band and Jonathan Scales Fourchestra. There will be additional performances from The Tish Oney Jazz Orchestra featuring the Greenville Jazz Collective Big Band, Iliana Rose Cuban Jazz Band and The Wheel All Stars.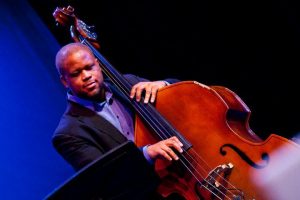 But that's not all. Horizon Records and The Bohemian Cafe are thrilled to be a part of the inaugural Greenville Jazz Fest, with a 2pm Saturday rain-or-shine storeside performance by THE SHANNON HOOVER TRIO featuring SHANNON HOOVER on bass, PETER DIMERY on sax and JUSTIN WATT on drums. We're stoked that these regional jazz warriors will be presenting "Chasing The Giants," a set loosely based around some blazing performances from Coltrane, Rollins, Monk and other classic jazz giants, and maybe some originals, too!
Then at 3-ish next door in THE BOHEMIAN CAFE, the trio of  TYLER RAMSEY, JAKE WOLF & JAY HOOTS. Tyler says, "20 years ago I had a trio and we played original music influenced by a lifetime appreciation for jazz and improvisational music. At some point (20 years ago) I shifted completely into songwriting and played in a bunch of bands that were far from jazz. This show is an attempt to put some of these things together and just play music!" We dig both flavors of Tyler, so this is a treat to see him jam out again kinda, sorta like the good ole days.
Join the Facebook event HERE.
It's all happening in downtown Greenville and at Horizon and The Bohemian Cafe, and it's all free! Time to get your jazz on!
BY THE WAY… We have just announced our BIG JAZZ SALE for Saturday. One day only and all jazz LPS and CDs will be marked down; 20% off used and 10% off new. Swingin baby!