The breezy jangle of "Get Away," the opening track off Belle Adair's striking new album, Tuscumbia, might not be the first thing you'd expect to hear from an Alabama band named after a John Steinbeck reference. Combining mellow, atmospheric rock and swirling, retro power-pop, it's more Big Star than Swampers, but it's an ideal gateway into the blissed-out world of Belle Adair, a group that manages to make even worry and isolation sound inviting. Recorded at Muscle Shoals' legendary FAME Studios with Wilco producer/engineer Tom Schick, Tuscumbia calls to mind everything from The Byrds to Teenage Fanclub as frontman Matthew Green's meditative lyrics navigate a slew of major life changes, contemplate the meaning of home, and grapple with the realities of life on the road.
While it's been nearly five years since Belle Adair released their innovative, adventurous debut album, The Brave and the Blue, it's hardly been a quiet time for the group.
"First I got invited to join Dylan LeBlanc's band," says Green, "so I quit my day job and went on the road with him. When I got home, Belle Adair was asked to back 'Alabama's Leaning Man,' Donnie Fritts. He's a Muscle Shoals legend, so that was a huge honor for us. And then I heard that [The Civil Wars'] John Paul White was going on tour and that he wanted Belle Adair as his band, so I went right back out on the road with the guys for another year-and-a-half straight after that."
It's little wonder that a group as dynamic and versatile as Belle Adair is as much of a hit with fellow songwriters as they are with critics. NPR praised the band's "dreamy sound," while SPIN said their music "glows with a deep, dusky aura," and Uncut compared them to "Wilco, when the roots were still showing, with flashes of The Byrds and a note of country sadness." Despite the group's hectic schedule performing with others, they still managed to find time for gigs of their own, including opening slots with The Alabama Shakes (Belle Adair's touring keyboardist, Ben Tanner, also tours and records with that group), festival performances from SXSW to CMJ, and multiple appearances at the annual Billy Reid Shindig, not to mention three stops right here at Horizon records!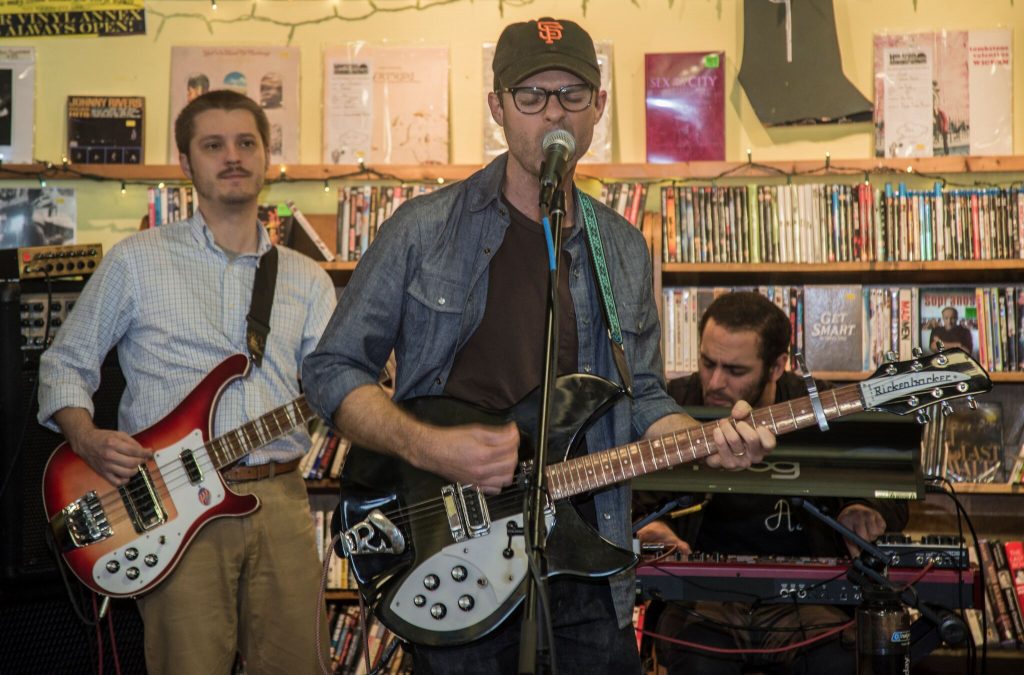 Belle Adair has always been a group that prides itself on the strength and magnetism of its live performances, and Tuscumbia is no exception. The band recorded everything live as a group over the course of a week, soaking up the vibes in FAME as they laid down tracks in the same studio where Aretha Franklin cut "I Never Loved A Man" and Wilson Pickett sang "Mustang Sally."
"The difference between the last record and this one is the difference between having a band and being in a band," Green explains. "On the last record, I was just sitting there with my acoustic guitar and not even thinking about how the songs might be recorded, but this time I was really able to write to the strengths of the other guys."
Titled after the Alabama town where Green lived while he wrote much of the album, Tuscumbia is rich with multi-part harmonies and chiming guitars, offering hints at times of southern California country and even vintage Britpop. Equal parts exuberant and introspective, the songs coast on lighter-than-air melodies, but Green has never been one to shy away from the weighty task of critical self-examination. On "Long Fade Out," he concludes that "love is such a lonely notion," while "See It Through" finds him putting in the work to overcome his own perceived shortcomings, and "Neptune City" conjures up visions of a seaside town shuttered for the winter as Green asks, "How was I supposed to let you in?"
"The album asks a lot of questions without really attempting to answer them," explains Green. "That was a conscious decision. I met my future wife in Tuscumbia and I was preparing to get married when I wrote these songs, so I think I was working through the fear and anxiety and, God forbid, happiness, that came with it," he laughs. "Posing these questions was my way of processing all the changes I was going through."
Elsewhere on the record, Green wrestles with the disconnect of being so far from home and living perpetually in transit. "Try as you might to see / What you need in me / I'm the absentee," he confesses on "The Absentee," while the driving "Phantom Beach" finds him trying to reach out across the distance before he disappears entirely, and "Pushing the Stone" envisions touring as an endless, Sisyphean journey that begins again as soon as it ends.
"It always takes time when you get back home to feel normal," says Green, "but as soon as you feel normal, it's time to leave again. It can be hard to feel balanced because you can't always just hop right back into life, and these songs deal with trying to navigate through that with someone else and be honest about the process."
Honesty is at the heart of everything Belle Adair does, and Tuscumbia is no exception. Both grand and intimate, far-reaching and deeply personal, the album marks a massive leap forward, a definitive declaration of identity from a band that's ready to step to the front of the stage and buck tradition in search of their own personal truths. It's the sound of new chapters, of late night calls home, of coming back to the place where it all began. It's the modern sound of Tuscumbia.
"We're not necessarily a band you might associate with Alabama just by listening to our music," says Green, "but the one thing that I've always taken away from the older generation of studio musicians around here is that you can be from a place like Muscle Shoals and you can do your own thing on your own terms. They proved that, with the right alchemy and the right group of people, you can do anything."