Horizon Records "an adventure for your ears" in Greenville, SC clocks 40.
In a retail world of disappearing independents and Mom & Pop's under the crush of online competition and music stores thriving in some places and cases whilst iconic stores are closing in many others from the onslaught of escalating real estate values, Horizon Records celebrates 40 years against these odds in a southern, non-college, non-touring oriented, non-hipster secondary market.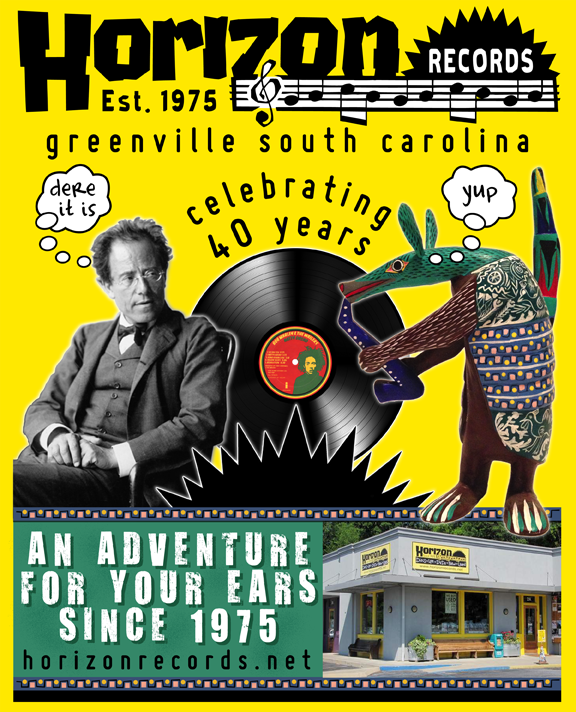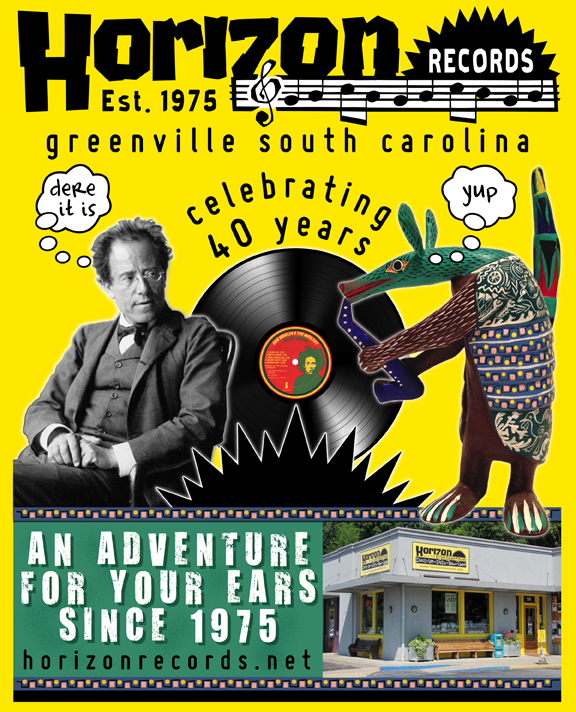 This has happened along a rocky road starting in 1975 through LPs, 8Tracks, Cassettes, video games and now all things vinyl again. This has happened in the recent decade through the Great Recession, and the tsunami of digital delivery, streaming, downloads, YouTube and the like. Greenville is a great town, with an award winning downtown revival going on, but this isn't Austin, Brooklyn, Nashville nor Asheville, Portland or Seattle.
Horizon Records belongs to neither of the predominant music store coalitions, sells no swag, stickers and such. Horizon does have a Classical room, as well as deep Hip Hop, jazz and Bluegrass to go along with Rock, Blues, RnB etc; it's all housed in a converted gas station that Horizon owns and shares with a Café on the corner of N. Main and Stone Ave. Sales are up 20% year to date, and June just finished at 30% over June last year.
Yet happily, most days owner Gene Berger and dedicated staff of 7 or 8 simply walk through the same stuff; helping people find what they're looking for, or assisting them in discovering something they didn't know about, all the while taking in sorting, purchasing mountains of incoming boxes, tubs, bags of CDs, LPs, tapes.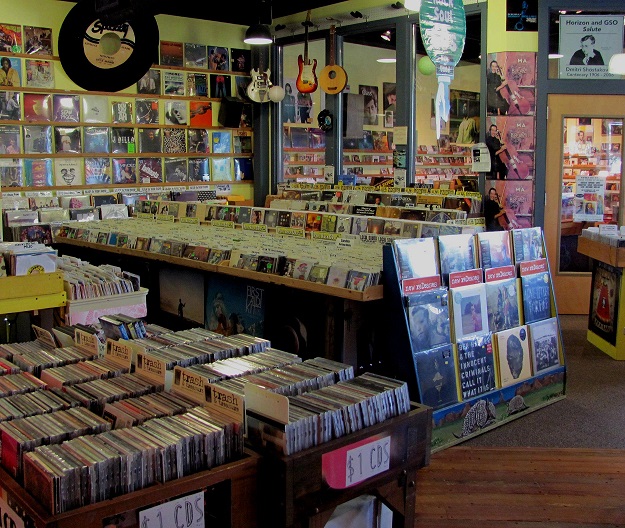 Then cleaning these up, pricing and setting them out in the lovingly curated sprawling bins of Horizon Records. Regulars and amazed out of towners and first timers wander, browse and shop in a sea of sonic smorgasbord and visual eye candy and memorabilia that has gathered over 40 years.
A few random Horizon Records highlights of past 2 years and a couple upcoming goodies, from in-stores to special releases to the madness of Record Store Day.
– This past Record Store Day April 2016, Pearl Jam members shopped at Horizon Records then Eddie Vedder gave a gushy shout out to 17,000 attending the nearby sold-out arena concert. PJ guitarist Mike McCready even came by to load up on some RSD goodies!
– Friday, the evening before same Record Store Day Rosanne Cash surprise announces from the stage (twice!) to a full house at local performing arts center that she's stopping by Horizon Records in the morning and will be signing; she does so for an hour and a half while we play Muddy Waters and also spin a preview copy promo CD of her husband John Leventhal's latest project, the new William Bell album.
Record Store Day 2015 Jason Isbell graces Horizon Records with his 3rd in-store to a gargantuan crowd as Horizon Records hits a 4 decade sales record for a single day.
February this year Horizon relaunches a new updated mobile friendly website full of good stuff. First upgrade since 2008. New site getting between 20 -30,000 unique visitors per month. There's no shopping cart on the site, just a lot about who we are, what we are into, what's new or what's happening in our neighborhood.
Through the magic of serendipity and the connectivity of 6 degrees of non-separation a wonderful new mural is installed on the property this May. The art work features larger than life portrait tributes to legendary late folk blues singer, guitarist, civil rights activist and Greenville native Josh White (1914-1969) and also beloved former Horizon staffer, musician, Ukulele luthier, garage-rocker0 and best pal to Gene Berger, Russ Morin (1962-2015) also Greenville native.
April 2015 Southern Living names Horizon Records one of the Top 5 record stores in the south.
July 2015 The Bohemian Café, Horizon's Siamese twin collaborator is refreshed through new ownership as Kevin and Jennifer Lucas take over the popular restaurant pub and the amazing catch of the day, creative deserts and more begin to immediately reenergize this popular spot in the open air shared other half of Horizon Records building.
Coming up August 20, more serendipity and 6 degrees magic happens as Avett brother manager and label owner Dolph Ramseur of Ramseur Records joins forces with Horizon Records to roll out the national release event for the re-issue of a 1956 Josh White record Josh at Midnight. Greenville Mayor will be declaring this to be Josh White Day.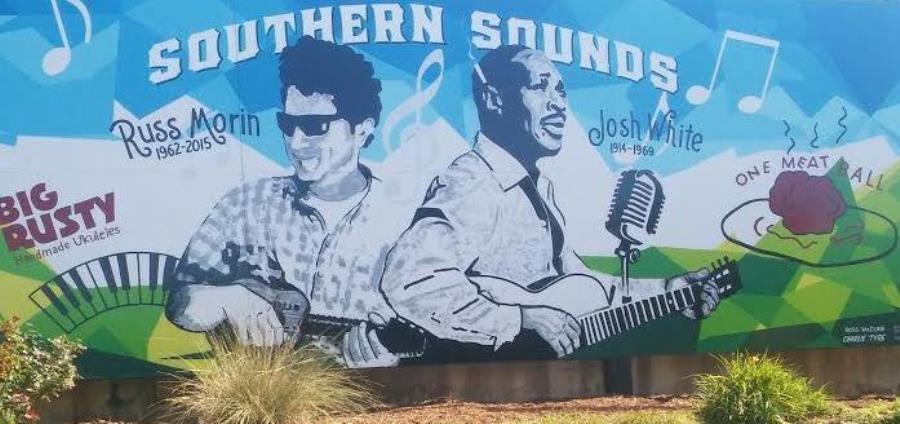 What the Artists and Labels are saying
Or simply contact Gene Berger, owner, at 864-235-7922 or gene@horizonrecords.net
"It doesn't pay to trade your singular-ness for scale," – Seth Godin