At their full-strength, the Kansas Bible Company sports three guitarists, two drummers and a five-piece horn section, and even if they aren't that supersized when they take the stage at The Bohemian Cafe on Saturday, Oct. 15th at 3:30 p.m.,their stripped-down mode is seven pieces.
The KBC will drop by the day after their psychedelic blues-rock-funk R&B horn-loaded jam at FALL FOR GREENVILLE on the Michelin West End Stage. Check that event info HERE.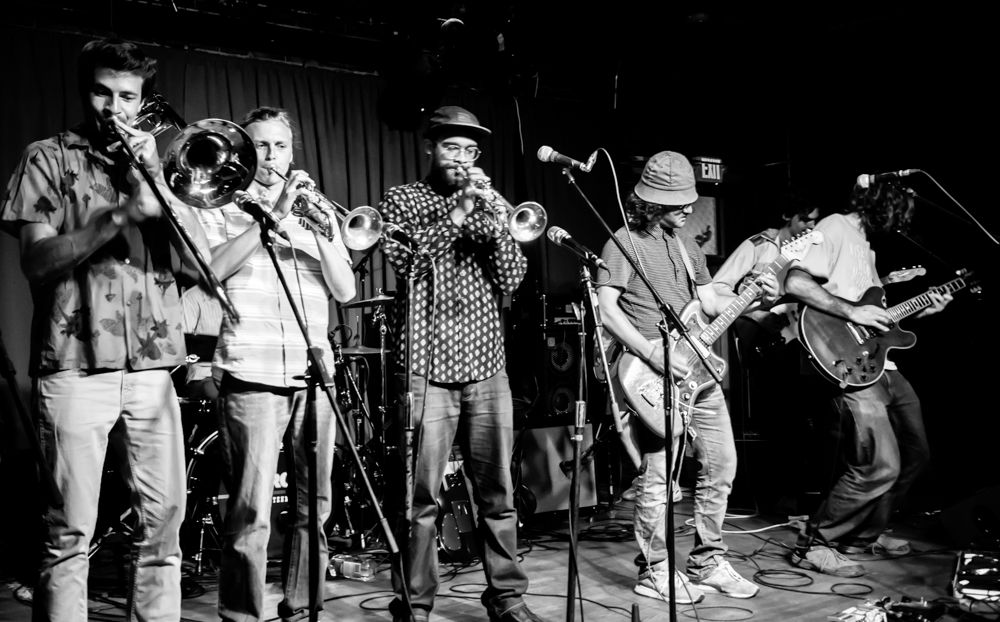 Despite that heft, Kansas Bible Company is one of the most nimble, light-footed ensembles around. Their vocal harmonies are infectiously tight but airy, their songs are drenched in both pop melodies and progressive exploration, and their songwriting is a lot closer to a classic four-piece pop-rock combo than a blaring R&B dance-band or skank-happy ska group.
The KBC came into being at Goshen College in Northern Indiana during the dog days of summer 2008. Through the years more college friends joined the band until it became the 11 man wrecking ball it is today. In the fall of 2011, the group moved into a evicted crack house in East Nashville, TN. After a month of scrubbing and painting the walls and floors, the KBC, along with two friends, established their current home, Hotel Chicamauga. Featuring a four-man horn line, three guitars, two percussionists, one piano and one bass, the KBC play music influenced by surf, soul, prog, hip-hop, classical, pep band and good old rock and roll. Stretching the boundaries of space and time. They are on a journey – to the stars through rugged ways.
Check out the KBC's new album Paper Moon and their tasty previous full-length, Hotel Chicamauga, in-stock now on CD & LP!