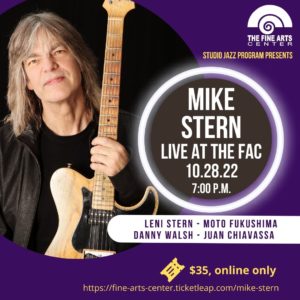 Join the FINE ARTS CENTER for an unforgettable evening of music with guitar legend MIKE STERN and his band.
Get your tickets HERE.
One of the great jazz guitarists of his generation, Mike Stern has the unique ability to play with the finesse and lyricism of Jim Hall, the driving swing of Wes Montgomery and the turbulent, overdriven attack of Jimi Hendrix.
A player of remarkable facility whose searing lines are informed mainly by bebop and the blues while also carrying a rock-tinged intensity, Stern made his mark with Miles Davis in the early '80s before launching his solo career in 1985. Since then he has released 18 recordings as a leader, six of which were nominated for GRAMMY® Awards. Stern was presented with Guitar Player magazine's Certified Legend Award on January 21, 2012.
Performing with Mike will an all-star group comprised of his wife, Leni, on guitar; Moto Fukushima (from House Of Waters) on bass; Danny Walsh on Saxophone; and Juan Chiavassa on drums.