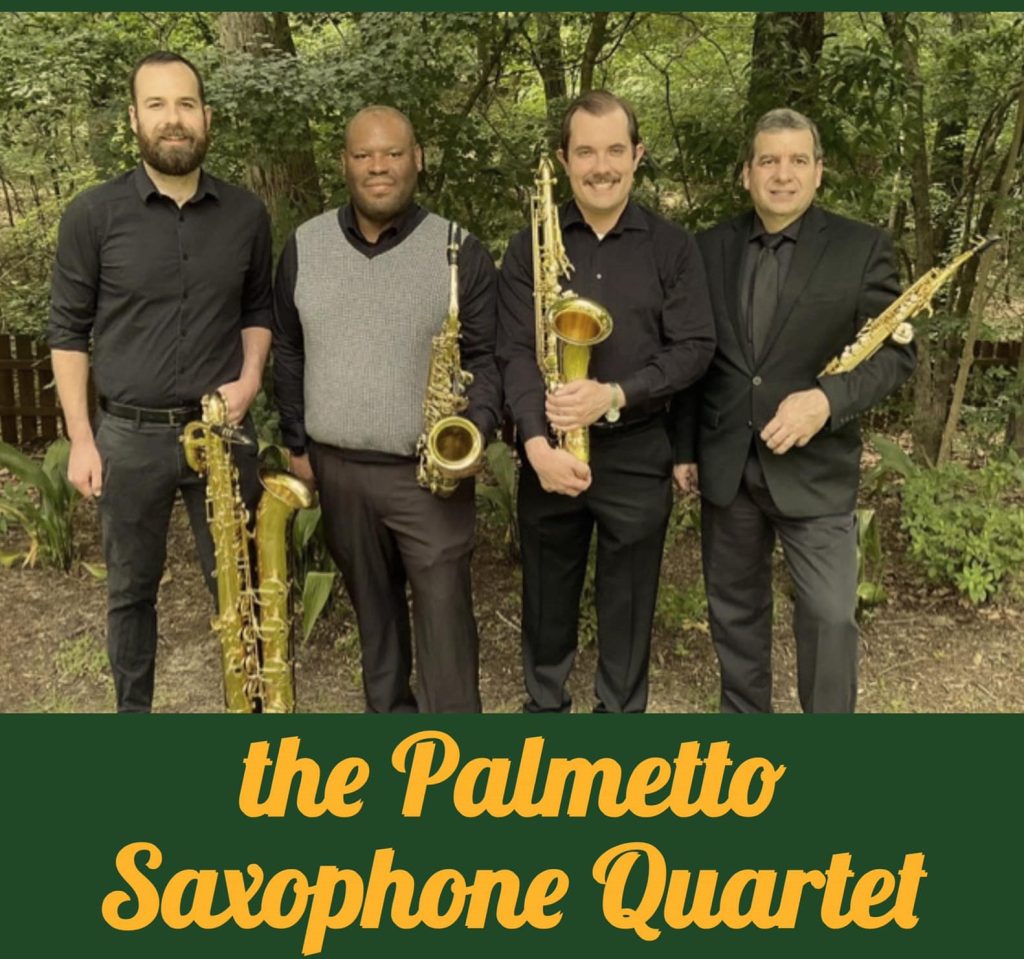 A magical evening of jazz music is coming to the SIGAL MUSIC MUSEUM (516 Buncombe St.) on THURSDAY, OCT. 19th. Join THE PALMETTO SAXOPHONE QUARTET for an evening of dynamic, challenging music that is ultimately pure jazz.
Tickets are $20. Get yours HERE.
THE BAND
The Palmetto Saxophone Quartet is a dynamic ensemble dedicated to exploring new repertoire and delivering unique and profound performances of classic and forgotten scores. As teaching-artists, they are also passionate about nurturing the next generation of saxophonists and chamber musicians through clinics and masterclasses. Formed in the summer of 2019, the ensemble consists of American saxophone virtuoso Clifford Leaman and former students who are now formidable and world-renowned artists in their own right: Andrew J. Allen, Sheldon Johnson, and Matthew Castner.
Clifford Leaman is in great demand as a soloist and clinician and has performed and taught throughout the United States, Canada, Italy, Spain, France, Slovenia, Croatia, Sweden, Australia, Thailand, Taiwan, and China. Leaman has performed as a concerto soloist with numerous Wind Ensembles and Orchestras and has recorded concerti by Brant, Bassett, and Dahl. He has given masterclasses at the North American Saxophone Alliance Biennial Conference, the International Navy Band Symposium the World Saxophone Congress and the Asian Saxophone Congress.
As an active soloist, Dr. Sheldon Johnson has presented performances at the North American Saxophone Alliance's Biennial Conference, the College Music Society's Regional Conference, as soloist with the Bowling Green State University Philharmonia, the Roanoke Youth Symphony Orchestra, and in many other public recitals and concerts. As a chamber musician, Dr. Johnson is currently the alto chair in the Palmetto Saxophone Quartet and has performed as part of the St. Olavfestdagene in Trondheim, Norway, the United States Navy Band's International Saxophone Symposium, the Treetops Chamber Music Society's concert series, the University of South Carolina's Southern Exposure concert series, and as part of a film project with artist Matthew Barney.
Andrew J. Allen has been lauded as "a master of all sizes of saxophone," by The Instrumentalist, while The Saxophonist has hailed his "virtuosic saxophone performance," and The Saxophone Symposium has cited his "complete control of the instrument."  As a concerto soloist, Allen has appeared with the Wichita Falls Symphony Orchestra, along with numerous academic ensembles, and he has performed throughout the United States, Canada, Great Britain, France, and Croatia as a soloist and chamber musician. He has premiered more than two dozen works from such composers as François Rossé, Robert Lemay, Fang Man, Jesse Jones, Greg Simon, and Jay Batzner.
Joseph S. Lyons is a saxophonist and artistic designer based in Columbia, SC. Lyons is currently pursuing a DMA in Saxophone Performance at the University of South Carolina, where he researches experimental applications of modular synthesizers as independent instruments in saxophone chamber music. From 2014-2017 he was a member of the Bluecoats Drum & Bugle Corps, and in 2023 he was the featured soloist in the Bluecoats' SoundSport ensemble, Rhythm IN BLUE.
Don't miss out on this rare meeting of true masters of the saxophone.