A small ensemble comprised of the North Carolina Baroque Chamber Players David Wilson (violin), Francis Blaker (recorder), Barbara Krumdieck (cello) and Barbara Weiss (harpsichord) will be playing a free preview in-store show at Horizon Records on Friday, March 23rd at 7pm. Included in the program will be two movements of Bach Trio Sonata BWV 529, the "Anunciation" movement of Biber's "Rosary Sonatas," and possibly another surprise or two. There will be seating as Horizon sets up its intimate and very informal house-concert-style space (aka the Horizon Recital Hall).
Notes from David Wilson on the program:
"J.S. Bach wrote six pieces for solo organ which he called "Organ Trios." These actually are typical baroque trio sonatas, for two melodic instruments (in this case, recorder and violin) and a bass line. Bach, a virtuoso organist, probably thought to himself, "You know, I could do all that by myself at the organ." This performance takes Bach's music and puts it back in a more traditional baroque instrumentation; yes, it takes four of us to do what Bach did all by himself! The three parts interact and "converse" with each other in a delightful way.
Heinrich Biber's sonata called "The Annunciation" is the first in a set of pieces based on the Mysteries of the Rosary, which are 15 events which form the basis of a traditional meditation in the Catholic church. Biber musically describes the appearance of the Archangel Gabriel to Mary in a thunder of wings and power. We hear the two converse as the angel delivers his news, we hear Mary's musings on what this will mean for her, and at the end we hear the angel's departure.
Johann Schmelzer was a violinist and a contemporary of Biber's; the glorious Ciaccona, originally for violin, is the final movement of a larger piece, and is a set of variations over a repeating bass line. The mood is by turns hauntingly beautiful and brilliantly virtuosic. This transcription for recorder is by Frances Blaker.
Arcangelo Corelli, another violinist/composer, concluded his second volume of trio sonatas with an upbeat and lovely Ciaccona. The single-movement piece starts with a warm and rich opening section, which gives way to a delightful and cheerful faster section."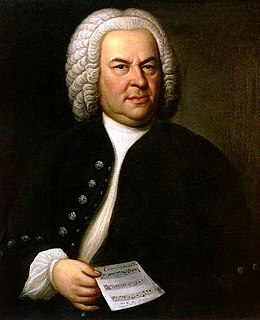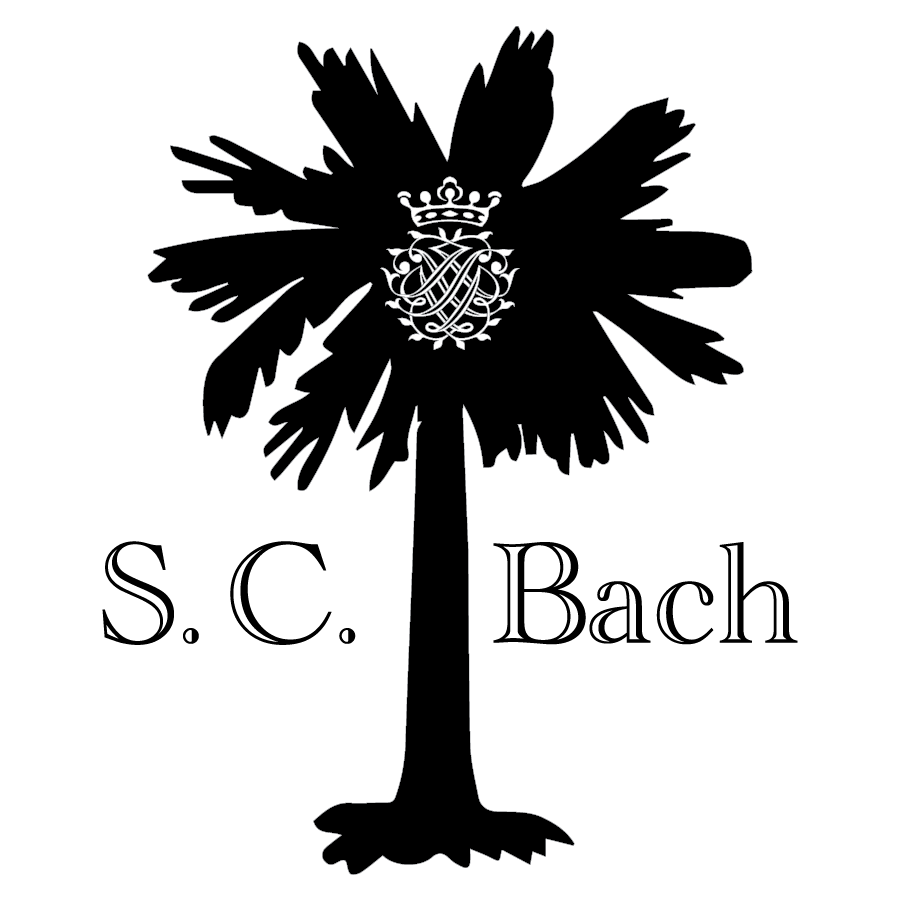 LEARN MORE here: Click SCBACH.ORG 
We are so pleased and honored to offer this unique concert here in support of SC Bach with their instrumental collaborators The North Carolina Baroque Orchestra.  Join us  for a rare opportunity to take in music by J S Bach and his Baroque contemporaries while sitting in a record store next to a Café; kinda somewhat like Bach's penchant for composing for and playing at Zimmerman's Café in Leipzig in the 1720's where the Brandenburg Concertos had their early life. Besides a couple of movements from Bach's remarkable Trio piece, we will also be treated to an excerpt from Biber's brilliant and visionary Rosary Sonata, and perhaps some tastes of music by Corelli and Schmelzer. The North Carolina Baroque Chamber players will be performing on various combinations of Violin, Cello, Recorder and Harpsichord. Talk about old school!! Join us, it's Free. Read More about the full SC Bach concert  directed by David Rhyne Saturday and Sunday below.

SC BACH BRINGS GLORIOUS FULL CONCERTS…
featuring choral masterpieces in collaboration with baroque beauty from the North Carolina Baroque Orchestra!
Saturday March 24, 7 pm.: Full performance at Wofford College with the North Carolina Baroque Orchestra and the South Carolina Bach Choir and soloists.
Sunday March 25, 3:30 pm: Full performance at Christ Church Episcopal with the North Carolina Baroque Orchestra and the South Carolina Bach Choir and soloists.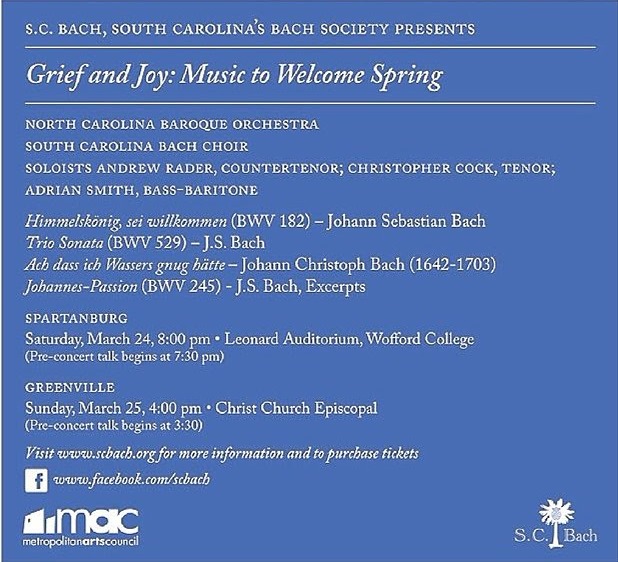 but WAIT…There's More Good News!
Coming Sunday, March 18th, PAN HARMONIA brings both JS Bach and Chevalier de Saint-Georges, aka "The Black Mozart" to the Greenville Center for the Creative Arts!
Transcendent arias by the Baroque Master
String works by the first classical composer of African ancestry featuring:
Brittnee Siemon, mezzo-soprano • Kate Steinbeck, flute • Rosalind Buda, bassoon
Mariya Potapova and Karen Pommerich, violins • Anastasia Yarbrough, viola
Sunday, March 18, 3 PM • Greenville Center for Creative Arts BUY TICKETS