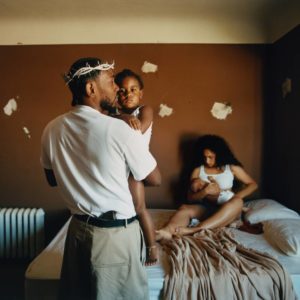 Woo-hoo! KENDRICK LAMAR's new album is FINALLY available on vinyl! Click HERE to get your copy!
"I've been going through something."
These are the first words that KENDRICK LAMAR speaks on his new album MR. MORALE & THE BIG STEPPERS and if the 19 songs that follow over the next 72 minutes are any indication, it's quite an understatement. In the five years since he last released a proper album, 2017's best-rapper-alive declaration "Damn," Lamar became the first hip-hop artist to win the Pulitzer Prize, earned an Oscar nomination, launched a media company, performed at the Super Bowl, and announced his departure from TDE, the tight-knit label that has been his home and a key part of his identity since the very beginning.
But "Mr. Morale" — along with the new, non-album single "The Heart Part 5" — is almost entirely concerned with the long periods that Lamar spent out of the spotlight in between. He's been going through quite a few things since we last heard from him, and he's never been more willing to share them all.
The album contains moments of sublime beauty and frustrating tediousness. Unsparing excavations of ongoing racial trauma and creeping social rot coexist with sour hectoring that can sometimes make Lamar seem older than his 34 years. The music moves in fits and starts, full of head-fakes and sudden cascades into chasms of silence, and there's little here that screams out for obvious radio play. Its production – from a who's-who of past Lamar collaborators, including the Digi+Phonics team, Pharrell Williams and DJ Dahi – often seems engineered to discourage absent-minded head-bobbing.
In short, this album will likely frustrate anyone who dialed it up on Spotify in search of another "Humble" or "Money Trees," and that's very much by design. More interestingly, though, it will also likely frustrate anyone who wants cleanly-delivered messaging or Instagram-ready pullquotes, and that's also by design. Lamar has long been attracted to grey areas and ambiguity, always eager to tack on an ambivalent footnote to his most straightforward applause lines. That tendency is dialed up to 11 here, as he finds himself constantly circling back around to poke holes in his own arguments, to take himself down from the pedestal he just constructed, and to make sure anyone who had been nodding along in agreement for too long finds something to give them pause.
Lamar is no stranger to confronting his personal traumas through art, whether he's using them to situate himself within the rich and troubled heritage of his Compton hometown on "Good Kid, M.A.A.D. City," or to transform his self-doubt into revolutionary self-belief on "To Pimp a Butterfly." But even by his standards, "Mr. Morale" is often excruciatingly personal. We hear Lamar discuss therapy, infidelity, father issues, depression, and the emptiness of buying infinity pools that he's never bothered to swim in. His longtime partner, Whitney Alford, serves as the album's narrator, as well as something of a stand-in for his conscience when Lamar imagines how she'll respond to his shortcomings. If "Butterfly's" defining imagery saw him storming the White House, and "Damn's" key line had him exultantly proclaiming "this what God feel like," "Mr. Morale's" thesis statement is probably the chorus of "Crown," where he wearily repeats "I can't please everybody" again and again over a drumless piano loop. Here, Kendrick Lamar has done everything possible to remind listeners that he's just a man, as full of fear and regret and flaws and a thousand tightly wound contradictions as any other.
Mr. Morale & The Big Steppers is in-stock now at Horizon Records, and we've got more Kendrick Lamar where that came from!