First things first. Our buddy LEE BAINS III and his kickass band THE GLORY FIRES are coming back to town, playing the RADIO ROOM on THURSDAY, APRIL 21st. Get your tickets HERE.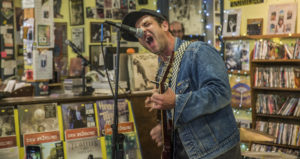 We're big fans of Lee and the boys from way back. In fact, they've played here at Horizon Records on several occasions, delivering a dose of loud-as-hell rock & roll fury with deep lyrical insights into the dark roots of the modern American south. Now, with a new record on the way, we're thrilled that the band is back to give us another dose of guitar-fueled gospel truth. And the even better news is that Lee's got a new album coming out in August called OLD TIME FOLKS.
The Album:
In 2018, Lee Bains was at a Swedish university, where he'd been invited to speak about music and movement-building, when a student asked him a question he still thinks about to this day: Given Bains' interest in social justice organizing, the student wanted to know if Bains ever wrote songs with the idea of people being able to sing along to them?
"Not really, to be honest," Bains replied.
"The reason I ask," Bains remembers the student saying, "Is that in the early 20th century Swedish labor movement, there would be songs adapted from hymns, so everyone knew the tunes. Entire picket lines could sing them in the union hall."
That notion of sing-song solidarity ended up becoming a guiding principle of Old-Time Folks, the stunning new record from the Glory Fires, due later this year. Although it's filled with plenty of high-charged punk, Old-Time Folks represents a slowing down and a new emphasis for Bains' decade-long project of intersectional Southern storytelling alongside bandmates Adam Williamson (bass) and Blake Williamson (drums). On songs like "Gentleman," "Rednecks," and "Old Friends," he uses rootsy balladry to address typically weighty topics: gentrification, right-wing social media conspiracy theories, and class consciousness.

Bains and his bandmates recorded Old-Time Folks over several sessions in Athens, Georgia, that stretched from 2019 to 2021. His initial plan for the record was to write a set of songs set in the ancestral lands of the Muscogee-Creek people, a vast swath including much of what is now western Georgia and Alabama. "I was interested in writing a history of collective resistance to power in that land's occupied history," he says. "That was my boundary: the way these chains of events affected these pockets of land, whether it's Atlanta or Birmingham or Tallahasee or Talladega."
Bains returns to the comment from the Swedish student. He hopes Old-Time Folks is the Glory Fires record that summons new audiences, that his sing-along choruses are catchy enough, this time around, to trick a listener into hearing about the surveillance state and the prison-industrial complex and corporate greed in the verses. He hopes his coworkers might dig the album. He dreams that it might even, years from now, lead to the type of moment he still remembers as a kid: the first time he saw a man cry, a burly biker weeping to "Simple Man" at a Skynyrd show. ("What a subversive song that is," he says now.)
He's not sure if any of this will happen, but he knows that if he's achieved anything on Old-Time Folks, it's that he's made a record bound to invite more people than ever into the Glory Fires' welcoming world of Southern resistance.
"That's the thing that I've fallen in love with about music again, is its way of inviting," Bains says with a smile. "It can just invite us into something, together."
Be sure to catch Lee and the Glory Fires at the Radio Room on Thursday, April 21st, and check out these albums, in-stock at Horizon and in our webstore!