GARY BARTZ has long been known and widely respected in the jazz world, but given his body of work, his standing should be much higher. By the end of the 60s, the saxophonist had already played with Art Blakey's Jazz Messengers, Max Roach, Abbey Lincoln and McCoy Tyner. He was a Miles Davis sideman at a very crucial interval; as Miles' fusion experiments were advancing at a rapid pace. Bartz was there for the vital Live-Evil and The Complete Cellar Door Sessions albums, as well as Miles' memorable Isle of Wight concert.
Right after that stint, Bartz set out to lead his own leading edge fusion outfit, the NTU Troop. This was pretty radical music for its time, combining funk, soul and jazz
that was up front about its Black Consciousness, not just in music but in words. Bartz was doing this at the same time as Marvin Gaye's What's Going On and Gil Scott-Heron's Pieces of a Man but he approach was rawer and freer (and thus, had less commercial appeal). Think a funkier, more socially aware Pharaoh Sanders. Later in the decade, Bartz worked with the Mizell Brothers on a couple of long players, where the production team gave Bartz the Donald Byrd treatment: slick, sample-fodder funk-jazz.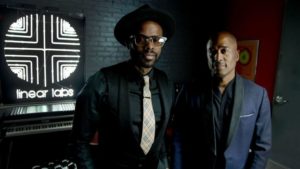 Producers and musicians ADRIAN YOUNGE and ALI SHAHEED MUHAMMAD have certainly not overlooked what Bartz did during those turbulent times, and when this duo set about putting together their JAZZ IS DEAD series, it made sense to make a JID record with Bartz as one of the forgotten heroes of 70s funk-jazz alongside such other quietly influential figures as Roy Ayers and Azymuth. For GARY BARTZ JID 006, Younge and Muhammad split the difference between of the loose, riff-based jams of the NTU Troop days and the focused, polished disco-jazz of the Mizell era.

The opener "Spiritual Ideation" evokes the overall vibe of 1975's classic Mizell-produced The Shadow Do album in some of the chord structures but rings with the JID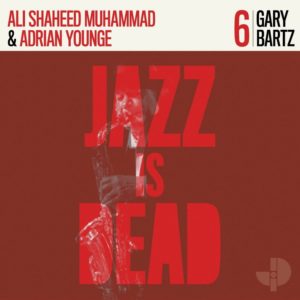 signature sound. Bartz's tone and phrasing is instantly recognizable and sits on top of the Younge/Muhammad-produced backing as snugly as it did on the Mizells' groove 45 years ago. "Black And Brown" takes us back to those classic extended '70s fusion jams condensed down to its most intense just-under-three-minutes with Bartz blowing freely, naturally, and blissfully.
"Day By Day" brings Bartz a more contemporary context which he contributed to creating in the first place. It takes certain sonic cues from Muhammad's old group, A Tribe Called Quest, while also calling to mind neo-soul a little bit. The surprise here is the unexpected and gorgeous vocal chorus. and which once again harks back to an element familiar to Mizell fans. With its propulsive bassline "The Message" is strongly rooted in classic '70s modal jazz and serves as the spiritual and emotional centerpiece of the album. The instrumental interplay and textures would have been perfectly at home on the Black Jazz label even though there's also a certain almost intangible postmodern, 21st century approach to that style, perfectly in keeping with Bartz's progressive tendencies.


Throughout GARY BARTZ JID 006, Bartz remains spry and energetic at age 80. This new collaboration with Jazz Is Dead is further glorious proof of Bartz's thriving pulse. What sounded great 50 years ago sounds equally as vital as Bartz effortlessly interfaces with the next generation.
GARY BARTZ JID 006 is in-stock now on vinyl LP & CD at Horizon Records and in our webstore, along with the other five boundary-breaking Jazz Is Dead releases featuring Roy Ayers, Marcos Valle, Azymuth and more!