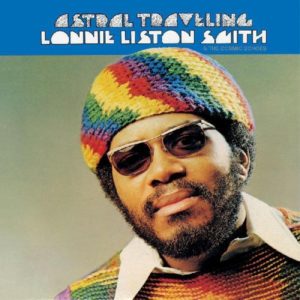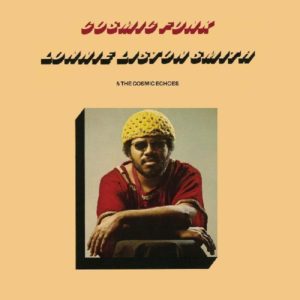 LONNIE LISTON SMITH and THE COSMIC ECHOES' groundbreaking albums for the Flying Dutchman label don't get the attention from jazz fans that they should.
Now, Real Gone Music is rectifying that problem with two new reissues of prime period Lonnie Liston Smith & The Cosmic Echoes, ASTRAL TRAVELING and COSMIC FUNK.
Get Astral Traveling on "blue eternity" vinyl LP HERE.
Get Cosmic Funk on LP HERE.
In fact, among the many distinguished alumni of Miles Davis' fusion bands, keyboardist Smith and his cohorts arguably ran with Davis' stylistic breakthrough the farthest. In five albums stretching over four years, Smith and the Cosmic Echoes stretched the fusion aesthetic to embrace post-bop modal and spiritual jazz, funk, rock, pop, and even the smooth jazz, quiet storm, and crossover genres. And if those latter styles raise your traditionalist hackles, Smith imbued all of his records with integrity, vision, and his unique spacy sensibiity; instead of playing it safe or commercial, he fearlessly paved a path for modern jazz musicians to follow (Kamasi Washington, for one, no doubt listened to these records at length).
For his 1973 debut album as a bandleader, ASTRAL TRAVELING, Lonnie Liston Smith assembled a killer band of Cecil McBee on bass, George Barron on sax, James Mtume and Sonny Morgan on percussion, David Lee, Jr. On drums, Badal Roy on tabla, Geeta Vashi on tamboura, and Joe Beck on guitar. Such a multifaceted ensemble was perfectly suited to explore the spiritual jazz that Smith had encountered while playing with Pharoah Sanders ('Let Us Go into the House of the Lord' appears here and on Sanders' 1970 album Summun Bukmun Umyun which featured Smith), all presided over by Flying Dutchman label owner and former John Coltrane producer Bob Thiele. We've re-created the original gatefold artwork with Nat Hentoff's liner notes. One of the great jazz albums of it's era!

Nestled somewhere between the soul jazz, spiritual jazz, fusion, and post-bop subgenres, 1974's COSMIC FUNK headed, as the title indicates, in a funkier direction, with Lonnie's brother Donald contributing smooth vocal stylings to John Coltrane's "Naima" among other tunes. It's a transitional work but a fascinating one, with surehanded production once again from Bob Thiele, features the original gatefold album art. Another "post-fusion" masterwork from the Lonnie Liston Smith and The Cosmic Echoes!