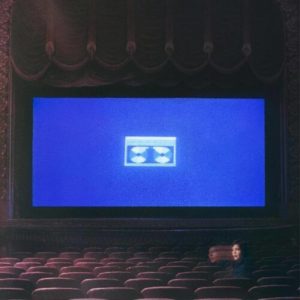 LUCY DACUS third album, HOME VIDEO, explores a slice of 2000s Christian youth culture from the perspective of a girl who lived through it (Buy it HERE on CD or indie-store-only clear vinyl LP). It was a time when kids had newfound access to prurient websites, movies, and music through the internet. Church leaders enforced rigid rules about anything a young girl might read, watch, or listen to. In a recent interview with Esquire, Dacus recalls a pastor who forced her to delete every secular song on her iPod. She mostly complied, but did fight to keep Snow Patrol's "Chasing Cars."
In the past, Dacus wrote songs that took their time, sometimes approaching their destinations only elliptically. The lyrics of Home Video are sharper and more direct. The result is a set of finely crafted—and very catchy—pop songs.  That Dacus has reached this milestone without sacrificing the subtlety at the heart of 2018's Historian is a testament to her talent. The newfound focus on sexuality and spirituality is like a ribbon that wraps around the songs and binds them close.
Home Video is an autobiographical return to the streets of her hometown in Richmond, Virginia. The centerpiece, "VBS," is a deceptively bouncy ode to the sorts of teen summer camps where archery and canoeing jostle for scheduling space with bible study. "A preacher in a t-shirt told me I could be a leader," she sings, in the manner of someone who's folded up a compliment and tucked it away for years of safekeeping. She's enamored of a fellow camper in need of salvation, who blasts Slayer and recites bad poetry while she struggles not to laugh. When her friend tells her, "You showed me the light," she's not sure if she believes them: "All it did, in the end, was make the dark feel darker than before."
In these songs, we hear Dacus, who would come out as bisexual in early adulthood, struggling to square her queerness with her faith. She's worried that she doesn't even need to say the words—that something in her demeanor, her bearing, the lines of her palms, will give her away. After a judgmental parent bars her from spending time with a crush, she stares at her own hands, wondering, "How did they betray me? What did I do?/I never touched you how I wanted to." Her desire is pulsing, alive, and limited entirely to fantasy. She imagines traveling to the future to disrupt a friend's wedding: "If you get married, I'd object/Throw my shoe at the altar and lose your respect." Even her relationships with boys are defined by what doesn't happen more than what does. A schoolyard flirtation culminates with a meeting on a park bench, the two afraid to even look at one another.
In the climactic "Thumbs," Dacus imagines murdering a friend's deadbeat father. The words are delivered not as a shocking aside but a calm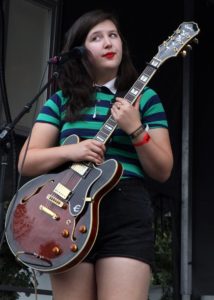 insistence, repeated in each chorus, with virtually no instrumentation behind her voice. She makes this threat even as it's clear that she is terrified. After meeting him, she and her friend "walk a mile in the wrong direction," worried that he's watching, that he might follow them home. These two young people are butterflies trapped under glass, and in this song, Dacus enacts a survivor's fantasy of retribution: pulling the pins out of their abdomens, wielding the metal against the man who trapped them.
Though Dacus returns to places of isolation and despondency, it's comforting to know she's not making her journey alone.Her boygenius bandmates Phoebe Bridgers and Julien Baker make welcome contributions, providing gentle backing vocals in two songs. If the long list of collaborators credited on Home Video is any indication, Dacus belongs to a strong, supportive community of artists who've sharpened her arrows and strengthened her storytelling.
Home Video is a bold statement, a powerful post-adolescent text in its own right. Dacus looks to her past without judgment of her younger self, exploring years of rigidity and repression with empathy and care. Though she's unsparing in her depiction of disturbing memories, she's never caught in cycles of sorrow and regret. She gives her listeners permission to shake loose the beliefs they held as children and dive headfirst into the clean, cool waters of the future. Write your own moral code, she suggests; write your own worldly music.
Home Video is in-stock now at Horizon and in our webstore, along with these other Lucy Dacus releases!