"When community, word of mouth, firsthand experience, books, records and art still ruled."
We're pretty much fans of everything Luther Dickinson has done. He's made some incredible modern electric blues with the North Mississippi Allstars and created a killer raw, raucous, slide-guitar-happy side-project with Los Lobos' David Hidalgo and Indigenous guitarist Mato Nanji called Three Skulls & The Truth, and we've been fortunate enough to have him play in-store twice with the Allstars. But Luther's outdone himself on Blues & Ballads: A Folksinger's Songbook, his 4th solo record, just out Feb. 5th on New West Records. 
A stripped-down collection of snaky juke-joint rhythms, greasy, gritty slide guitar workouts, and low-down acoustic blues, the album includes 21 songs from throughout the guitarist's life, including songs he wrote with North Mississippi Allstars, songs he learned from friends and family, songs passed down to him by his heroes and mentors, presented in a stripped down palette of voice, guitar, drums. Joining him for this American pilgrimage are Jason Isbell, Jim Lauderdale, Amy LaVere, Sharde Thomas, JJ Grey, Charles Hodges, Jimbo Mathus and Mavis Staples.
Luther and the boys do some shoppin' and playin' a few years back: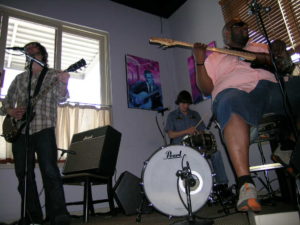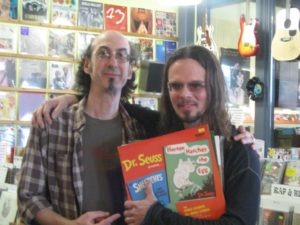 Luther Explains It To Us:
"This acoustic collection of songs interpreted simply, recorded live, solo or with a small group of friends reflects my relationship between music, songs, the written word and legacy," Luther says on his website. "Blues & Ballads celebrates the American oral tradition of blues and folk songs, not only being passed down and evolving but being transcribed (the original recording technique) and entered into the discipline of written sheet music and songbooks.
The songs themselves tell the story of growing up in a modern day rural south amongst first generation Memphis rock 'n rolling, song collecting, folk bohemians, disapproving pre-rock 'n roll holy rollers, and citified punk rockers and modern day blues giants, experiencing the miracle that was Fat Possum Records and Hill Country Blues in the 90s, singing songs in a language near extinction, barely pre-internet, when community, word of mouth, firsthand experience, books, records and art sti