Greenville's own MARCUS KING (now an east Nashville resident) was already one of the fastest-rising stars on the national music scene, but with his first-ever solo album, in-stock NOW at Horizon Records on vinyl LP and CD, he moves from a blues-rock wizard to something bigger and better.
"The next time someone says to you that rock is dead, tell them to look no further than this King" – NPR Music
Already a 23-year-old guitar phenomenon, El Dorado, out on vinyl LP and CD on January 17th, will further establish Marcus as an innovative songwriter and one of the most soulful voices of his generation.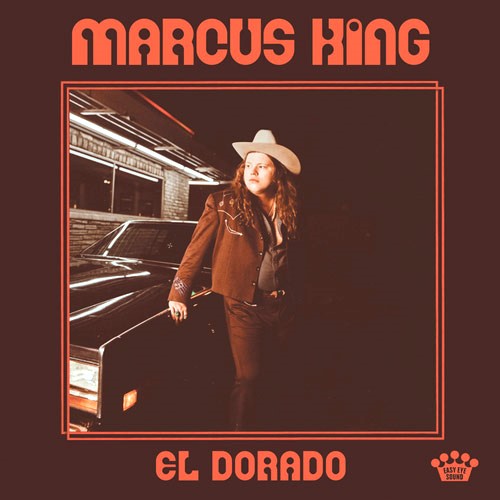 A 1967 Eldorado by Cadillac advertisement reads "…a blend of power and poise, of elegance and excitement, of daring and distinction. Eldorado is a styling masterpiece – long, low, clean and classic." The Eldorado sounds like a pretty sweet ride; just like the new El Dorado album by Marcus King. This album begs you to sit back while it hugs every curve and rolls through country, soul, and rhythm & blues.
El Dorado is a contemporary sonic exploration of classic rock, blues, southern R&B and country-soul where subtle acoustics and pedal steel shines bright alongside raucous electric guitars and blistering solos. Following their previous collaboration on song "How Long," King and THE BLACK KEYS DAN AUERBACH co-wrote twelve songs for El Dorado in only three days in his Easy Eye Sound studio. Together, King and Auerbach have created a warm and delicious bowl of southern soul with a side of Nashville gold.
On working with Marcus, Dan stated, "Marcus is known by so many as a phenom guitar player, and rightfully so. He's regularly the best player in the room, hands down. I was equally blown away by the way he can sing – so effortless, so soulful, straight from the heart. He's a naturally gifted writer too, which was clear right away. Everything for him is so innate – that's why he can always go right to the heart of a song and connect in a deeper way. He's really one of a kind and I'm proud I got to work alongside him on this record."
The opening cut "Young Man's Dream" brings to mind a dusty road through a valley in Tennessee with the summer sun hanging low. The imagery focuses on a young man as Marcus lovingly sings, "Left my home when I was seventeen, my feet were dirty but my soul was clean." You can smell the pine and leather in this majestic country song.
Their debut single "The Well" a fuzzy, electric-blues masterpiece which rumbles down the highway like Marcus' jet black El Dorado, premiered today with Rolling Stone who stated "The result is an album that expands on King's established Southern jam-rock sound. On 'The Well,' the first song released from El Dorado, King embraces the blues, firing off ferocious solos and singing about the fantasy of 'easy street.' In short, it doesn't exist, but that doesn't stop King from pining for better times."
"Wildflowers & Wine" is simply stunning. A classic soul song that would make Otis Redding or Al Green smile. Marcus' corduroy vocals make this sensuous tune purr. You can feel the golden glow of a shaded lamp, taste the intoxication of cheap red wine, and hear the pop of your favorite love song in the background. This wonderfully sexy song should be put on repeat until the groove won't hold the needle anymore.
The deep southern soul vibe on El Dorado is chased with a shot of Tennessee whiskey. Songs such as "Sweet Mariona," "Beautiful Stranger," and "Too Much Whiskey" are steeped in classic Nashville country sound. The particularly lovely "Beautiful Stranger" calls to mind the wonderful blending of R&B with country music that Ronnie Milsap and Ray Charles artfully achieved.
Anyone who has listened to Marcus King before knows that jazz with a hefty helping of R&B is a big part of his overall sound. A shining example on El Dorado is "Break." This song, full of heartache, is outstanding. The sweet loss that this arrangement captures makes it a favorite. The poignant keyboards, rustling drums, mournful strings combined with the understated jazz guitar riffs and Marcus' voice will bring you to tears.
There can be no doubt that El Dorado will be one of the best albums released in 2020. While Marcus King is only 23 years old, he possesses an old soul. The music he makes on this album is timeless and remarkable. His passionate voice matched with captivating songwriting make this album a treasure. This album will be played again and again for years to come.