We at HORIZON RECORDS have been rollin' with MERGE RECORDS since the very beginning, and we've always been fans and friends of this adventurous, grass-roots label. We've welcomed Merge's own WILLIAM TYLER, HOSPITALITY, ERIC BACHMANN, RICHARD BUCKNER, REIGNING SOUND and the FRUIT BATS' ERIC D. JOHNSON for in-store shows over the years, and now we're taking our relationship to the next level: We'll be celebrating the label's 30th anniversary all through the month of August as an official MERGE RECORDS POP-UP STORE.

THAT MEANS 20% OFF ALL MERGE TITLES ON VINYL FOR THE WHOLE MONTH,
PLUS FREE MERGE SWAG AND SOME OTHER ASSORTED SURPRISES AND GOODIES!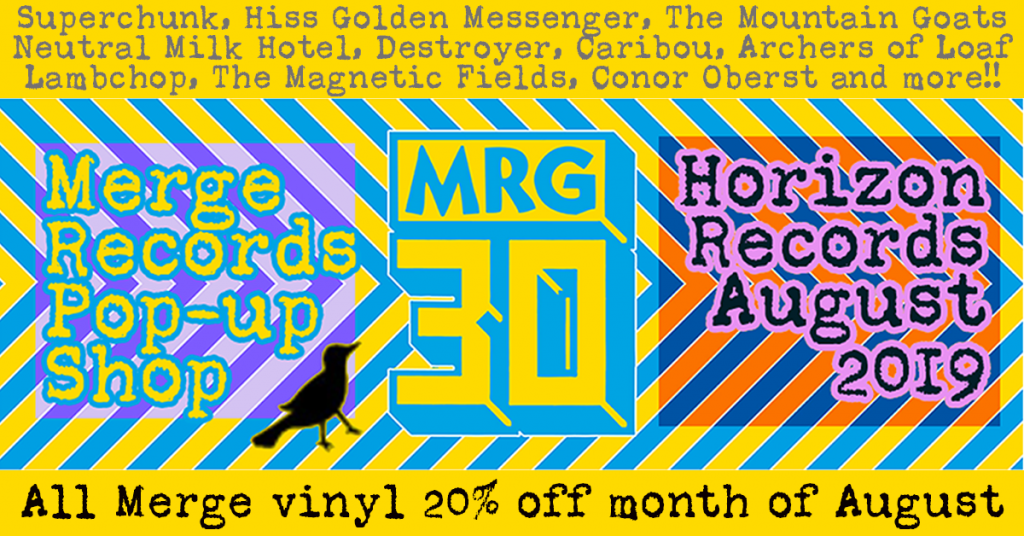 CHECK THIS SWEET LIMITED-EDITION SAMPLER YOU GET FREE WITH ANY MERGE VINYL PURCHASE, WHILE THEY LAST!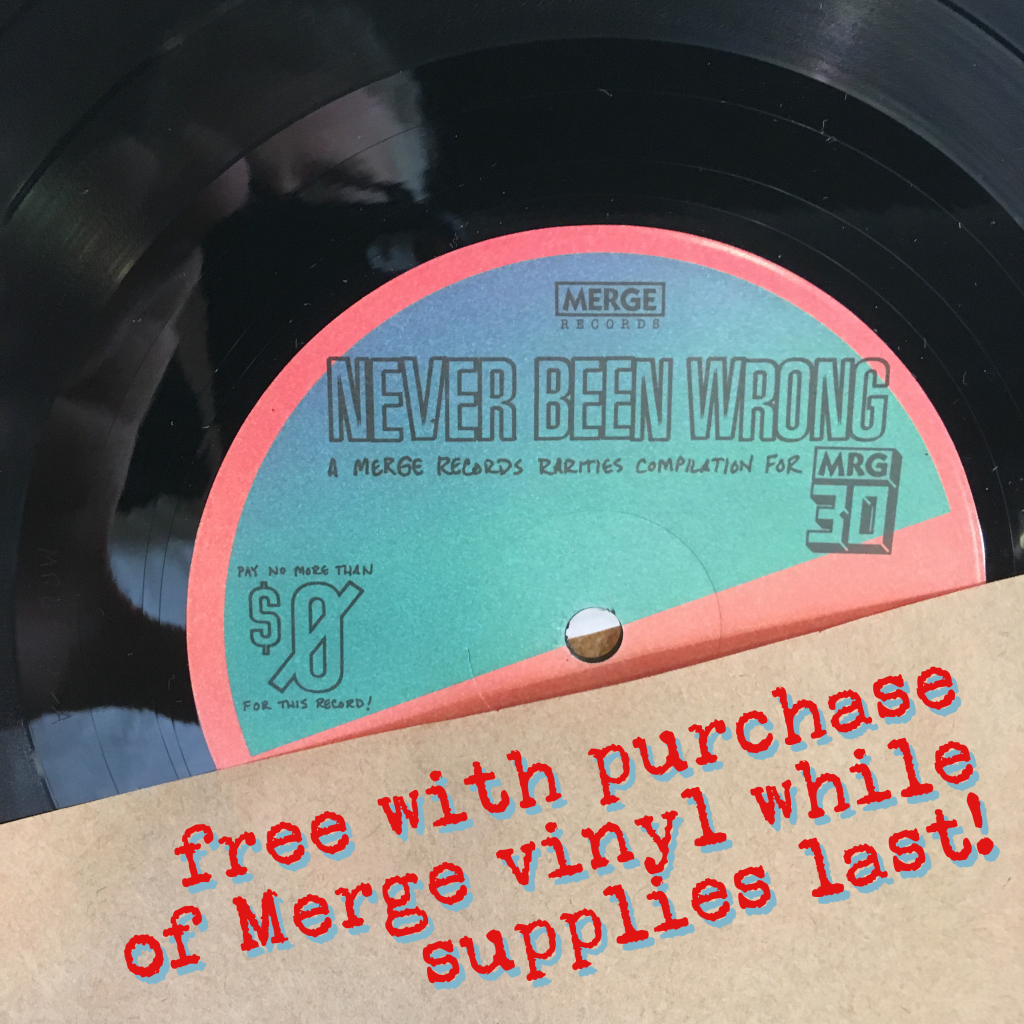 TRACK LIST:
1. H.C. MCENTIRE, "Houses Of The Holy"
2. HOSPITALITY, "Inauguration"
3. THE MOUNTAIN GOATS, "Song For Sasha Banks"
4. WILD FLAG, "OH YEAH"
5. LAMBCHOP, "Chelsea Hotel #2"
6. HISS GOLDEN MESSENGER, "The Beast & Dragon, Adored"
7. DESTROYER, "A Light Travels Down The Catwalk"
8. IBIBIO SOUND MACHINE, "A Forest"
9. SUPERCHUNK, "Reagan Youth"
10. BOB MOULD, "The Descent"

THE SPIN:
Merge is not just a cool independent Carolina record label, they are trailblazers in the industry and a crucial component of what we call indie-rock. Formed by Laura Balance and Mac McCaughan in 1989 as a means to distribute music from their own band Superchunk, they started releasing music from other bands and created a significant catalog. It's this do-it-yourself ethic combined with avoiding the BS associated with working for MCA (maybe EMI would be a better punk-rock reference!) that grew not only their amazing independent label, but with other key labels in the eighties (like Fugazi's Dischord or Beat Happening's K Records) created the model for the indies of the nineties and beyond. Not only does Merge have an essential back catalog of indie-rock icons, their relevance has only grown in recent years; delighting record lovers with a source of significant releases.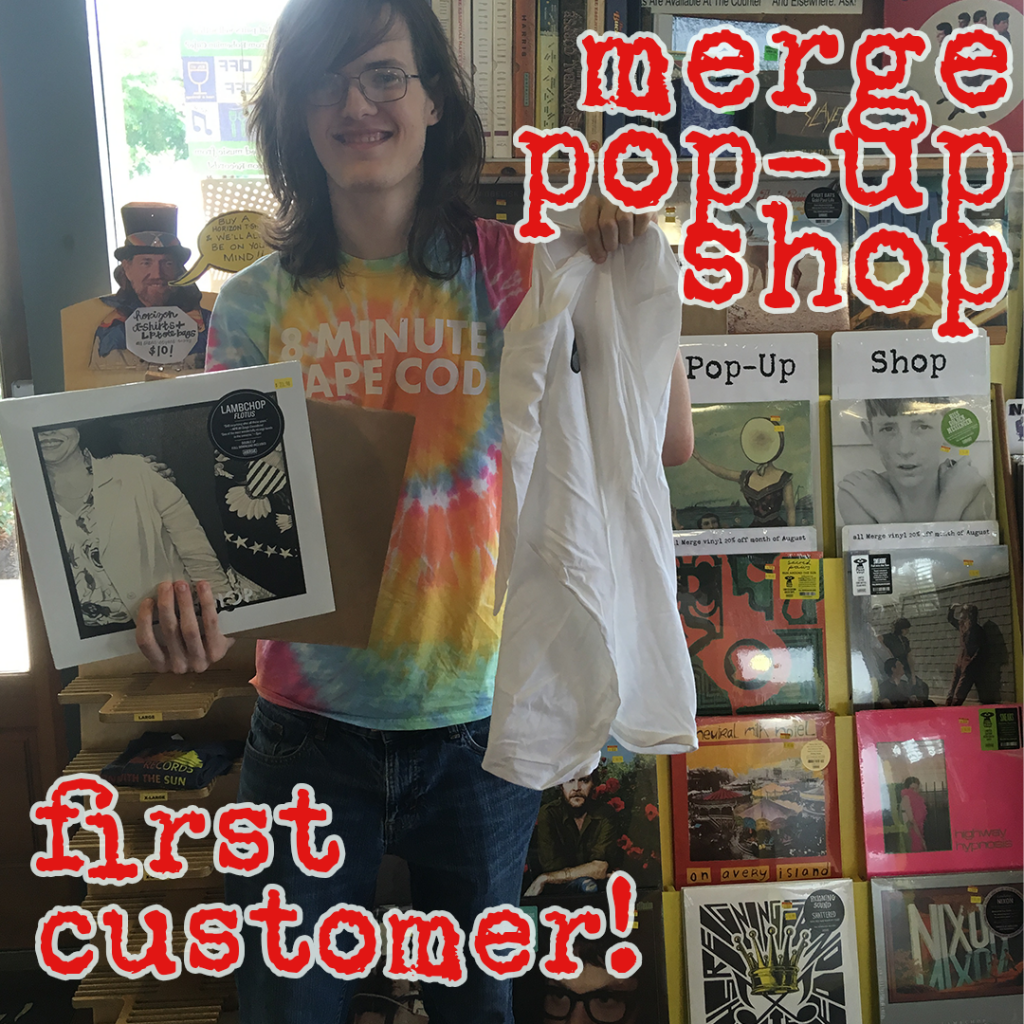 CHECK THIS SAMPLE SET OF MERGE TITLES WE'LL HAVE ON SALE: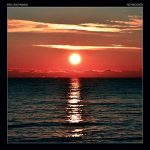 ERIC BACHMAN,
No Recover (2018)
"In its gentle beauty No Recover provides the catharsis many of us need to escape for awhile," – Glide magazine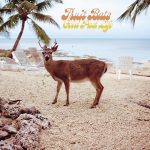 FRUIT BATS,
Gold Past Life (2019)
 "Nearly every song is its own veritable boat against the current, borne back ceaselessly into the past … in a sprightly indie-pop kind of way," –Variety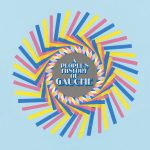 GAUCHE,
A People's History Of Gauche (2019)
"A People's History of Gauche is a swamp creature for modern times, a driving and tenacious record that never loses its feral appeal," – Paste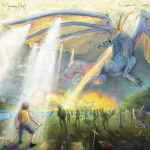 THE MOUNTAIN GOATS,
In League With Dragons (2019)
"There's a lot to unpack here, from the crime-scene viscera of "Cadaver Sniffing Dog" to the mass pleas for mercy in "Clemency for the Wizard King," and it all unfolds amid arrangements more polished and ambitious than early Mountain Goats fans could have ever imagined." – NPR
WILLIAM TYLER,
Goes West (2019)
"These are 10 skilful and meditative instrumental acoustic guitar renderings that bear the weight of Americana – of contemporary America – lightly, but consciously." – The Guardian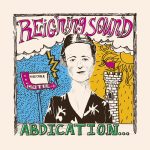 REIGNING SOUND,
Abdication…For Your Love (2019)
"A tour de force of grassroots rock and soul." – PopMatters.com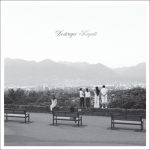 DESTROYER,
Kaputt
"With periodic smooth jazz saxophone lines, coolly fluttering flute, acid jazz explorations, and mechanized hallway drumbeats, Kaputt sounds jarringly beautiful in its makeup." – Consequence Of Sound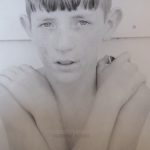 HISS GOLDEN MESSENGER,
Heart Like A Levee (2016)
"Though he's always been a singer-songwriter worthy of praise and attention, M.C. Taylor both alters and ups his game with Heart Like a Levee." – Wall Street Journal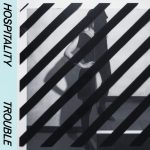 HOSPITALITY,
Trouble (2014)
"It's a great album for loveless lovers and unrequited liberals – a double-edged dip into the 'loss lack abyss' from which this fine little band draws its soft power." – Rolling Stone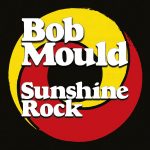 BOB MOULD,
Sunshine Rock (2019)
"With a new hometown and a fresh perspective, Bob Mould releases a rich, dense, and instantly lovable new album," – PopMatters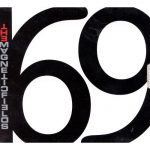 THE MAGNETIC FIELDS,
69 Love Songs (1999)
"The Magnetic Fields' three-disc album 69 Love Songs is a staggering achievement, a cultural landmark, a monument to romantic, yet urbane misery," – Paste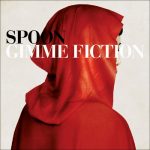 SPOON,
Gimme Fiction
"Spoon released Gimme Fiction, their fifth full-length, in May of 2005, almost exactly halfway through a decade in which they were the greatest band in the world." – Drowned In Sound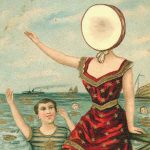 NEUTRAL MILK HOTEL,
In An Aeroplane Over The Sea (1998)
"Neutral Milk Hotel's cult classic offers another opportunity to measure its reach and influence. Jeff Mangum's masterpiece mixes hushed folk, explosive brass, and unforgettable vocals that touch on pain, loss, memory, and hope." – Pitchfork
WAXAHATCHEE,
Out In The Storm (2017)
"Katie Crutchfield has polished Waxahatchee's sound to maximize its glimmering-but-spiky forcefulness, but her words remain as bracing and unsparing as ever." – NPR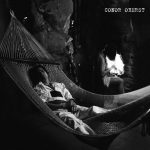 CONOR OBERST,
Conor Oberst
"12 tracks of brilliant, folk infused sounds backed by the thoughtful soul searching that only Oberst himself could deliver," Consequence Of Sound
A BRIEF HISTORY:
30 years ago, In the era of major label behemoths, multi-platinum posers and bloated music industry b.s., MERGE RECORDS planted it's proud independent flag in the Southern dirt and said, "Let's do this thing." Led by LAURA BALLANCE and MAC MCCAUGHAN, two members of the NC indie-rock stalwarts SUPERCHUNK, Merge made a staggering case for the little guy because they HAD to, starting out with their own Superchunk releases and then building a roster that put the big guys to shame.
Check this roll call of their roster over the years and revel in the blissful variety and heavyweight crucialness: THE MOUNTAIN GOATS, NEUTRAL MILK HOTEL, THE MAGNETIC FIELDS, SPOON, DESTROYER, ARCHERS OF LOAF, HISS GOLDEN MESSENGER, CONOR OBERST, TEENAGE FANCLUB, and Grammy-winners ARCADE FIRE.
Trend-setters and boundary-breakers, all. And this ain't no ancient history lesson, either. Merge is still goin' strong with WAXAHATCHEE, TRACEY THORN, TITUS ANDRONICUS, WILLIAM TYLER, BOB MOULD, IMPERIAL TEEN, HOSPITALITY, FRUIT BATS, LOU BARLOW and RICHARD BUCKNER all calling the label home in 2019.
DO YOUR HOMEWORK:
Books about Merge Records, in-stock now!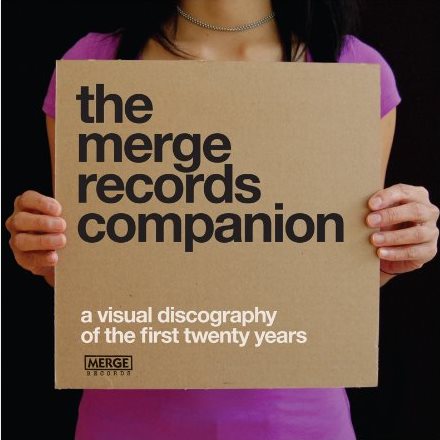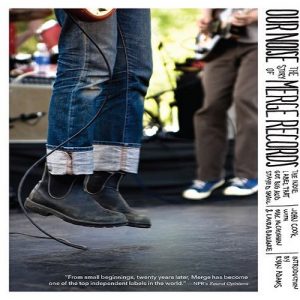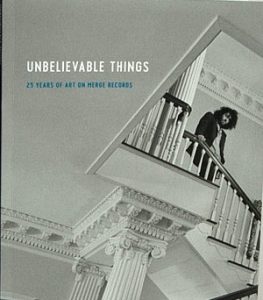 You're lookin' at the wild, beating heart of indie-rock, right up the road in Durham, NC, still pumpin' after three decades. The folks at Merge are the true independent artisans, the trail-blazers, the path-makers of our age; they've worked hard in the trenches to earn the status of "iconic."  Long may they run, y'all.
'Nuff said.