A tradition that goes back to Michelle's first in-store here in 1989 gets a 2018 update, and we get a treat! She's still rockin', shreddin' on guitar, singing and writing great tunes. Join us as our Record Fair/Storewide Sale day gets even better at 2pm!
You can tell within five seconds of seeing Atlanta's Michelle Malone onstage that she was never meant to be anywhere else. There are spine-tingling moments in her performances where she'll flash a sly grin, close her eyes and revel in a certain lyric or melody or riff, seemingly unaware of anything else. Her music, an infectious blend of straight-ahead rock and intimate folk delivered with a gospel level of ecstasy, seems to flow from her raspy shout of a voice as naturally as a river. And that's before you get to her absolutely lethal slide guitar playing, sharp enough to peel skin and nearly as articulate as a human voice.
That's what you're in for right here at Horizon Records on Saturday, Sept. 22nd as Michelle brings her full band to our house at 2pm, right in the midst of our Greenville Record Fair madness down the street at McPherson Park. She'll almost certainly be playing stuff from her stellar self-produced new album "Slings & Arrows," but you're bound to hear some old favorites, as well.
We actually consider this the continuation of a long friendship, since Michelle herself recently posted a vintage pic of her first Horizon in-store back in 1989, sitting on the floor of our old Pleasantburg location wailing away on guitar, and she stopped by a couple of weeks ago to drop off some vinyl copies of "Slings & Arrows!"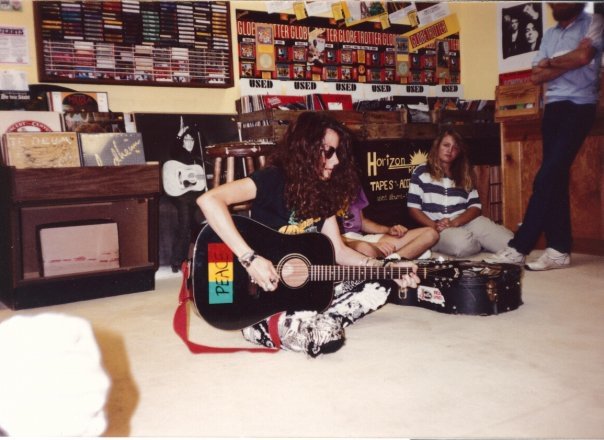 "Another Spinal Tap In Store at a super cool record store in Greenville, SC," she posted with that vintage pic, "Horizon Records, still going strong!…sold the guitar to a friend….the pants are in the attic..the blond chick is still there…waiting patiently on the floor…trying to do this jigsaw puzzle."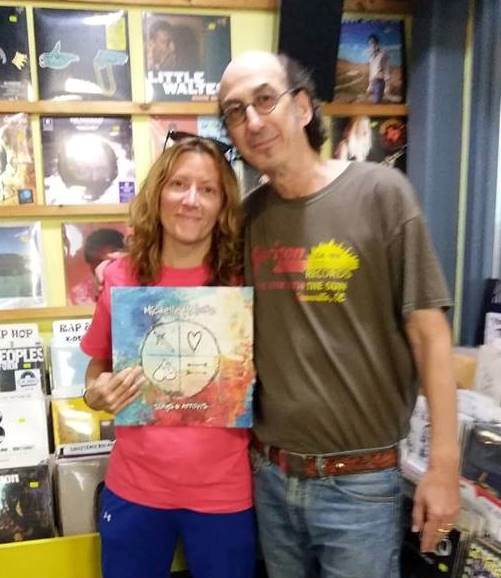 So stop by (after digging through the crates down the street at the Record Fair, of course) and take in the pride of Athens, GA, rockin' it out in-store style.
We'll have Slings & Arrows in-stock on CD and vinyl LP, along with some other Michelle-centric goodies!