There's something comforting about the sound of familiar music. No matter how dark the outside world may seem, we can huddle in our rooms by ourselves and play our favorite songs for consolation and reassurance. Nashville's MOLLY TUTTLE has taken this a process a step further. The multi-talented singer-songwriter and instrumentalist taught herself how to use Pro Tools digital audio workstation to record and engineer ten much-loved songs while stuck at home alone. She then sent them to producer Tony Berg in Los Angeles, who employed session musicians to fill in the parts from their home studios. The result, …but I'd rather be with you is a lovely, low-key, intimate affair, and it's in-stock now at HORIZON RECORDS and available in our webstore!
But don't take our word for it:
Fake Empire (The National)
She's a Rainbow (The Rolling Stones)
A Little Lost (Arthur Russell)
Something on Your Mind (Karen Dalton)
Mirrored Heart (FKA Twigs)
Olympia, WA (Rancid)
Standing on the Moon (Grateful Dead)
Zero (Yeah Yeah Yeahs)
Sunflower, Vol. 6 (Harry Styles)
How Can I Tell You (Cat Stevens)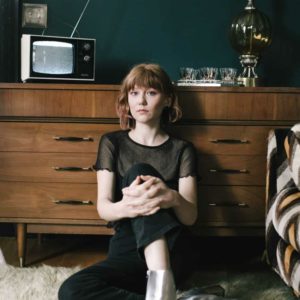 Tuttle chose a wide range of sources, including one track each from the National, the Rolling Stones, Arthur Russell, Karen Dalton, FKA Twigs, Rancid, Grateful Dead, Yeah Yeah Yeahs, Harry Styles, and Cat Stevens. She approaches the material without pretension. Tuttle keeps the arrangements simple and uncluttered. Tuttle is a world-class artist who was the first woman to win the International Bluegrass Music Association's Guitar Player of the Year award (which she has won twice) as well as being named the Americana Music Association's Instrumentalist of the Year in 2018. She plays flawlessly here without ever showing off.
The same thing is true for her voice. She lets it sparkle and shine when the song calls for it, such as on her version of the Stones' semi-psychedelic "She's a Rainbow" and tones things down on Styles' more introspective "Sunflower Vol. 6". Berg's production puts Tuttle's sweet-sounding vocals in the forefront, which makes it sound as if she is singing just for you.
That is particularly true of the more straightforward love songs. Tuttle turns Arthur Russell's worshipful "A Little Lost" into an epiphany of good feelings that make one giddy at the thought of a kiss. Her tender rendition of Steven's "How Can I Tell You" makes the song's declaratory excesses into honest endearments of affection. These songs can break your heart into bloom.
Like all personal favorites, Tuttle's list is esoteric and reveals the pleasures of having catholic tastes. Her affection for these songs comes across in the passion in which she delivers them. One may not equate the punk rockers Rancid with the more performance art stylings of FKA Twigs, but Tuttle's renditions of their tunes ("Olympia, WA" and "Mirrored Heart" respectively) show their common themes of loneliness and moving on with life through her steady guitar licks and emotional vocalizing. The same is true with her versions of social criticism from the past (Grateful Dead's "Standing on the Moon") and present (the National's "Fake Empire"). Tuttle's approach brings the songs together in the spirit of something larger than a just-the-facts approach.
Most musicians need to perform live to earn a living. That has been taken away. Artists like Tuttle have somehow managed to find ways to stay creative and provide solace for their audiences. Yes, we'd rather be with Tuttle in person. This disc offers a pleasurable substitute until the real thing comes around again.
"…but I'd rather be with you" is in-stock NOW at HORIZON RECORDS on LP, CD and special indie-store-only aqua-colored vinyl, while it lasts. And check out these other Molly Tuttle releases at our webstore by clicking HERE.