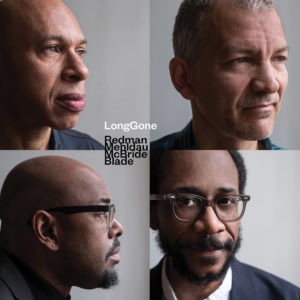 The jazz equivalent of old soulmates finishing each other's sentences is a risk run by almost all bands with long lifespans. Saxophonist JOSHUA REDMAN's A-list quartet with pianist BRAD MEHLDAU, bassist CHRISTIAN MCBRIDE and drummer BRIAN BLADE have solved that problem by meeting with tantalizingly rare frequency since their acclaimed 1994 debut.
Commenting on the having such a heavyweight band for his 1990 album, Redman said: "I realized almost immediately that this band wouldn't stay together for very long.  They were without a doubt, for our generation, among the most accomplished and innovative on their respective instruments. I knew better than anyone else just how incredibly lucky I was to have even that short time with them."
in 1994, they were all rising stars rounded up by Redman – then the charismatic new tenor-sax kid on the block – united by devotion to the classic jazz tradition, but also by a collective spirit of adventure to stretch it. The quartet's mid-90s rapport was enthralling, but burgeoning solo careers separated them until 2020's RoundAgain reunion showed that their individual experiences since had only sharpened their intuition as a foursome. Now 2022's LONGGONE, out this Friday, takes the story forward.
Order LONGGONE on LP or CD HERE.
The set's coaxingly soulful title track is unfurled by Redman's tenor, which is surrounded by Blade's bustling brushwork, Mehldau's nudging chords, and McBride's springy countermelodies. "Disco Ears" is a vivacious but harmonically deceptive soprano sax springboard for Redman, Statuesque a somberly hymnal deep-tenor meditation that becomes a choppy, improv-sparking groove, "Ship to Shore" is a slinky, bluesy walk. But it's the gospel-charged 12-minute live take, "Rejoice," that stuns: a collective jam opened on a beckoning bass hook and driven to a rampant finale with the band locked into an almost choral unified voice, it really tells you why, after all these years, this group can still sell out the world's concert halls in a blink.
LONGGONE is in-stock this Friday on vinyl LP and CD. And check out these other Joshua Redman releases as well!