Nashville-based singer-songwriter MAC LEAPHART and Athens band THE PINK STONES are set to bring a night of honky-tonk rock and roll to the Upstate on SATURDAY, AUGUST 7th at the RADIO ROOM. Get tickets HERE.
Follow Mac Leaphart HERE.
Follow the Pink Stones HERE.
The show is a homecoming for Greenville-native Leaphart, whose critically acclaimed album MUSIC CITY JOKE spent ten weeks on the Top 40 Americana Music Association charts and was number one on the Alt-Country Specialty chart for two weeks in a row. Leaphart has spent over a decade honing his craft as a songwriter and entertaining audiences on stages across the Southeast and beyond. His songs cover a gamut from sentimental southern storytelling to raucous rug-cutters, conjuring up memories of front porches, honky tonks, heartbreaks, and dive bars.
Produced by Brad Jones (Hayes Carll), Music City Joke is a rallying cry from an artist who has spent more than a decade paying his dues and whittling his craft, joined by a team of longtime Nashville staples, including Fats Kaplin, Will Kimbrough, and Matt Menefee as the soundtrack to his lyric-driven, story-based songwriting.
Mac has filled his award-winning career with a mix of hook-heavy roots music, honky-tonk rock & roll, and sharply-detailed songwriting. It's a sound that finds the Nashville-based troubadour nodding to those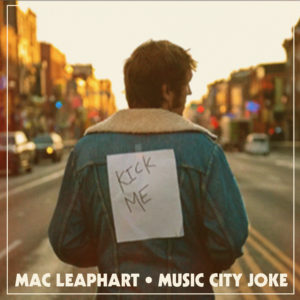 who've come before him — John Prine, Guy Clark, Billy Joe Shaver, Hayes Carll — while also pushing forward into uncharted territory, earning support from a cross-country spread of folk fans and Americana audiences along the way.
Saving Country Music.com says, "Like a more countrified version of John Prine, or a more compositionally-minded version of Jerry Jeff Walker during his gonzo era, Mac Leaphart immediately earns your ear and devotion with this handful of incredibly well-written songs and rousing boot scooters that are just about perfectly produced and ripe for repeat listening."
Joining Leaphart at the Radio Room, THE PINK STONES are sure to deliver a full serving of cosmic country straight from the Peach State. Their recently released debut album, "Introducing…The Pink Stones," (Normaltown Records) was described by No Depression as, "pure Americana presented through a blue haze like an absolutely beautiful bummer."