"Oddisee The Good Fight, is a GLORIOUS new record by our favorite MC producer hip hop thinker and do-er. In stock and ready to rock on CD and LP, the Good Fight (Mello Music Group) is the latest in a growing catalog of uncompromising, funk-i-fied modern magic from Oddisee. ‪‬ check it." -gene
'The Good Fight' Imbued with love, honesty, and selflessness,  is virtuosic in its musicality, direct in its language, and infinitely relatable.
In a landscape overrun with abstract indulgence and shallow trend-chasers, the Prince George's County, Maryland artist has created a record that reminds you that it's music before it's hip-hop.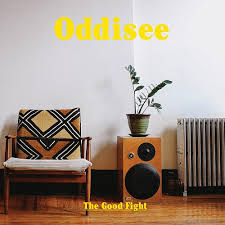 For Oddisee, "The Good Fight" is about living fully as a musician without succumbing to the traps of hedonism, avarice, and materialism. It's music that yields an intangible feeling: the sacral sound of an organ whine, brass horns, or a cymbal crash.  It's a meditation on our capacity to love and the bonds binding us together. It's our ambition and greed warring with our sense of propriety – a list of paradoxes we all face when living and striving.
Oddisee's production simmers in its own orchestral gumbo. You sense he's really a jazzman in different form, inhabiting the spirit of Roy Ayers and other past greats.  The Fader's compared him to a musical MC Escher, calling hailing his "grandiose and symphonic sound" and "relevant relatable messages." Pitchfork praised his "eclectic soulful boom-bap." "The Good Fight" acknowledges the stacked odds, but refuses to submit.
– friends of friends network  fofmusic.net
ODDISEE – The Good Fight out now on CD/LP