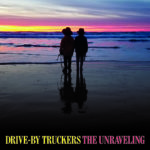 DRIVE-BY TRUCKERS, The Unraveling (limited-edition marble sky colored vinyl LP/CD)
Drive-By Truckers's American Band was released a month before the 2016 presidential election—seemingly an eternity ago both in terms of the political landscape and the time between albums for the typically prolific band. American Band was supposed to be their final word on all that, but according to Patterson Hood's notes for their 12th studio effort, The Unraveling, "writing silly love songs just seemed the height of privilege." This is a dark, uncompromising album about such topics as gun violence, white nationalism, the opioid crisis, and putting children in cages. But despite similar subject matter, it isn't a sequel to American Band. Never mind that there are no individual tracks quite as immediate as "Surrender Under Protest" or "Guns of Umpqua." But whereas the previous album was composed largely of the narrative history lessons that have been the Truckers's stock in trade for over 20 years, The Unraveling is constructed on the premise that the personal is political. Hood frames multiple songs around either trying to explain daily horrors to his two young kids, or hoping they will one day make things better. Mike Cooley, a sort of redneck Confucius who seems to never run out of sardonic one-liners, only wrote two songs here, and one of them, "Grievance Merchants"—a trenchant breakdown of the alt-right pipeline—is one of the most lyrically serious-minded, musically dramatic songs he's ever written. Delivered in Cooley's uniquely conversational style, it's an arresting effort; hearing him sound so scared out of his wits that he can't even muster a single quip is genuinely chilling. The album ends with the eight-minute-plus "Awaiting Resurrection," which, with its unrelenting bleakness and all the air between Morgan's minimalist drums and Hood and Cooley's cobweb-like guitars, is the closest the band has ever come to post-rock. "I hold my family close/Trying to find the balance/Between the bad shit going down/And the beauty that this life can keep injecting," Hood intones in a ghostly growl, returning once again to the same theme of many of the preceding songs. Hood and Cooley dwell more on the bad shit than the beauty throughout The Unraveling. It's perhaps their most confrontational, challenging effort to date, an intricate work that's more a reflection of than an antidote to the darkness.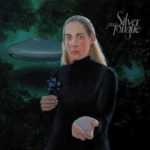 TORRES, Silver Tongue (LP/CD) LIMITED EDITION 45″ SINGLE WITH PURCHASE, WHILE THEY LAST!!
Torres' 4th album, Silver Tongue, swings between existential bleakness to soaring emotion. Throughout, Silver Tongue is illuminated by moments of dazzling warmth, clarity, and heartfelt beauty, be it a vocal inflexion, a melody, a sparkling guitar flourish, or a poetically insightful turn of phrase. "Last Forest" is classic Torres, beginning with a repetitive folksy incantation before exploding into glittering life, mixing austere synths, driving beats, and coruscating guitars. "Dressing America" positively shimmers with mournful splendour. Like previous TORRES albums, Silver Tongue is a body of work that becomes more expansive and reveals further layers with every listen.

DESTROYER, Have We Met (seafoam green colored vinyl LP/CD)
Have We Met balances Bejar's free-associative leanings, which, as always, lead to many striking, witty lyrical moments, with thematic strands that remain consistent throughout the record. ken was sonically immaculate and had many thrilling moments — "Tinseltown Swimming in Blood" is an all-time great Destroyer track — but for many it lacked the focus and conceptual weight of the similarly inclined Kaputt. Have We Met is as musically varied and engaging as Destroyer's music has ever been, and Bejar challenges himself to approach new sonic textures: the synth refrain on "It Just Doesn't Happen" leans into pop territory, sounding like something off Sonic: The Hedgehog on the Sega Genesis (not a bad thing), and the funk groove on "Cue Synthesizer" sounds like nothing Bejar's done before. More than 20 years in, Destroyer keep challenging themselves to make vital music, and Dan Bejar remains one of the most unique songwriters and vocalists out there. Have We Met, though perhaps less ambitious than Destroyer's best work, is nevertheless their freshest and most enjoyable record in years. To maintain this kind of output — and, more impressive, this kind of urgency — after so long is something achieved by very few bands. Dan, keep following your intuition.



RANDALL BRAMBLETT, The Meantime (10th Anniversary reissue) (LP/CD)
The Meantime, which New West is commemorating with remastered versions, two previously unreleased tracks, and a vinyl issue for the first time, is Randall Bramblett's "piano trio" album. It's also one that is rather criminally under-recognized in Bramblett's catalog but a real-tour-de-force. It's a quiet respite from his ground-breaking work with the jazz-fusion group Sea Level or as a long-running sideman for Traffic or the Allmans, or even from most of his own solo work, the latest being 2017's Juke Joint on the Edge of the World. It's an unvarnished look at Bramblett the songwriter demonstrating his inherent gifts for melody and soulful vocal delivery. As the title suggests, it's a pause as if to look around, gather one's senses and get a grip of what's come before and what lies ahead. The dozen, now 14 tracks, come from all periods of his career. He just found the space to render them in unhurried fashion. Bramblett states, "The Meantime reflected my need at the time to record a quiet and beautiful record with grand piano, upright bass and drums. I had all these songs, old and new, that were never going to fit into the guitar based records I had been making. Most importantly, subject matter of love, grief and yearning needed a lot of space and we dedicated ourselves to keeping the production very simple. I think we did a good job giving these songs what they needed to shine."
DAN DEACON, Mystic Familiar (LP/CD)
WIRE, Mind Hive (LP/CD)
POLICA, When We Stay Live (LP/CD)
WILD NOTHING, Laughing Gas (LP)
KILLER REISSUE: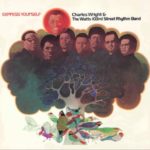 CHARLES WRIGHT & THE WATTS 103rd STREET RHYTHM BAND, Express Yourself (brown vinyl LP)
The hit title track alone makes this 1970 release worth having, but it's the other cuts on this record that make it one of the greatest psychedelic soul/funk albums of all time. Charles Wright's beautiful falsetto kicks off the opening track (and #16 pop hit) "Love Land," in which this L.A. band takes a page from Philly soul, and "I Got Love," with its oh-so-funky descending bass line, is a stone groove. But the fun really starts with the first slice of "High as Apple Pie," which offers just the first six minutes of what turns out to be a 23-minute jam. Adventurous production touches, loose-limbed arrangements, and a bit of old-time gospel make this the love child of Dr. John's "I Walk on Guilded Splinters," James Brown, Sly Stone, and the Chambers Brothers' "Time Has Come Today" (and you can bet George Clinton listened long and hard to this record)! Previous issues of this classic LP have never been up to snuff sonically, so Express Yourself has been remastered (by Mike Milchner of SonicVision) from original tape sources especially for this release.