An interesting bunch of stuff in our New Releases section this week. Datura 4 brings the heaviness, Brian Jonestown Massacre keeps it weird, Alejandro Escovedo returns with his first solo album in four years, and we've got extra compilation and Gene-centric jazz-and-classical goodness. Read on….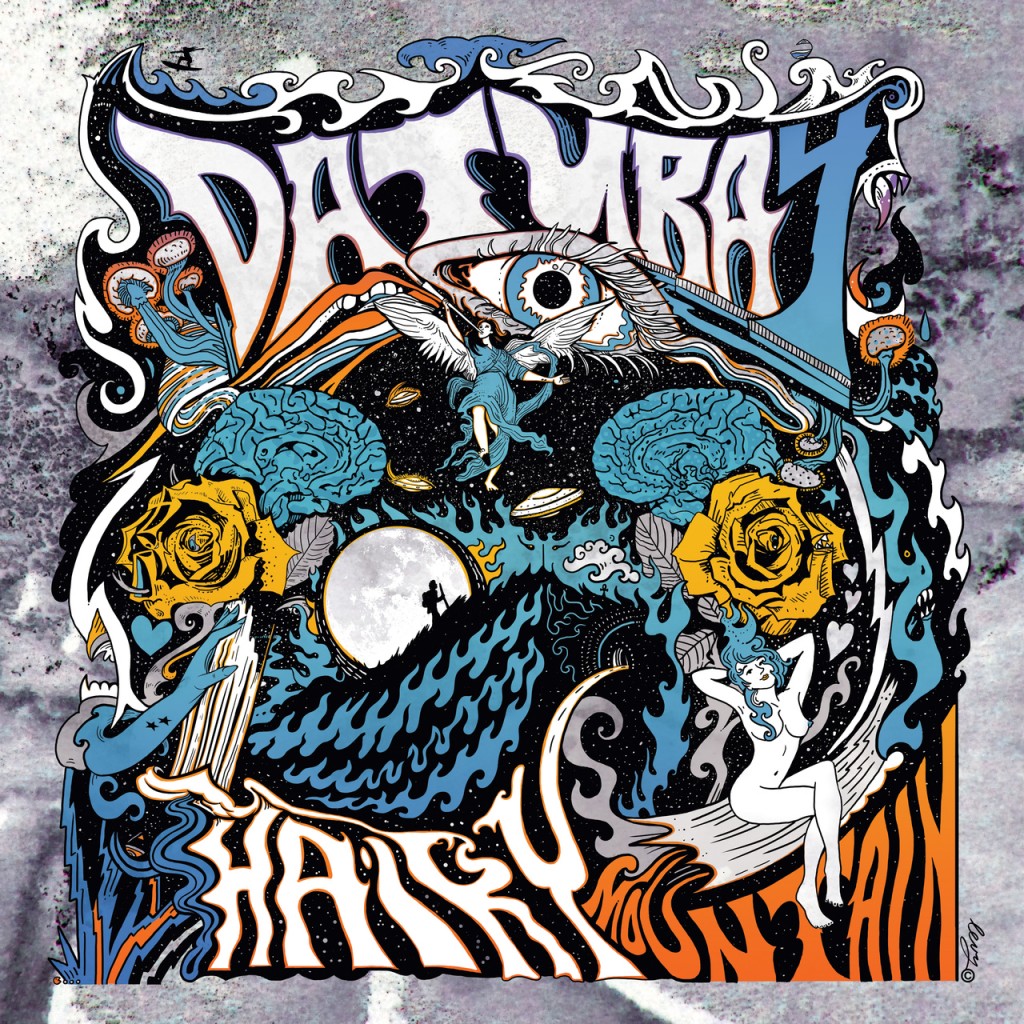 DATURA 4, Hairy Mountain (CD/LP)
Rock n Roll fans, please welcome Hairy Mountain, the second album from West Australia's Datura4. Building upon the "guitars-to -infinity" approach of Datura4's acclaimed debut LP 'Demon Blues', 'Hairy Mountain' is ten solid tracks celebrating an unbridled joy for rock n'roll ,with a nod to the spiritual presence of their hairy Oz Rock forefathers. Hairy Mountain is the culmination of a lifetime of musical archaeology and the ongoing search for the never ending riff. Elements of hard-lined blues remain evident, but are primarily smoothed out by a dominant, free-formed '70s psych sparsity. Those sprawling soundscapes themselves threaten explosive outbreaks yet are reigned in further with a defining boogie, a heavy footstomp of swagger that sets a more contemporary course.
BRIAN JONESTOWN MASSACRE, Third World Pyramid (CD/LP)
The BJM have earned themselves cult status through relentless touring and an ability to churn out worthwhile albums on an alarmingly frequent basis. Not only are they a prime influence on today's psych scene, but they remain a band forging ahead with records that have the capability to positively affect. For many of their ardent followers, it'll be no surprise that this nine song offering fits comfortably within the band's back catalogue, rich as Third World Pyramid is with all the hallmarks of a BJM release. Recorded at Newcombe's Cobra studios in Berlin; their 15th full length is one that stays true to their initial vision, another steady dosage of psychedelically spirited 60s-influenced rock 'n' roll. It lies at the very core of downbeat opener "Good Mourning" with its grieving strings, as much as it can on the folk-tinged psychedelia of "Government Beard" and brass-aided melodies of both "Don't Get Lost" and "Why Bother". It may be 26 years since their formation in California during the early 90s, but the BJM show no signs of letting standards drop.
ALEJANDRO ESCOVEDO, Burn Something Beautiful (CD/LP)
Escovedo's first solo endeavor since 2012's highly acclaimed Big Station, is in actuality, a highly collaborative affair.  Teaming with Peter Buck (R.E.M.) and Scott McCaughey (The Minus 5) to co-write the album's songs, Escovedo also enlisted the pair to act as the project's producers. Escovedo and company take some mighty big swings here. At once a celebration of the rock and roll life, a contemplation on mortality, and the healing power of love, Burn Something Beautiful connects repeatedly with Escovedo's soulful heart and voice at its core.
VARIOUS ARTISTS, Putumayo Presents Africa Rhumba (CD)
Get the party started with this fun-filled collection of songs from South Africa to the Ivory Coast. Featuring many of Africa's greatest artists, this CD collection celebrates the Putumayo's 15th Anniversary. African music is among the world's most captivating and no one will be able to resist moving their feet to this danceable collection. African Party is the 2008 installment in the Putumayo journey and it features the inspirational band Kotoja and Oliver Mtukudzi, who released several popular albums on the Putumayo label.
VARIOUS ARTISTS, Rough Guide To Delta Blues (CD)
A fantastic compilation that really does span the length of Mississippi Delta blues, from the early days of the Mississippi Sheiks and Charley Patton (with the classic "High Water Everywhere Part One") through to the modern but equally rooted sounds of Asie Payton, R.L. Burnside, and the late Junior Kimbrough. And it's every bit as thorough in between, with all the big names (Robert Johnson [of course], Skip James, Son House, Muddy Waters, and many more) and some who are not so widely known, like Louise Johnson and Bo Carter. And it's not just the selection of artists that's astonishingly good and complete, but also the tracks picked, which have plenty of classics, as well as a real range of experience of the Delta blues. More than any other record that's attempted to convey the depth and breadth of the style, this succeeds in stunning fashion. It's the perfect primer to the roots of the blues as they stand, and while the tracks aren't arranged in any kind of chronological order, the feel that crosses time is consistent.
VARIOUS ARTISTS, Keb Darge Presents Best Of Legendary Deep (CD/LP)
Northern soul boy, crate digger and tastemaker, Keb Darge is a name which needs no introduction to lovers of rare music the world over. His 'Legendary Deep Funk' night at Soho's seminal strip club turned music venue Madame Jojo's introduced obscure dance-floor soul music to an eager London club crowd, sparking a global appetite for raw, visceral funk. Keb's search for rare '45s took him across the globe, obsessively searching dollar bins, private collections and in some cases, artists homes to discover hidden gems recorded by local bands on regional record labels and pressed in tiny quantities. The rarity of the music combined with Keb's exquisite ear and DJ ability meant that these records quickly became highly collectible (not to mention expensive) and even made 'deep funk' a recognized genre all its own. Keb's passion paved the way for the modern funk revival, spearheaded by bands like The New Mastersounds & Quantic, even hitting the pop charts with the likes of Mark Ronson. Keb has selected his greatest hits from the 'Deep Funk' series, presented on heavyweight vinyl and CD. The compilation contains edits by Keb's deep funk contemporaries Ian Wright & Kenny Dope, as well as standout tracks from over 20 years of 'Legendary Deep Funk'.
TESTAMENT, Brotherhood Of The Snake (CD/LP)
TOVE LO, Lady Wood (CD/LP)
NADA SURF, Peaceful Ghosts (CD/LP)
HELMET, Dead To The World (CD/LP)
JEEZY, Trap Or Die (CD/LP)
Gene's Jazz/Classical Corner
PIERS LANE, Romantic Piano Concerto 69 (CD)
With an intriguing disc of Australian examples, Piers Lane making a convincing case for his countrymen's music. Alfred Hill's 1941 concerto has a breezy, sunny disposition, with hardly a dark cloud in the sky, even in its bold, expansive last movement. Hill had a vast output of orchestral and chamber works and rarely wasted an idea: the four-movement concerto is a reworking of an earlier piano sonata, also heard here. He conducted the first Australian performance of George Frederick Boyle's 1911 piano concerto, thought to be the first substantial piece in this form in the Antipodes. Altogether graver than Hill's, it has a final movement to rival anything coming out of Europe at the time.
MOZART/UCHIDA, Piano Concertos No. 17 K453 & No. 25 K503 (CD)
Arguably the worlds greatest Mozart interpreter plays and conducts two of his most popular piano concerti. Mitsuko Uchida (Chicago Tribune) concludes her Grammy Award winning series of Mozart Piano Concerto recordings with the Cleveland Orchestra. This fifth and final installment of the series includes two of the composers greatest works. This new recording has her directing the orchestra from the piano herself, in the manner of which 18th century audiences might have been accustomed.
WOLFGANG MUTHSPIEL, Rising Grace (CD)
Austrian guitarist Wolfgang Muthspiel made a big splash early in his career, playing with vibraphonist Gary Burton and recording for PolyGram Records (including 1990's The Promise, produced by Burton). Since founding his own label Material Records in 2000 he has had a somewhat lower profile, although in addition to a number of his projects the label released From A Dream (2009), the stunning debut of the cooperative trio MGT (with fellow guitarists Slava Grigoryan and Ralph Towner). Muthspiel made his ECM debut with that trio on 2013's Travel Guide, followed by his leader debut in 2014 with the trio album Driftwood (with bassist Larry Grenadier and drummer Brian Blade). Good as Muthspiel's previous recorded work has been, he really takes things to a new level here. His playing and composing have grown in richness and subtlety, and these excellent musicians are all at the top of their game, individually and collectively. They sound like they were always meant to play together.
VIEAUX/LABRIO/DOMINGUEZ, Infusion (CD)
The word "fusion," as a musical genre identifier, is a loaded term. At worst, it conjures images of endlessly self-indulgent electric guitar solos, overactive drummers buried deep behind epic drum kits, and seven string electric basses strapped up way too high. At best, it has given us timeless albums that were more sui generis than the mere mashup of distinct styles that it implies. With their album Infusion, Jason Vieaux and Julien Labro suggest a subtle alternative path to stylistic integration that effectively presents several diverse performance approaches all under a concert music umbrella. Taking a staple of modern guitar chamber repertoire like Radames Gnattali's Suite Retratos and infusing it with aspects of different traditions, leaves Gnattali's structural context in place. In his arrangement of the Tears for Fears classic, "Everybody Wants to Rule the World," Vieaux diligently reproduces various components of the multi-track original. But he and Labro infuse it with a soloing approach drawn from jazz. In Labro's stylistically agile arrangement of Piazzolla's "Escualo," the two infuse the song with contemporary references that blend with the original material. The inclusion of Vieaux's arrangement of Pat Metheny's "Antonia" is an appropriate nod to a master of fusion (and infusion), an artist who has added elements of Brazilian music, classical structures, and Americana to his unique brand of jazz. Leo Brouwer has drawn from Afro Cuban sources throughout his career, infusing his concert music with the vibrant rhythms and characteristic harmonic flavors of his native culture.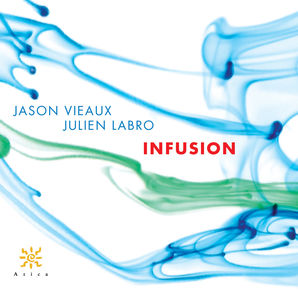 COMING SOON:
COMMON, Black America Again (11/4)
ALICIA KEYS, Here (11/4)
WALLACE RONEY, Place In Time (11/4)

And don't for get these STILL-NEW platters that matter!
LEONARD COHEN, You Want It Darker (CD/LP)
The title of Leonard Cohen's new album serves as a taunt. It's a jab at those who expect the 82-year-old poet and singer to just retire, going gently into the good night without a fight. It's also a treatise on modern culture, particularly fitting for the current presidential election cycle. John Oliver describes us as being "buried alive in the horror that is this election." Cohen, ever the tidy wordsmith, doesn't engage in such histrionics. "You want it darker?" he simply offers. The cool inquiry is rhetorical, because who would actually answer in the affirmative? He's slyly baiting us with our own fears: You think it's dark now? Just turn on the TV tomorrow morning.  The album's nine tracks tell a different story, however. The songs keep in line with the narrative Cohen laid out in the New Yorker piece about putting his "house in order" before migrating from this earthly plane. A witty couplet (or eight) aside, the album deals in harsh goodbyes. Not entirely welcome, some heave with resignation as others bring a modicum of comfort. "I'm leaving the table/ I'm out of the game," he sputters in a charcoal growl on "Leaving the Table". Just two songs prior, he mournfully pleads about how he wishes "there was a treaty between your love and mine" on "Treaty". If You Want It Darker ends up as Cohen's last musical will and testament, no distant relative goes without a hefty inheritance. And whether we wake up to a country going along with her or making itself great again on a morning in early November, Cohen's bare-knuckled insistence that religion, politics, those bound to us by law or sheer will, and even ourselves will fail is a fitting legacy.
NX WORRIES, Yes Lawd! (CD/LP)
Anderson .Paak and producer Knxwledge's Yes Lawd! feels in many ways like the spiritual successor to Below the Heavens, the 2007 collaboration between Blu and producer Exile. Both albums eschew the fashion of the day, instead marrying post-Dilla samples and break drums with a West Coast breezy vibe, and both bend time as if they belong to no single era in particular..Paak's rising celebrity and heavy touring schedule following features on recent Dr. Dre and Kaytranada albums that teased his excellent breakout LP Malibu could have forced side projects like NxWorries to the back burner. Fortunately, that's not the case; Yes Lawd! feels complete, as if the finishing touches, interludes and sequencing were cohesively crafted using whatever outtakes and rough drafts were available. The result is remarkable consistency across 19 tracks. Indeed, Yes Lawd! is an album best appreciated with complete play-through. Lyrically, Yes Lawd! is an anthology of admiration and ambition. .Paak's now trademark rasp and honest wordplay allows us to connect with heartfelt moments and cut some slack to the gratuitousness ("So I give up my sidepiece…just to make room"). The rubber band bounce of "Wngs" establishes the sound of the album early, while songs like "Scared Money," "H.A.N." and "Jodi" extend nods to a range of classic production styles. With no prominent features and few songs exceeding the three-minute mark, all signs point to this being a passion project first and foremost, and in keeping with Stone Throw's tradition of non-traditional excellence. While the NxWorries name is probably more aspirational in nature, the Yes Lawd! title is an accurate summary of the sound within.
THE PRETENDERS, Alone (CD/LP)
What was originally intended as a Chrissie Hynde solo album finally appears, packaged as a Pretenders release, with the Black Keys' Dan Auerbach aboard as producer. A cadre of Auerbach's country and blues pals – including Duane Eddy, contributor of autumnal twang to the indigo-tinted love song Never Be Together – create a 50s-style rootsiness that suits Hynde very well. Forever parrying toughness and profound vulnerability, she has found empathy in Auerbach's retro torch arrangements. The old saw about age being nothing but a number finds its true expression here: at 65, she's ferociously autonomous, extolling singlehood with the title track's primitive rockabilly strut ("Nobody tells me I can't / Nobody to say 'You're doing it wrong'"). Reserving the right to change her mind, she is then infused with new-relationship excitement on the cascading ballad Let's Get Lost, while I Hate Myself not only revels in drawling self-loathing ("I hate these perversions of the heart") but makes it sound appealing. Always a one-off, Hynde is magnificent here – unapologetic and deferring to no one.
AMERICAN FOOTBALL, American Football (CD/LP)
Few but a gaggle of devoted diehards noticed when American Football split up shortly after releasing their self-titled debut in 1999. In the years since, though, the album has proved a canonical text for anyone who was a fan of the wistful, technical sound of 90s emo, back before the genre was hijacked by the mascara-and-self-loathing crowd. Now the Illinois band are back with a follow-up that may as well come encased in amber, so redolent is it of that first work. Opener Where Are We Now? sets the scene with its twinkling, perambulating guitar lines and vocalist Mike Kinsella's cry of "We've been here before", while the excellent Desire Gets in the Way adopts the jazzy inflections of the band's most recognisable "hit", Never Meant. For the most part there is little interest in deviating from the tried and tested, but for anyone who felt the band were gone too soon in their first incarnation, this is a welcome trip into familiar territory.

ALEXANDRE DESPLAT, American Pastoral (OST), (CD)
Composer Alexandre Desplat is no stranger to cinematic adaptations of literary fiction and this comes hot on the heels of his outstanding score for The Light Between Oceans, one of his very best.  Not surprisingly, this is another earnest and very serious work, frequently rather downbeat but not without its moments of great beauty. The score opens with "Swede's Story", a noble horn theme (with McGregor himself apparently amongst the performers) serving as a brief prelude before the theme gets a more extended airing in the next cue, "Riots", the timpani heartbeat a trademark of the composer and giving a dramatic energy to the piece as the theme gradually falls apart.  An outstanding melody is then introduced in "Rita Cohen", a gossamer-thin piano tune over piercingly high strings – it sounds like the slightest breeze would shatter it apart.  It's beautiful but full of such sadness, a feeling explored further in "Meeting Rita" – the orchestration is fuller now, stronger and sturdier, but the piano still takes the lead, now performing the score's second main theme. Desplat closes his score with a fully-orchestrated version of the horn theme in "Kaddish for Seymour", and in many ways it sums the whole thing up: it's beautiful, multi-faceted, clever but  rarely easy listening.