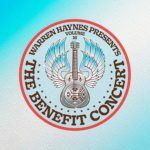 WARREN HAYNES & FRIENDS, Presents The Benefit Concert Vol. 16 (2xCD w. DVD & blu-ray/2xLP)
Recorded in December of 2014 at Warren's renowned Christmas Jam benefit concert, The Benefit Concert Volume 16 features recordings and bonus concert video from Jason Isbell & The 400 Unit, Grateful Dead co-founder Bill Kreutzmann's Billy & The Kids (ft. Tom Hamilton, Reed Mathis & Aron Magner), Gov't Mule featuring Jackie Greene, Hard Working Americans (Todd Snider, Neal Casal, Dave Schools & Duane Trucks), and Paul Riddle & Friends (ft. Warren Haynes, Jack Pearson, Oteil Burbridge & Danny Louis) with special guests Col. Bruce Hampton, Caleb Johnson and more!

THE AVETT BROTHERS, Closer Than Together (LP)
 The Avett Brothers certainly aren't scared on Closer Than Together. If they were, they wouldn't have included a sparsely-arranged song called "We Americans," which touches on imperialism, slavery, racist laws and reparations and eloquently expresses the cognitive dissonance of living in (and loving) a country "built on stolen land with stolen people." If they were scared, they might've thought twice before releasing the clunky and slightly funky "New Woman's World," which eagerly anticipates a brighter future for a world led by women, not men. And they certainly would've left "Bang Bang" off the album. Built entirely out of piano, Seth Avett's weary voice and a small string section, the song candidly confronts violent movies, the "good guy with a gun" myth and Seth's own gun-totin', Rambo-wannabe neighbors in a gentle but bluntly-worded call for a world with less violence. "Conceal and carry your fear / Don't need no weapons here," he sings in the song's bridge as the strings swell. "I've had all I can stand of the bloodthirsty leading man." Any or all of the tunes referenced above will undoubtedly ruffle some feathers among fans of The Avett Brothers, who started in rural North Carolina and continue to make music that's unmistakably Southern. But that didn't stop the band from putting them on their new album and dealing with the consequences. In a world where many country stars stay silent on political topics because it's good business, the Avetts deserve credit for that.
JIMMY SMITH, Groovin' At Smalls Paradise (LP)
Blue Note co-founder Francis Wolff once recalled: 'I first heard Jimmy Smith at Smalls' Paradise in January of 1956. It was his first gig in New York. He was a stunning sight. A man in convulsions, face contorted, crouched over in apparent agony, his fingers flying, his feet dancing over the pedals. The air was filled with waves of sound I had never heard before.' After discovering Smith, Alfred Lion recorded the Hammond B3 organ virtuoso no less than 14 times in 1956-57, including this tremendous live album captured at the legendary Harlem club that finds Smith in a trio setting with guitarist Eddie McFadden and drummer Donald Bailey stretching out on 3 standards ('After Hours,' 'My Funny Valentine' & 'Laura') plus Smith's Thelonious Monk tribute 'Slightly Monkish.'
BJORK, Medulla (2xLP brown vinyl)