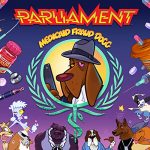 PARLIAMENT, Medicaid Fraud Dogg (CD)
The only antidote for the hell-in-a-handbasket blues is the stankiest of funks, and no one makes it stankier than George Clinton. The good doctor is here to prescribe Medicaid Fraud Dogg, the first album in 38 years from Parliament, the P-Funk empire's more soulful outfit. On the semi-surprise album, Clinton, of course, does not hold back his signature sound ("Oil Jones" is knee-deep in synth-bass), but is also tickled to address the dangers of the modern age ("Antisocial Media") and love by way of the medical industry (the previously released "I'm Gon Make U Sick O'me," featuring Scarface). Original Parliament horn players Fred Wesley, Pee Wee Ellis, Greg Thomas and Benny Cowan all appear on the album. But it's a trip to hear the reflexive influence of the young artists that Clinton's been diggin' lately: "All In" captures a Flying Lotus frenzy, but still drips like gooey honey; there's the Kendrick Lamar-namedropping "Loodie Poo Da Pimp"; Cardi B's flow is all over "Mama Told Me"; "Backwoods" celebrates "[a]ll that s*** coming out of Atlanta," confirming what Clinton said in a wild Reddit AMA. "All that trap s***. I'm trapped in it." There's a lot to ingest with the 21-track, 107-minute Medicaid Fraud Dogg — please consult with your funk doctor for dosage.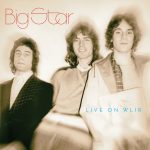 BIG STAR, Live On WLIR (CD)
Big Star recorded their second album, Radio City, as a trio, after the departure of founding member Chris Bell. When it came time to tour, original bassist Andy Hummel decided to return to school to pursue his engineering education. With this departure, Alex Chilton and Jody Stephens recruited fellow Memphis native John Lightman to take over on bass duties, and the band readied their live set. That set is on display as Big Star recorded a radio session at Ultrasonic Studios in New York for broadcast on the city's preeminent WLIR. Nearly two decades later, those recordings were issued as Live in 1992. Omnivore Recordings is proud to reintroduce those recordings, restored and remastered from the original tapes, as Live On WLIR, on CD—and, its first official release on LP. The 15 track set features material from the band's two releases, as well as a cover of "Motel Blues" by Loudon Wainwright III (which originally appeared on his classic 1971 sophomore release, Album II). With new, updated liner notes from Memphis writer/filmmaker, Robert Gordon (who won a Grammy® for his essay in 2010's Big Star boxed set Keep An Eye On The Sky) and an interview with John Lightman by Chris Bell biographer Rich Tupica (There Was A Light: The Cosmic History Of Big Star Founder Chris Bell), Live On WLIR enters the Big Star canon in the form it deserves. Because, you know, you get what you deserve.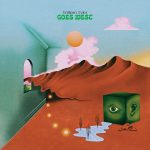 WILLIAM TYLER, Goes West (CD/LP)
Guitarist William Tyler doesn't just read history, he hears it. He was born and raised in Nashville, where his father worked as a professional songwriter on Music Row, and Mr. Tyler's music is steeped in the past, drawing on a vast array of sounds and traditions without sounding retro. An arrangement or chord progression might recall Appalachian folk or twangy country or even dreamy space rock, but Mr. Tyler has a rare talent for carrying all of those styles into the present moment and turning them into something personal. So far, Mr. Tyler's solo career has demonstrated steady, incremental change, and each record has had its own themes and sonic markers.  With each new project, Mr. Tyler's music has grown more accessible, and that trend continues with the streamlined "Goes West". Mr. Tyler has called himself "a composer who plays guitar," and that orientation becomes more clear with each new release. His compositions have an unusual knack for evoking specific affective states, which lends them a cinematic bent. So the tentative chords and light drone that open "Eventual Surrender" bring to mind a feeling of uncertainty tinged with heartbreak, while the descending melody line on "Man in a Hurry" suggests weary acceptance. "Goes West," an album that exists in the spaces between genres and styles, finds Mr. Tyler taking harmonic and melodic development to a new level. Playing with a full band of guitarist Meg Duffy, bassist and producer Brad Cook, keyboardist James Wallace, and drummer Griffin Goldsmith, Mr. Tyler has crafted the sleekest record of his career, one that boils his approach down to its concentrated essence. This time out, Mr. Tyler plays acoustic guitar only, but he eschews complicated patterns in favor of clean, deliberate lines. The slight tension between his playing, which conveys the emotional heart of each tune, and the work of his supporting musicians is especially important in realizing these pieces. "Rebecca" is the piece most overtly grounded in folk, with an opening refrain that sounds lifted from an ancient mountain ballad that gives way to a sprightly fingerpicked melody, but the careful layering of instruments, including muted piano chords, dislodges the song from any particular era. A quiet organ on "Venus in Aquarius" is felt more than heard, shading Mr. Tyler's marching tune with an uncanny hint of ghostly presence. The guitar out front gives the listener something to remember and later hum, but these subtle accents give the record its character. On "Not in Our Stars," hushed cymbal washes and understated tom-tom rolls are there for texture as much as rhythm, providing Mr. Tyler's lead with a background that feels like a distant thunderstorm. "Our Lady of the Desert," featuring veteran guitarist Bill Frisell, is a country shuffle with a prominent bassline, but the drums suggest the beat more than stating it directly, making it feel like a memory of a rolling highway anthem recalled in calmer times. Mr. Tyler, making the most of subtle contributions from his collaborators, ultimately adds just enough variation to keep you guessing.
THE DANDY WARHOLS, Why You So Crazy (CD/LP)
RIVAL SONS, Feral Roots (CD/LP)
SNEAKS, Highway Hypnosis (CD/LP)
RHINO RECORDS GOODIES:
Beginning on Tuesday, January 8 and continuing each Tuesday through the rest of the month, Rhino's "Start Your Ear Off Right" campaign will return in 2019 with limited edition vinyl titles from some of the most celebrated acts in music including: Alice Cooper, Aretha Franklin, Buffalo Springfield, Crosby, Stills, Nash & Young, Gram Parsons, Grateful Dead, Jimmy Rogers All Stars, Joni Mitchell, Little Village, Lupe Fiasco, Ramones, The Monkees, Television, Warren Zevon, and ZZ Top!
ARETHA FRANKLIN, Aretha's Gold (Gold vinyl LP)
ALICE COOPER, Greatest Hits (Silver vinyl LP)
THE MONKEES, Greatest Hits (Orange vinyl LP)
CROSBY, STILLS, NASH & YOUNG, So Far (White vinyl LP)
GRAM PARSONS, G.P. (180g vinyl)
GRATEFUL DEAD, Skeletons From The Closet: The Best Of The Grateful Dead (White vinyl LP)
LITTLE VILLAGE, Little Village (Blue vinyl LP)
JONI MITCHELL, Blue (Blue vinyl LP)
WARREN ZEVON, Warren Zevon (180g LP)
ZZ TOP:
El Loco (Pink vinyl LP)
Tejas (Purple vinyl LP)