Lotsa good stuff hittin' the stacks this week, including Ty Segall, Steep Canyon Rangers, They Might Be Giants, and an incredible collaborative effort by Mary Gauthier and Songwriting With Soldiers. Read on….
CALEXICO, The Thread That Keeps Us (CD/LP)
The ninth studio album from Calexico, The Thread That Keeps Us is a timely snapshot of the Arizona-bred band: a family portrait capturing their stylistic variety and unpredictability while still finding solace in limitless creativity. In bringing the album to life, vocalist/guitarist Joey Burns and drummer John Convertino found a spiritual home in unusual surroundings—not in Arizona, but on the Northern California coast in a home-turned-studio called the Panoramic House. Built from debris and shipyard-salvaged timber—and dubbed "The Phantom Ship" by the band—the grandiose house and its edge-of-the-world-like ambience soon made their way into the songs. The specter of California also had a powerful effect: as both dream state and nightmare, its infinite duality is mirrored in the music, giving Calexico a new direction and new edge. With less polish and more grit than ever before, The Thread That Keeps Us both honors enduring traditions and reveals Calexico's confidence in songwriting, ultimately setting a whole new standard for the band.
TY SEGALL, Freedom's Goblin (CD/LP)
Freedom's Goblin is a double album clocking in at 19 songs, and Segall doesn't waste a moment of it. Even during the multi-guitar meltdown on the studio version of "Fanny Dog," he and his Freedom Band keep their explosive energy on a short leash, never letting their incendiary jams overstay their welcome. It's bracing, and it's just the beginning. On "Rain," Segall withdraws to deliver a swirling, piano-based, Beatles-leaning ballad (while the song shares a name with The Beatles' "Rain," it's not a cover). Even then, the song's druggy, flowery doom doesn't feel indulgent, but instead shows off Segall's immaculate pop craftsmanship. He does deliver a cover song in the form of "Every 1's A Winner," a rendition of Hot Chocolate's 1978 disco hit. Like the original, Segall's version is carried by a fuzz-caked guitar riff — only here it's boiled down to a raucous funk workout. Segall is a scholar of rock, and Freedom's Goblin might as well be his PhD thesis. No riff is left unturned in his quest to exhume the glory and grandeur of rock 'n' roll's past, even as he translates that primal, guitar-slinging force into intimate, at times even poignant monologues about life, love, truth, fun and fantasy. Still, he throws any and all mature out the window on "Meaning," the album's most furious cut. Distorted beyond the point of comprehensibility, the song rages like a hardcore hurricane. Amid that howl, guest vocalist Denée Segall — Segall's wife and a member of the punk band Vial — screams "I see fear in freedom!" With Freedom's Goblin, though, Ty Segall has harnessed that fear, laughed in its face, and turned it into something ferocious.
STEEP CANYON RANGERS, Out In The Open (CD/LP)
Veteran Americana artist Joe Henry, who produced out in the open, insisted on recording these sessions live in the studio with no overdubs, and made sure to stay out of the way. That brings the Steep Canyon Rangers closer to their roots and concert sound, and provides a more cohesive, interactive approach. The selections on Out In The Open feature the standard bluegrass instrumentation of acoustic banjos, stand-up bass, mandolins and picked acoustic guitars. But they would sound just as impressive with plugged in amplification, or even solo. From the opening folksy "Farmers And Pharaohs" to the closing mid-tempo jaunty bluegrass of "The Speed We're Traveling," the Steep Canyon Rangers never let instrumental virtuosity overwhelm material that feels lived-in, emotionally resonant, and real.
MARY GAUTHIER, Rifles & Rosary Beads (CD/LP)
When Mary Gauthier set out to write Rifles and Rosary Beads, a collection of military-themed songs releasing Jan. 26 on Thirty Tigers, she knew she needed to call in some assistance. She found that assistance in the form of the non-profit Songwriting With Soldiers, an organization that pairs professional songwriters with wounded veterans. The results are a best of both worlds scenario. The soldiers and their families brought a frank realism to Rifles and Rosary Beads' stories while Gauthier's songwriting talents helped them shape the mix of pride, confusion, sadness, and longing of their experiences into 11 songs that would do any songwriter proud. Rifles and Rosary Beads is neither a protest album nor a jingoistic declaration of patriotic pride. Instead, it thrives in the nuances between those two opposites, the "middle" reality that her collaborators face every day. Nowhere is that balance more successfully struck than "Bullet Holes in the Sky." Written with Navy vet Jamie Trent, the song filters through the mixed emotions felt while watching a Veteran's Day parade in Nashville. While the song's subject feels his "chest explode as my eyes fill up with tears", he also remembers "They thank me for my service/and wave their little flag/They genuflect on Sunday/and yes, they'd send us back. "Rifles and Rosary Beads is a tough album to get through. And it should be. War is tough and the unflinchingly hard truths that Mary Gauthier helps these veterans and their partners bring to life on this album deserve to be heard. The themes of the album spark conversations that deserve to be had. Like Bob Dylan recording "Hurricane", Mary Gauthier wraps some very uncomfortable truths in a blanket of well-played music and well-crafted rhymes.
THEY MIGHT BE GIANTS, I Like Fun (CD)
PHILIP ANSELMO & THE ILLEGALS, Choosing Mental Illness As A Virtue (CD)
DUMPTRUCK, Wrecked (CD)
KELLY HALL-TOMPKINS, The Fiddler Expanding Tradition (CD)
BETH HART & JOE BONAMASSA, Black Coffee (CD)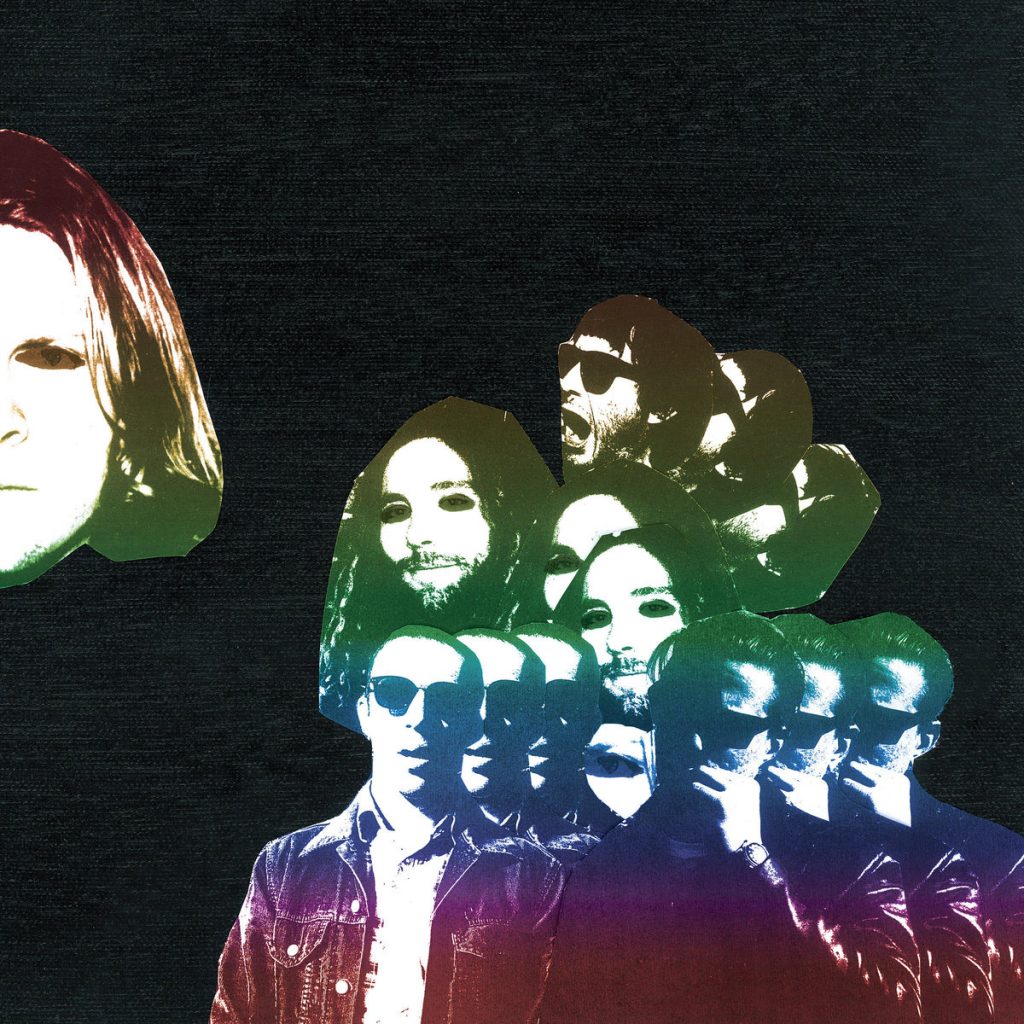 COMING SOON:
DJANGO DJANGO, Marble Skies (2/2)
EVANESCENCE, Synthesis (2/2)
And don't forget these STILL-NEW platters that matter!
JOHNNY GANDELSMAN, J S Bach: Complete Sonatas & Partitas for Violin (CD/LP)
After 10 years producing and recording albums for Brooklyn Rider and Yo-Yo Ma's Silkroad Ensemble, Johnny Gandelsman releases a debut solo album. Bach's Sonatas and Partitas for violin solo are a magnificent repertoire for Gandelsman's interpretations, which draw on his experiences with Silkroad, Brooklyn Rider, dance and non-classical musicians to add rich layers to Bach's music. It's an epic feat to attempt, but Gandelsman has created a mesmerizing, memorable marathon here, brimming with genial freshness and unaffected sincerity.
BELLE ADAIR, Tuscumbia (CD/LP)
The breezy jangle of "Get Away," the opening track off Belle Adair's striking new album, Tuscumbia, might not be the first thing you'd expect to hear from an Alabama band named after a John Steinbeck reference. Combining mellow, atmospheric rock and swirling, retro power-pop, it's more Big Star than Swampers, but it's an ideal gateway into the blissed-out world of Belle Adair, a group that manages to make even worry and isolation sound inviting. Recorded at Muscle Shoals' legendary FAME Studios with Wilco producer/engineer Tom Schick, Tuscumbia calls to mind everything from The Byrds to Teenage Fanclub as frontman Matthew Green's meditative lyrics navigate a slew of major life changes, contemplate the meaning of home, and grapple with the realities of life on the road.
JACK WHITE, "Connected By Love"/"Respect Commander" (7″vinyl)
Today, Jack has released "Connected by Love," the first single from his forthcoming third solo album, BOARDING HOUSE REACH, along with companion album track "Respect Commander." Both songs are available digitally worldwide and as a physical 7" pressed at Third Man Pressing in Detroit!
BELLE & SEBASTIAN, How To Solve Our Human Problems, Part 2 of 3 (CD/LP)
Glasgow's elder statesmen of bittersweet indie pop have become steadily more accessible only to find that, in this endless era of streaming, access isn't the problem. Stuart Murdoch's answer has been to return to EPs, planning a suite of three, delivering music in a steady pulse rather than with a heavy thud. That suits the suppleness of the band, alternating their singing here in a melodic relay. They flit between playground chant and propulsive psychedelia on exhilarating opener Show Me the Sun, Murdoch's lyrics landing somewhere between evangelical jabber and detailed acid trip. Sarah Martin fronts a charming, charging Same Star, a song of romantic insistence. But when the collection pivots around I'll Be Your Pilot, an easy-listening meander so relentlessly pleasant it feels like a prank, the project feels shapeless. Maybe that's the point. The squelch and squeal of the Stevie Jackson-led Cornflakes or the yawning woodwinds and wry, curling lyrics of A Plague on Other Boys may be notes towards something significant, when Part 3 is released next month, or just humble offerings to our wilderness of playlists.
RON GALLO, Really Nice Guys (CD)
Really Nice Guys is a concept EP by Thyme Magazine's "Man Of The Year," Ron Gallo. The EP is another thought provoking and inspired installment, extending an already prolifc calendar year by Gallo which saw the release of the critically acclaimed full length album Heavy Meta as well as the 7" singles, "Temporary Slave" and "Sorry Not Everybody Is You." Really Nice Guys finds Gallo exploring new sonic frontiers and instrumentation in the form of what might be called a conceptual art piece. Whatever you call it is wholly original and Gallo continues to melt faces and free minds.
BOBO STENSON, Contra La Indecision (CD)
The great Swedish trio of Bobo Stenson takes a stand against indecision in a decisively beautiful new album.  As ever, the trio draws upon a wide range of source materials.  A yearning title song by Cuban singer-songwriter Silvio Rodríguez, Bartók's adaptation of a Slovak folk song, a piece from Mompou's Cançons I Danses collection, and Erik Satie's Elégie are integrated into the programme,  alongside original compositions by Stenson and Anders Jormin and group improvising.  So strong is the group's character and the musical identity of each of its members that the integration of this material always feels organic and logical.  Stenson's lyrical touch, Jormin's folk-flavoured arco bass and Jon Fält's flickering, textural drumming are all well-displayed on Contra la indecision, the trio's first new recording in six years.
THE TUNE-YARDS, I Can Feel You Creep Into My Private Life (CD/LP)
I Can Feel You Creep Into My Private Life is a very 2018 kind of album, social justice meditation workshop and all: the provocative, messy, frequently brilliant sound of a talented and original artist working their way through what New York magazine recently called pop culture's great awokening. It occasionally makes you grit your teeth and wince, but far more often it makes you want to dance – and there's something weirdly compelling about it all. Even when it misfires, it tells you something about the era we live in.