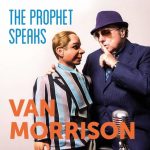 VAN MORRISON, The Prophet Speaks (CD/LP)
Van Morrison's been unusually prolific the past couple years, alternating album releases between the Sony Legacy and Caroline International labels (the latter the source of his latest). But The Belfast Cowboy was getting dangerously close to pure formula until he collaborated with Joey DeFrancesco and his band on You're Driving Me Crazy, released earlier this year. Arguably one of the best records of 2018, this album followed in the conceptual footsteps of Versatile and Roll With the Punches, combinations of Morrison originals incorporated with blues and r&b standards. But there's an unmistakable mutual delight permeating Van The Man's collaboration with the organist/trumpeter and his group, one so pervasive as to fully and completely distinguish the record from its immediate predecessors. Commencing The Prophet Speaks with a lighthearted "Gonna Send You Back To Where I Got You From." Van, Joey et. al., pick right up where they left off, romping into action with sly singing from the author of "Brown-eyed Girl," the sure rhythm of drummer Michael Ode and a pithy guitar break by Dan Wilson. The fivesome's easy shuffle through John Lee Hooker's "Dimples" sounds perfectly natural as well, punctuated (as the last album so often was) with Morrison's impromptu vocal exhortations, an intro of sorts for DeFrancesco's organ solo, just prior to Troy Roberts' sax break. All of this takes place before Van proceeds to improvise a gleeful harmonica bit. If all this doesn't sound like the work of musicians who love what they're doing together, "Got to Go Where the Love Is" should convince, adorned as it is with simple, earthy horn charts evoking nothing so much as Morrison during His Band And The Street Choir era. Such direct reference to vintage sounds not only distinguishes this new album from its immediate predecessor but bespeaks Van's level of comfort with his past the often cantankerous artist hasn't always displayed. It's particularly noteworthy too because this tune is one of the six originals here. But considering that this inveterate iconoclast began a closely-supervised archiving of his vault in 2016, his open attitude shouldn't be all that surprising, only that he should infuses this new work of his with a similarly relaxed air. As Morrison uses his voice as an instrument to comp his way through The wry double entendre in the title, "5 am Greenwich Mean Time," DeFrancesco and company's backing doesn't sound much any less sprightly than the more literal take on Sam Cooke's "Laughin' and Clownin'." And while that number of the ultra-smooth crooner's doesn't sound so readily-recognizable as the oft-covered "Gotta Get You Off My Mind" of Solomon Burke's, that's only indicative of how Morrison, DeFrancesco, et.al., commingle familiar elements to render them fresh on virtually all fourteen tracks on The Prophet Speaks.
COLD WAR KIDS, This Will All Blow Over In Time (CD)
COLDPLAY:
The Butterfly Package (3xLP + DVD)
LIVE IN BUENOS AIRES (2xLP/2xCD)
JOHN MELLENCAMP, Other People's Stuff (CD)
MAX RICHTER, Mary, Queen Of Scots (Original Soundtrack) (CD)
EMINEM, Kamikaze (CD/LP)
MORRISSEY, Low In High School (CD/LP)
JILL SCOTT, By Popular Demand (LP)
KILLER REISSUES:
GZA, Liquid Swords (Deluxe 2xLP with holographic cover)
TALIB KWELI, The Seven (splatter-vinyl LP)
PAUL MCCARTNEY & WINGS:
Red Rose Speedway (180g audiophile 2xLP)
Wild Life (180g audiophile 2xLP)
THE POSIES, Frosting On The Beater (45rpm 2xLP)
REDD KROSS:
Hot Issue (LP)
Teen Babes From Monsanto (LP)
THE SPINANES, Manos (CD/LP)
COMING SOON:
BRUCE SPRINGSTEEN, Springsteen On Broadway (12/14)
And don't forget these STILL-NEW platters that matter:
JEFF TWEEDY, Warm (CD/LP)
This is the 18th album Jeff Tweedy has made as a principal player – with Uncle Tupelo, with Wilco, with his elder son (as Tweedy) and solo. It is a testament to his restless creativity that he's still making worthwhile music, still twisting familiar elements into appealing shapes. The perfectionism and obsession of the middle Wilco years are a thing of the past. These days, Tweedy simply turns up to shows with his acoustic guitar and plays songs. Warm takes the same model, adding only drums, bass and electric guitar (usually to shade in the songs, rather than carry them). In a new autobiography, Tweedy writes about how uncertain he was about his voice in the early days of Uncle Tupelo, in comparison to his bandmate Jay Farrar's, but that voice is at one with the music he's making: a little ragged and frayed and – per the album's title – warm. With the book out at the same time as the album, it is tempting to look for autobiography in the lyrics. It's there explicitly in places – the reference to the "long drive" he took with his son to reach his father's bedside before he died. At other times, he is self-reflective, and the troubles of Tweedy's past come up repeatedly. "Now people say / What drugs did you take / And why don't you start taking them again? / But they're not my friends," he sings on Having Been Is No Way to Be; "Please take my advice," he suggests on Warm (When the Sun Has Died). "Worry into your song / Grow away from your anger." There's no need to be a Tweedy-ologist to appreciate Warm. It feels slight at first, but then the refusal to overembellish and overdevelop the songs brings them closer. There is nothing between the listener, the melodies and the lyrics – and the melodies are consistently strong, insinuating their way into the listener's consciousness. Warm is an easeful record: it offers its appeal without supplication, or insistence.

THE 1975, A Brief Inquiry Into Online Relationships (CD/LP)
"You learn a couple of things when you get to my age," announces Matt Healy, 29, a few minutes into the 1975's third album. You suspect it is delivered with a wink to the camera. Nevertheless, the two and half years since their previous album, I Like It When You Sleep for You Are So Beautiful Yet So Unaware of It have been eventful for the band's frontman, taking in vast commercial success, heroin addiction and a spell in rehab. Healy and the rest of the 1975 have reappeared with an album that clearly wants to be an epochal statement: the presence of a spoken-word track performed by Siri, Apple's virtual assistant, and the distinctly Radiohead-like song I Always Wanna Die Sometimes implies it wants to be a millennial OK Computer. There is a hugely impressive musical diversity on display, which seems as much to do with reflecting how music exists online – everything immediately available, stripped of its historical context – as with showing off the contents of the band's record collection. There's something breathless about how it leaps from Drake-esque Auto-Tune to the smoky west coast jazz of Mine, to Love It If We Made It, (which sounds like Tears for Fears circa Songs from the Big Chair) to Give Yourself a Try's knowing homage to Joy Division's Disorder. The album has more to offer than a series of clever pastiches. The band's inventive songwriting never stints on radio friendliness – the melody of TooTimeTooTimeTooTime is effervescent, while I Couldn't Be More in Love is the kind of epic song that TV talent-show contestants feel impelled to take on. But they also push themselves. The vocal on Petrichor floats over stammering, glitchy techno; a quarter of Sincerity Is Scary is taken up with its intro, a cosseting blend of jazzy horns and piano. Boldly, the album goes big on a deeply unfashionable, Bono-esque belief in the power of rock, as means of communication and as a unifying force in an atomised world. The depiction of his heroin addiction on It's Not Living (If It's Not With You) is funny and unsparing, devoid of self-pity, at odds with the beautifully turned 80s pop backing. As a lover, he doesn't emerge terribly well from Inside Your Mind or Sincerity Is Scary, both unvarnished portraits of jealousy and hypocrisy. A Brief Inquiry is stronger and punchier than its predecessor. You could argue it's rather confused, but, as Healy would doubtless point out, it is meant to reflect the times we live in, and they're pretty confusing. And it is never boring – it's too restless and skittish for that, shot through with a very believable personality of its own. For all the reference points and deployment of chart-pop tropes, it couldn't belong to anyone else.

NEIL YOUNG, Songs For Judy (2xCD)
It is November 1976. Jimmy Carter has just been elected US president, the Vietnam war is finally in the rearview mirror and Neil Young has turned 31. Many feel he is at his peak, but his life is in turmoil after breaking up the previous year with longtime girlfriend, actor Carrie Snodgress. His answer? Write songs, hit the road. So he tours with long-standing associates Crazy Horse. But for the first half of these US shows he performs solo. Fast forward 42 years, and as part of his archives series, Songs for Judy revisits those moments in time. There are 23 tracks, including one previously unreleased song, No One Seems to Know, a piano-based ballad on lessons learned. The rest will be familiar to even casual fans: Too Far Gone, Heart of Gold, White Line, Love Is a Rose, After the Gold Rush, Human Highway, Tell Me Why, The Needle and the Damage Done, ending with Sugar Mountain.

DAVID BOWIE, Glastonbury 2000 (2xCD/2xCD + DVD/3xLP)
This release documents Bowie's legendary Sunday night headline performance on June 25 at the most famous festival on earth. The package includes the full 21 song greatest hits set and for the first time, a DVD of the entire show (only 30 minutes of which has ever been broadcast on TV) including the Glastonbury performance of "'Heroes'," a highlight of the record breaking "David Bowie Is…" exhibition and the only track that has been previously released.
PHISH, Baker's Dozen Live At Madison Square Garden (5xCD/5xLP)
BABY GRANDMOTHERS, Merkurius (CD)
DEF LEPPARD, The Story So Far : The Best Of Def Leppard (2xCD/2xLP)
BETH HART, Live At The Royal Albert Hall (CD)
MEWITHOUTYOU, Untitled (CD)
NEMANJA RADULOVIC, Baika (CD)
THE REVEREND HORTON HEAT, Whole New Life (CD/LP)
SOUL ASYLUM, While You Were Out/Clam Dip & Other Delights (CD)
WHEELER WALKER, JR., WW III (CD)
YUJA WANG, Berlin Recital (CD)