All that jazz in the New Release lineup this week? Sure. You'll find new stuff by Michel Benita, Avishai Cohen and Michael Formanek to feed your brain. But we've also got Paul Carrack and Vince Gill to serve up some melodic comfort food of the pop-soul and country varieties. And that's all without mentioning the new album by the genre-devouring Snarky Puppy ensemble. Read on….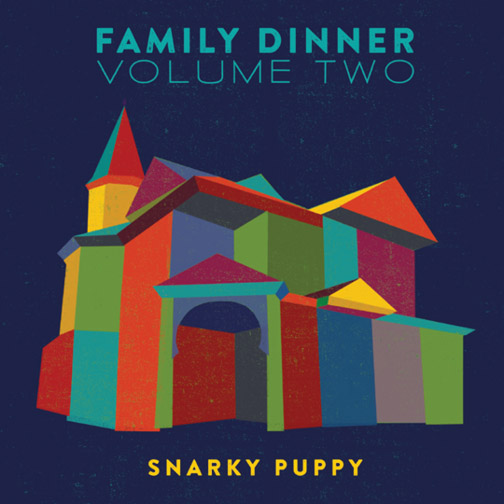 NEW GOODIES
SNARKY PUPPY, Family Dinner Vol. 2 (CD/DVD)
Snarky Puppy, the jumbo-size brainchild of bassist-composer Michael League, is one of the more versatile groups on the planet right now. On its own, the Grammy-winning orchestra plays a virtuosic, high-energy blend of jazz, funk, hip-hop and more. But the group is also an expert backing band, as demonstrated on its Family Dinner albums, guest-studded affairs that raise money for worthy causes. This new version features David Crosby, Charlie Hunter, Salief Keita and many more.
FRANK TURNER, Ten For Ten (CD)
The Bahrain-born frontman for the seminal punk outfit Million Dead a decidedly more acoustic folk approach to his post-breakup work, and this release collects ten never-before-released tracks to celebrate the 10th anniversary of his solo career.

MICHEL BENITA, River Silver (CD)
The Algiers-born double-bassist has created a more world-folkish venture than his collaborations with Andy Sheppard. Featuring Japanese koto, atmospheric electronics and Swiss flugelhornist Matthieu Michel, the melodies on River Silver range from near-rockish to seductive and delicate.

AVISHAI COHEN, Into The Silence (CD)
The jazz trumpeter 's ECM leader debut is a collection of expansive and impressionistic compositions for jazz quartet (Cohen on trumpet, Yonathan Avashai on piano, Eric Revis on bass, and Nasheet Waits on drums), augmented by tenor saxophone on a few pieces. Into The Silence is dedicated to the memory of Avishai's father David, reflecting upon the last days of his life with grace and restraint.
MICHAEL FORMANEK & ENSEMBLE KOLOSSUS, Distance (CD)
Bassist and composer Michael Formanek leads the 18-piece Ensemble Kolossus, his first-ever big-band outing.

PAUL CARRACK, SOUL SHADOWS (CD)
The one-of-a-kind voice behind the biggest hits by Ace, Squeeze & Mike & The Mechanics returns (fresh off a stint on tour with Eric Clapton) with a blue-eyed –soul style album of smooth grooves that would fit comfortably next to those 1970's Boz Scaggs albums.
VINCE GILL, Down To My Last Bad Habit (CD)
A virtual walking encyclopedia of country tradition, Vince Gill has revived Western Swing with the Time Jumpers, producing new standard-bearer Ashley Monroe, or wrapping his Oklahoma high tenor around a honky-tonk weeper. Gill plays it all on his new album, with exquisite guitar work and soulful vulnerability.
Additional Tasty Re-issues & Re-Stocks.

STEVE REICH, Four Organs/Phase Patterns (CD)
One of the founders of the "minimal music" school, along with Philip Glass (who plays on this album), Reich's instrumental attempt to recreate his tape-delay experiments of the 1960's has been digitally remastered for this reissue. It's all about the tones as Reich records four electronic organs and maracas into a hypnotic, elemental wave of sound.

ALBERT COLLINS & THE ICEBREAKERS, Live At Rockpalast (CD + DVD)
The Iceman cometh again! On this electrifying performance from 1980, the ice-cold blues guitarist is in rare form on classics from "Sweet Home Chicago" to his own "Frosty" and "Cold Cuts."
RED GARLAND,
Albums Collection Part 1: 1956-59 (4XCD)
Part Two: 1959-61 (4XCD)
Part Three: 1961-62 (4XCD)
Renowned for his unique playing style that drew influence from the likes of Ahmad Jamal and blended them with his own sense of swing and syncopation, Red Garland was one of the most influential musicians to rise to prominence during the hard bop era. These sets contain over five hours of fully-remastered music across four discs and demonstrate the depth of Garland's artistry.
WYNTON KELLY, Nine Complete Albums : 1951-61 (4XCD)
Jazz pianist and composer Wynton Charles Kelly, famed for his crisp, leaping rhythmic blues playing style, and expert sight reading abilities, was simply one of the finest accompanists in the business. As drummer Philly Joe Jones once said, Kelly puts down flowers behind a soloist. This 4 CD collection, presented in digitally remastered format, contains undoubtedly the finest recordings of a criminally underrated musician. This compilation, featuring almost five hours of music in total, is a fitting testament to one of the unsung heroes of jazz.
COMING SOON:
Malcolm Holcombe, Another Black Hole (2/19)
Lake Street Dive, Side Pony (2/19)
Carrie Rodriguez, Lola (2/19)
School Of Seven Bells, SVIIB (2/19)
And don't forget these still-new platters that matter!
LUTHER DICKINSON, Blues & Ballads (CD/LP)
The frontman for North Mississippi All-Stars pays tribute to his larger-than-life father, Jim, who walked tall in the blues, rock and soul worlds from the 1960's til 2009. Mr. Jim worked with everyone from Aretha to the Stones to the Replacements as a producer and a musician, and he left quite a legacy behind. But rather than deal in morbidity, Luther celebrates his father's art and life with a low-key, laid-back, gritty Memphis-soul style session that would do his Pop proud. And he even brings Mavis Staples, Amy LaVere, JJ Grey, and Mr. Jason Isbell along for the ride.
BONNIE PRINCE BILLY, Pond Scum (CD/LP)
Leave it to indie folk stylist Bonnie Prince Billy, aka Will Oldham, to create something new out of old material. On this set, he collects some decade-old sessions for the great British DJ and musical omnivore John Peel, weaving densely poetic lyrics, a deeply emotional vocal style and his delicate-yet-forceful acoustic guitar into hypnotically intense songs.
LUCINDA WILLIAMS, Ghosts Of Highway 20 (CD/LP)
Miss Lucinda claws her way back into your heart with a collection of covers and originals, all as a reflection on the passing of her father, the poet Miller Williams. Using that same scarred, sensual drawl that she's snared us with since 1978, Lucinda slings ragged alt-country, A-list jazz players (Bill Frisell and Greg Leisz) and literary lyrics, Williams loses herself in another masterpiece.

THE LONDON SUEDE, Night Thoughts (CD)
The veteran glam-rock revivalists' new album, recorded after a particularly tumultuous period for the band, is ultimately grandiose and stark, blending theatrical post-punk, swirling ballads and danceable rhythms around singer Brett Anderson angular angst.
Dr DOG, Psychedelic Swamp (CD/LP)
Fifteen years after initially recording it, the eclectic, kaleidoscopic pop sextet revisits, rebuilds and releases their never-officially-issue debut album, melding newly recorded tracks with the original recordings, building layers of synths and drums machines into massive waves of mind-blowing electronic pop that pushes the boundaries of…well, just about everything.
JAMES HUNTER SIX, Hold On (CD/LP)
A gutsy blue-eyed soul singer who even the curmudgeonly master Van Morrison bows to, Hunter's new album with his sizzling rock/R&B sextet is a textbook lesson in how to convey hard-edged heartbreak. Built on a foundation of classic pub-rock and Stax-style soul, James tears his heart out on every song, smooths his hair, checks the suit, and does it all over again.
KING MUD, Victory Hotel (CD/LP 2/19)
Van Campbell of the Black Diamond Heavies and Freddy J IV of Left Lane Cruiser bring the crunchy distortion and backwoods juke-joint thump on this swampy throwback nugget.
ELTON JOHN, Wonderful Crazy Night (CD/LP)
After a bracing return to form with his 2010 Leon Russell collaboration The Union, Sir Elton is back with a surprisingly gritty, rootsy album that recalls the more stripped-down moments of the 70's classicTumbleweed Connection. Recorded in just 17 days, with T-Bone Burnett behind the boards (and Bernie Taupin penning the lyrics, natch), Elton cuts loose with some real urgency, while still making room for the grandiose ballads that pay the bills.