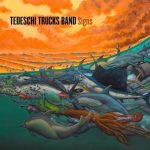 TEDESCHI TRUCKS BAND, Signs (CD/LP)
Led by married couple Susan Tedeschi and Derek Trucks, Tedeschi Trucks Band formed back in 2010. Based in Jacksonville, Florida the band, which currently consists of 12 members, released debut album Revelator in 2011. Fusing Blues, Soul, R&B and Americana Signs sees Tedeschi Trucks Band continuing to forge their own path in music. This isn't just a group of friends recording some tunes, this is a very skilled band bursting with musicians at the top of their game. Opener "Signs, High Times" gives you a flavor of what's to come and it finds the band speaking frankly through their lyrics. While the music may sound uptempo and groovy, there's a very serious message underpinning the track, and indeed the whole album. During these troubled times, Tedeschi Trucks Band are here to hope for change, instil optimism in the listener and deliver some of the most finely crafted songs of their career. The intensity of Signs is something that really hits you; there's so much to unpack both lyrically and musically. Take "I'm Gonna Be Here" as an example. The song is full of intricate riffs and melodies with Tedeschi's voice hitting you in the sweet spot as she assures you she'll be there through the dark and difficult times. The last 2 minutes of the song center on an intense guitar riff while gospel-tinged backing vocals crank the tension up even further. No one trick ponies, the band then changes the tempo with "When Will I Begin," one of the album's slower and more contemplative moments. Elsewhere on the record, the bluesy "Hard Case" offers a relief from some of the weightier moments, "Strengthen What Remains" is a gorgeously understated track that allows Tedeschi's voice to take most of the glory, and "They Don't Shine" will have you stomping your feet to the beat with its soulful groove. One of the strongest moments is the Stevie Wonder-esque "Shame," which could easily be a lost gem from the Motown era. The musicianship is so tight and Tedeschi's voice so affecting, you can't help but be moved by the track. Fittingly enough, "The Ending" brings the album to a close and it's another stripped-down moment. Pairing Tedeschi's powerful voice with an acoustic guitar, it's a stark contrast to the rest of the record. It's an emotive final song dealing with loss and you'll undoubtedly get goosebumps listening to it.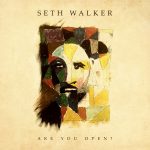 SETH WALKER, Are You Open? (CD/LP)
Seth Walker himself did the painting that adorns the front cover of his new album Are You Open? but the gaze in that portrait is no less piercing than that of the artist in the photograph on the back. Or much less insinuating than the music inside, the main approach of which is so understated that, while it may not suit music lovers inclined to listen for only primary colors, will no doubt entice any listener who can appreciate its understated honesty. Multi-instrumentalist and producer Jano Rix' name deserves to appear just below the artist's in the list of musician credits on this Royal Potato Family title. The erstwhile Wood Brother's playing and singing is integral to the spacious, inviting sound flowing from the very first track here: "Giving It All Away" sounds like the most cohesive segment of an extended improvisation, for which Walker subsequently wrote the lyrics (reproduced with all the words on an insert in the package also adorned with an eye-catching painting). The ambiance of that cut bears no little resemblance to the sound of reggae-based "All I Need to Know," its infectious rhythms illuminated a glowing electric piano at its fade. There's a readily-discernible similarity between Seth Walker's rootsy style and that of the Wood siblings (with whom he toured in 2016), but the proportions of folk, rock, r&b and other influences are generally different and simplified in his music, as demonstrated by the purity of this acoustic-based title song. It's a testament to the skill with which this record was assembled that what's essentially a solo number, like that track and "Something To Hold," fit logically into this roughly half-hour song sequence. The ensemble dynamic radiating from "Hard Road," is also indicative of the natural logic within the ten tracks. Likewise, the cut with which it's juxtaposed, "No Bird," where horns interlock with the rest of the musicians' playing, generates  momentum that furthers the cumulative force of Are You Open?  Still, the impact running order wouldn't matter much if the original material didn't hold up under initial scrutiny and repeated listenings. Seth Walker's honed his composing skills so that words and music are virtually inextricable from each other and, in turn, the performances, as Rix oversaw them for this studio effort. As a result, a seamless quality permeates this record so that, on a selection such as "Underdog," instruments and vocals are not only tightly interwoven, but also laced with an element of spontaneity that not enlivens this cut but those surrounding it. Throughout Are You Open? there is never a sense the participants are being too careful to get things 'just right' And that's even with discernible attention to detail on display throughout, right down to the engineering (by Walker himself along with Rix), mixing (by Mike Poole and Brandon Bell) and mastering (by Eric Conn). As with the graphics, all those nuances compel close attention and provide ample reward for the concentration.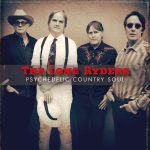 THE LONG RYDERS, Psychedelic Country Soul (CD)
The Long Ryders, founders of alt-country in the 1980s, saddle up for the first time in thirty years with their biggest and best slice of Americana yet, the aptly named Psychedelic Country Soul. The album was produced by Ed Stasium (Ramones, Belinda Carlisle, The Smithereens) and features a eleven Ryder originals and a cover of their friend Tom Petty's great song, "Walls." Recorded in Los Angeles at Dr. Dre's studio, Psychedelic Country Soul is, in Long Ryder Sid Griffin's own words, "the album we were always trying to make… each flavor which made the band unique is there be it C&W, rock 'n' roll, troubadour folk music, raw R&B, or out-there psychedelia." The Long Ryders (Griffin, ex-Jayhawk Stephen McCarthy, song publisher Greg Sowders and NASA veteran Tom Stevens) are supplemented on the album by old friends The Bangles on harmony vocals and stellar sideman Dave Perlman (Everly Bros. Hoyt Axton) on pedal steel guitar. Yet, ultimately the album is The Long Ryders. With Griffin's familiar electric 12-string guitar, McCarthy's virtuoso Clarence White licks, Tom Stevens earthy bass and Greg Sowders swingin' drums, Psychedelic Country Soul is an album for 2019 made with the flavors of yesterday which has the sound and the spirit of tomorrow. Get ready for the ryde of your life.
RYAN BINGHAM, American Love Song (CD/LP)
HAYES CARLL, What It Is (CD)
CZARFACE, Czarface Meets Ghostface (CD)
KILLER REISSUES:
DAVID BOWIE:
Let's Dance (Remastered) (CD)
Tonight (Remastered) (CD)
MEGADETH
The World Needs A Hero (2xLP)
The System Has Failed (LP)

COMING SOON:
GARY CLARK, JR., This Land (2/22)
A FRAGILE TOMORROW, Generation Loss (2/22)
LOWLAND HUM, Glyphonic (2/22)
SUSTO, Ever Since I Lost My Mind (2/22)
ADIA VICTORIA, Silences (2/22)
And don't forget these STILL-NEW platters that matter!
BOB MOULD, Sunshine Rock (CD/LP)
Sunshine Rock, Bob Mould's latest, shows him continuing to rock hard, very much in the tradition of 2016's Patch the Sky, but with interesting production moves that give the new album some sonic variety. Mould, now living in Berlin, is best known for being one-third of the seminal alternative band, Hüsker Dü. He went on to form the beloved band Sugar, and has had an impressive, extensive solo career. He has an amazing pop sensibility that he cloaks in the aforementioned guitar-generated waves of noise. Patch the Sky was a bit of a departure, in that Mould gently evolved his familiar sound, taking some of the beloved slop out of his distortion; crafting darker, more complex vocal melodies; and popping the drums out of the mix. The result was a nearly flawless rock album and Sunshine Rock builds on that incredible work. The new wrinkle of Sunshine Rock is the production. Mould features strings at several points throughout the album, giving tracks a grandeur one doesn't associate with a guy who can command a room with just his voice and an electric guitar. However, that link between Mould's voice and electric guitar is so baked into the DNA of Sunshine Rock that when he adds things like strings and new wave keyboards (as he does on "Sunny Love Song"), it doesn't weaken the song. Mould's fierceness can't be blunted by classy production. The fierceness isn't always explicit. On "The Final Years," the song kicks off with a New Order bass groove with a keyboard riff that would make The Killers proud. Violins kick in halfway through, giving the song an emotional lift. There are no distorted guitars, except that you can almost imagine Mould laying down the chugging song hook on loud electric guitar, and then replacing it with keyboards and violin. The guitar is present in the song, even when it's subtle in the mix. Sunshine Rock has lots of straight-ahead rock songs, too. "Sin King" has a huge drum sound, with Mould's guitar and voice striving to climb the immense beat. "What Do You Want Me to Do," with its relentless guitar hook, background vocals, and huge solo, could almost represent an alternative universe version of Van Halen, had they been driven by wisdom and introspection, rather than sun and parties. At 12 tracks long, and finishing just under 37 minutes, Sunshine Rock is relentless. It's heavy without being dark. It's catchy without being light. And while the bones of the album are Mould and his electric guitar, he has very carefully added different touches, like strings and keyboards, that enhance the tracks without being distracting. Sunshine Rock is an album worth hearing.

GALACTIC, Already Ready Already (CD/LP)
The tenth studio album from New Orleans staple Galactic, titled Already Ready Already, is an LP of sounds influenced by their home city and beyond. It scales back a bit from their previous release Into The Deep, this time only showcasing local singers while evolving the core bands funk sound for the future with digital blasts and experimentation.  The instrumentals, which open and close the album aptly titled "Already" and "Ready Already", are blazers and the most rock leaning the band gets; for a group who stays with the funk these are exciting glimpses into a harder sound for the outfit. While the group is notorious for their live sets, they are constantly striving to refine their studio craft. The band (Stanton Moore, Robert Mercurio, Jeff Raines, Richard Vogel, Ben Ellman, Shamarr Allen) has always promoted their home city on record and in practice (recently by purchasing the famed Tipitina's), and when the music gets rolling they bring some local friends out into the spotlight. Charm Taylor returns (she collaborated with the band on their best song last album "Right On") for "Clap Your Hands", a gospel-influenced party jam that Taylor confidently leads. The track uses blaring horns, harmonica, warm organ and layers of beats to move forward, while two other offerings thrust Galactic's sound into the future even more successfully; "Touch Get Cut" and "Dance At My Funeral." Erica Falls delivers a badass vocal for "Touch Get Cut", which whirls together pieces of digital bleeps, NOLA second line, marching drums, and small horn flourishes to support the killer Falls as she claims her space with vocal dominance. "Dance At My Funeral" is the most exciting mix of past New Orleans with 2019 and beyond as rap cabaret artist BOYFRIEND exalts all of her friends to shake their ass while they still can at her funeral in front of a musical backdrop that delivers a swirling mix of aggressive buzzing dance funk. The exhilarating brief blast of a track manages to make time for a mini drum snap and bumping bass/ripping trumpet duet; a true winner. Not everything is as exciting though; "Everlasting Light" is fairly lightweight R&B even with David Shaw and Nahko onboard, while Princess Shaw vocally leads the way through "Straight Crazy", the most straight ahead pop song the outfit has ever recorded. Moving back into their wheelhouse is the slippery instrumental "Goose Grease", which the band dives into and explores gracefully. Only eight songs, including brief intro and outro, the album isn't as rich as past outings (such as the hip-hop experiment From the Corner To The Block, or the gorgeous snapshot of New Orleans music on 2010's Ya-Ka-May). However, Galactic prove once again on Already Ready Already that they are willing to experiment with fellow Big Easy artists while exploring the dense musical past, present and future of their beloved city.

CASS MCCOMBS, Tip Of The Sphere (CD/LP)
When Cass McCombs started making records in the early 2000s, he was a woodsy abstractionist with an unabashed taste for classic rock, and he soon became a master of vernacular: John Lennon-ish balladry, droning indie-pop, baroque choral soul, ramshackle prog, and — especially — sad-dreamy folk-rock recalling Cali kin Neil Young and Elliott Smith. Fifteen years in, he remains a shapeshifter with excellent taste in shapes. On Tip Of The Sphere, he summons yet another West Coast spirit: Jerry Garcia. As a head who followed the band in their final years, and who was bold enough to cover "Dark Star" on 2016's Day Of The Dead tribute, McCombs brings a certain amount of authority to the ceremony. But he's an economical guitarist, and the vibe here is mostly late-Seventies Dead, grooves more burbling than rushing. The opener "I Followed The River South To What" echoes the squishy, envelope-filter guitar voicings of innumerable "Scarlet Begonias/Fire On The Mountain" jams alongside Dan Horne's paddleboat bass lines, while Dan Lead's pedal steel on "Prayer For Another Day" and "Rounder" recalls Garcia's decidedly un-Nashville style. None of this should suggest the approach is overly derivative or slavish. To the contrary, and it takes balls and vision to employ these tropes in a fresh way. See "The Great Pixley Train Robbery," which begins with an acoustic guitar flourish suggesting a Tommy outtake, then steps into the great 20th century tradition of the train song, following Robert Hunter and many before him. McCombs writes of a railroad heist that actually occurred a century ago in California, narrating it as a confession by a man hoping for closure if not redemption. "I swear before Notary," he declares, "to make a clean breast/Of the whole thing," before ripping into a swirling, multi-tracked guitar jam over a snaky Mars Hotel groove. Elsewhere, the matrix of influences pivots. "American Canyon Sutra" suggests Alan Ginsburg and Suicide's Alan Vega, indicting of our Walmart culture over synth beats, electronic splats, and Funkadelic guitar noise. And "Sleeping Volcanoes" — certain to be referred to as "The Armageddon Song" — scrambles vintage tunecraft with evocations of refugees and class war, its romantic-apocalyptic reprise recalling McCombs' "Aids In Africa" (from his 2003 debut A) in its unnerving juxtapostion of real-world horror and pleasure-center popcraft. It's deceptively chill music that, like most of McCombs work, honors the past while steeling itself for the future.