This week, Kendrick Lamar drops a surprise album of genius on us all, former Gaslight Anthem frontman Brian Fallon steps out with a solo album, Pete Yorn returns to form, Jeff Buckley speaks to us from beyond and Gene gets a Classical Corner album by Martha Argerich & Daniel Barenboim to play incessantly. It's all good for everybody. Read on…
NEW GOODIES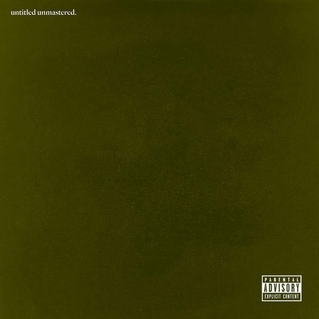 KENDRICK LAMAR, Untitled Unmastered (CD)
Kendrick Lamar's Untitled Unmastered is a master class in managing expectations. True to its title, each of the eight songs on Lamar's surprise album is christened simply with a track number and a date, presumably (though not necessarily) signifying when they were recorded. But although Untitled begs to be graded on a curve (it's a collection of outtakes from his previous album, the masterful To Pimp A Butterfly), it doesn't need to be. Leftovers or not, this is magnificent music from a rare talent working at peak creativity.
BRIAN FALLON, Painkillers (CD/LP)
The new solo album by the former Gaslight Anthem singer is a fascinating look at his full musical grasp. Beyond the title track's Motown-meets-Tom Petty vibe, there are delicate fingerpicked ballads ("Steve McQueen,"), upbeat melodic pop tunes ("A Wonderful Life") and and fascinating character studies ("Smoke"), all anchored by Fallon's passionate and versatile vocals.

PETE YORN, Arrangingtime (CD/LP)
It's been a while since the last proper Pete Yorn album, but he and longtime producer R. Walt Vincent haven't missed a step. They craft delicately sculpted lo-fi gems lo-fi gems rich in arpeggiated guitars, layers of keyboards and vocal harmonies.
JEFF BUCKLEY, You & I (CD/LP)
Perhaps the saddest, most poignant moment on this collection of the late Jeff Buckley's demos and previously unreleased tracks is the one entirely new song, "Dream of You and I." It features the soft-spoken Buckley describing a dream of watching a psychedelic band playing a song at an AIDS rally, gently fingerpicking as he goes back and forth between singing the hook. It's admittedly unfinished, but it's something Buckley says he's going to finish.Time has told us that he never got the chance.
MARTHA ARGERICH & DANIEL BARENBOIM, Live In Buenos Aires (CD)
Deutsche Grammophon releases a live recording of another of the legendary concerts that Daniel Barenboim and Martha Argerich have given in the Teatro Col%