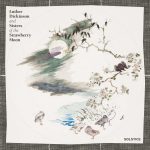 LUTHER DICKINSON & THE SISTERS OF THE STRAWBERRY MOON, Solstice (CD/LP)
Astrologists apparently believe the annual "Strawberry Moon" (christened not for any red color but because it appears around the time the fruit is harvested) signals a time of transition. It's an appropriate name then for this unusual collaborative project helmed by blues-based artist Luther Dickinson. The guitarist/producer convened six female roots-based musician/vocalists (Amys Helm and LaVere, Birds of Chicago's Allison Russell, Sharde Thomas, the Como Mamas) at his own Zebra Studio to engage in a sort of casually focused jam session for four days during 2016's titular lunar phenomenon. Some additional parts (fiddle, organ from Hi legend Rev. Charles Hodges, and guitar from Alvin Youngblood Hart among others) were overdubbed later. But the concept on the basic tracks was for these women to interact with each other in a live, somewhat unrehearsed situation, and record the results. It's an appropriately loose-knit affair comprised of originals and covers, some of which have already been recorded by the singers on their own albums. Folk, blues, fife and drum, gospel, soul, country and even light funk all intermingle in these dozen mostly unplugged performances. Much of the appeal is not knowing what you'll hear next. It might be a clarinet or banjo (played by Birds' Allison Russell) sneaking in or an a cappella gospel like the Como Mamas thrilling, roof-raising closer "Search Me." Or Amy Helm's beautiful rendition of "Like A Songbird That Has Fallen," and her own ballad "Sing to Me," featuring clarinet and Dickinson's slide guitar having a honeyed conversation. All singers get two songs each, distributed randomly, which makes for a tasty flow. Although his name is featured, Dickinson's own contributions generally support the women and their songs. The North Mississippi Allstars frontman lays low and lets the singers drive the material, as it should be.  Sharde Thomas is the big find here, soulfully crooning "We Made It" and the frisky jazz/bluesy "Fly With Me," both originals. That's not to dismiss Amy LaVere who clicks with her sweet/scratchy innocent vocals on a revisited "Hallelujah (I'm A Dreamer)" and a down-home "Cricket (At Night I Can Fly)." Why this low-key, homey and altogether delightful gathering took two years to appear is unclear, but hey, the next Strawberry Moon is due in June of this year. Maybe Dickinson can arrange for another jamboree of his female friends for part 2. If this charming album is any indication, he should make it a yearly tradition.

JENNY LEWIS, On The Line (CD/LP)
"I believe that one can never leave home," wrote Maya Angelou in Letter To My Daughter; "I believe that one carries the shadows, the dreams, the fears and the dragons of home under one's skin, at the extreme corners of one's eyes and possibly in the gristle of the earlobe." That said, there must be San Fernando Valley silt in Jenny Lewis' lobes. The child SoCal film star came out as a singer-songwriter adept in the '00s with Rilo Kiley, flirted with Omaha's indie scene for a hot minute, and ended up squarely where she started. You hear the sound of her LA hometurf singing loud through On The Line, her fourth solo set. Some of it's just backstory: her vocals tracked in Capitol Records Studio B, the room christened by Ol' Blue Eyes in 1956 when he gesticulated at the (Frank Sinatra Conducts) Tone Poems Of Color sessions, her piano chords fingered on the instrument that allegedly voiced Carole King's Tapestry. The music indeed feels touched by King's white-girl Laurel Canyon soul, but maybe more by Harry Nilsson's tender, hooky wit. Lewis channels Brian Wilson's sun-kissed doo-wop on the title track — with a sly pun on letter-sweaters and a winking reference, perhaps, to "Caroline No" (here "Caroline, uh"). Elliott Smith gets namechecked on "Heads Gonna Roll," the Go-Gos perky new wave glints from "Rabbit Hole," Fleetwood Mac's heady harmony-builds bloom on "Red Bull and Hennessy." And then there are the Angeleno legends who actually play on the record. Jim Keltner has drummed behind Carly Simon, Lucinda Williams, Yoko Ono and every Beatle; he's on every track except the one Ringo Starr handles alone (they both play on "Red Bull and Hennessy," just like they did at the Concert For Bangladesh). Beck produces and sings on three songs. "Do-Si-Do" is a hazy, midtempo Odelay-scented space-rock chant that somehow manages to rhyme "you ain't no pharaoh" with "get back on your Paxil." And "Little White Dove" is a playful lavender funk jam, very Prince via Midnite Vultures, that takes on more colors when you learn that it came out of Lewis' experience reconciling with her mom, after years of estrangement, just before she died. The album also features a lot of production and guitar work by Ryan Adams, a fact that hasn't been boldfaced in the marketing bulletpoints. But even this reeks of Los Angeles, a town full of talented dirtbags and sun-baked human trainwrecks. As glorious as the sound of this thing is, glinting with letter-perfect '70s-rock sonics and touches of 21st-century psychedelic irony, the songs are the show, written by a woman of a particular age from a perspective well past jaded — she's been there done that — swung back around to a wide-eyed, faintly zen reportage. Images everywhere pop. The little trip up north "in a borrowed convertible red Porsche/ with a narcoleptic poet from Duluth" that triggers existential reveries ("Heads Gonna Roll"). The druggy gal "sliding down a bong" while nodding to Leonard Cohen's "Everybody Knows" and spinning cautionary tales to youngsters regarding Candy Crush ("Wasted Youth"). The drifting Cali dreamer "on a Hollywood lawn today/ sucking back some Beaujolais/ remembering better days/ looking up at the chemtrail haze." ("Hollywood Lawn") The wild girl getting head in a Corvette and crying "like Meryl Streep" ("Party Clown"). The heartbroken girl on the Minnesota-Wisconsin border who, after discovering her lover's infidelity – "I wanted to please you, my dress was see-through/
As I looked through your phone" — contemplates an escape that might mirror the one in Bobby Gentry's "Ode To Billie Joe" ("Taffy"). The magic trick comes together in Lewis' tone, ever so faintly wry, which lets her look into the camera at the same time she's playing the part, Jean Seberg in Breathless. No moment epitomizes this more than when she sings the words "rock and roll" on "Do-Si-Do," wrapped in clouds of gossamer synthetics and reverb. It's glorious and masterfully plastic, and so genuinely ecstatic the quotation marks around that sullied genre moniker take on their own beauty — the gild on a joyously self-aware hustle that's all the truer for it.

IRON & WINE, Our Endless Numbered Days (2xCD/2xLP)
This newly expanded, deluxe edition of Our Endless Numbered Days features eight previously never before heard demos, new artwork, and a 12-page booklet including liner notes from author Amanda Petrusich.  Sam Beam, aka Iron & Wine, released Our Endless Numbered Days, his second album, in March of 2004. It followed his seemingly out of nowhere debut arrival, The Creek Drank the Cradle (2002) which was a quiet word of mouth treasure. Our Endless Numbered Days was recorded in Chicago and was the first in a string of releases to be produced by Brian Deck (Red Red Meat, Modest Mouse, Ugly Casanova, etc.). The record marked many firsts for Beam both professionally and personally and as Petrusich so rightly calls it in her liner notes "Our Endless Numbered Days is a timeless record about the passage of time." Upon its release SPIN called the record a "masterwork" one that is "self-assured, spellbinding, and richly, refreshingly adult."  Pitchfork, in their "Best New Music" review, had this to say: "An astoundingly progressive record: Beam has successfully transgressed his cultural pigeonhole without sacrificing any of his dusty allure."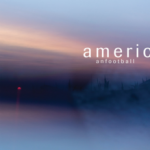 AMERICAN FOOTBALL, American Football (CD/LP)
This new album isn't a full departure from the American Football sound, but the band successfully traverse new territory. Fans of '90s slowcore, shoegaze, and post-rock will immediately be drawn to this record's space and dynamics much more so than the die-hard '90s emo crowd. The second act of American Football is a different band, but clearly made up of the same men. While wearing their influences on their sleeve, they deliver a lush and compact package of fleeting ballads to get lost in. Mike Kinsella gets a fully warranted reputation as a complete dad, but it's obvious he still finds some time away from his religious following of Tony Kornheiser to write despondent, introspective songs that evoke the loneliness and anxieties that seem to linger around, no matter how old we get.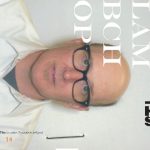 LAMBCHOP, This Is What I Wanted To Tell You (CD/LP)
Lambchop are an object lesson in how a band can grow old gracefully. Frontman Kurt Wagner's deadpan observations give them an idiosyncrasy that insulates them from changing fashions, making them too ornery and fresh to fit into the alt-country bracket they could have boringly slumped into. And just as their wry, quietly symphonic songwriting threatened to calcify, they switched it up and – like Stephen Malkmus earlier this month, and so many other mid-life crises in US indie – went electronic for 2016 album Flotus. These experiments continue here. Wagner, hearteningly, is the opposite of those dullards who howl at the mere mention of Auto-Tune – he often treats his voice with an effect that pitch-shifts it into a blurred warble, like a corrupted AI lounge singer. This is admittedly very similar to Bon Iver's recent work, but there is enough innate Wagner drollery to keep it tangibly Lambchop, even if the delivery means the lyrics are a little less stark in their presentation. Opening track The New Isn't So You Anymore beautifully pairs warm piano and a Stevie-level harmonica solo with cheap drum-machine claps and snares. It has a moving, quintessentially Wagner top line: banality ("Michael Jackson just informed me / That Santa Claus is coming to town") is bum-rushed by existential clarity ("Let's start again like stupid children / Sir, I'm afraid that's not possible"). A couple of the songs in the middle section verge on bland impressionism, but it only needs a few streaks of colour to enliven the palette again. Those cold claps return on standout track The December-ish You, a soft-rock number driven by a single bent guitar note; the jazz ballad This Is What I Wanted to Tell You has a bone-dry ribbon of analogue synth pulled through it, as if from a lo-fi Chicago house track. Wagner's authority underpins it all. "I'm in a Mexican restaurant bar / Watching the surfing and it looks amazing", he sings with a stoner's wonder – his ability to see spiritual beauty in the everyday is a life lesson in song.
ANDREW BIRD, My Finest Work Yet (CD/LP)
COMING SOON:
SON VOLT, Union (3/29)
STEVE EARLE & THE DUKES, Guy (3/29)
LANG LANG, The Piano Book (3/29)
And don't forget these STILL-NEW platters that matter.
STEPHEN MALKMUS, Groove Denied (CD/LP)
First off, it's called Groove Denied because Matador insisted on releasing Sparkle Hard, an album Stephen Malkmus recorded with his mainstay supporting band the Jicks, instead of this electronic-infused record in 2018. This back story was revealed in a May 2018 Washington Post profile of Malkmus by Geoff Edgers, an article that perhaps overplayed the label's rejection of Groove Denied. Matador maintained that its plan was to have the album appear after Sparkle Hard, which was a better record to re-introduce the ex-Pavement leader into the marketplace after a four-year hiatus. All this hoopla around Groove Denied undeniably makes for a good yarn, but it also tends to oversell the weirdness of the album. Recorded alone by Malkmus with the support of a stack of synths, drum machines, and a handful of guitars, Groove Denied doesn't fundamentally push at the boundaries of his music. Whatever electronic influence there is here, it's grounded in a stylized nod toward the pioneering, eerie analog experimentalism of the post-punk era — like a sound that's remembered more than re-created. The first side of Groove Denied leans heavily into this aesthetic, cresting with the Krautrock pulse of "Viktor Borgia Prime" and culminating with the murmur of "Forget Your Place." All this heightened tension slides away as soon as the tightly wound "Rushing the Acid Frat" opens the second side. Reminiscent of the skewed pop littered on Pavement B-sides in the mid-'90s, "Rushing the Acid Frat" kicks off a side of songs where the synths are accouterments to guitars instead of the other way around. These five songs are prime Malkmus — lovely, off-kilter pop graced with off-hand lyricism evident in both the lyrics and melody. If he needed to go through the stilted robotic futurism of "Belziger Faceplant" to get to this suite of songs, the whole enterprise was worth the experimentation.

TIM O'BRIEN BAND, Tim O'Brien Band (CD)
You never quite know which Tim O'Brien is going to make an appearance: fiddle slinger, folk singer-songwriter, bluegrass maverick, or Celtic-crosser, half of a dynamic duo or as part of an ensemble such as Hot Rize and (briefly) The Earls of Leicester. With Tim O'Brien Band (no 'the', just like Ramones) you get all the Tim O'Briens, and a new band to boot. Much like his satisfying Short Order Sessions—a set of forty singles released monthly over the course of three years—individual tracks may not be consistent sonically, but they hold together based on their common connection—intimate, acoustic performances of songs, new and familiar. Mike Bub (bass), Shad Cobb (fiddle), and Patrick Sauber (guitar/banjo) join O'Brien (guitar, mandolin, fiddle) and harmony vocalist Jan Fabricius (mandolin) on this new journey. O'Brien's voice is front and center, but the bluegrass vets he has chosen to work with are top-notch and bring no shortage of memorable contributions to the album. O'Brien has always been attracted to the Doc Watson way of doing things—Watson was his original inspiration to explore old-time and folk music—and Tim O'Brien Band has the feel of those Folkways Doc Watson Family recordings. One can envision the principals sitting around a front room, sharing songs on Arrow Back chairs. There are songs familiar included, the presentation fresh and varied. The Celtic shade of things is apparent within "Doney Gal" and "Hop Down Reel/Johnny Doherty's Reel," the former a maudlin range song, the latter an amalgam of spirited tunes. "Wind," like "Doney Gal," contains Celtic connections and a Western theme. Bluegrass is the unifying force, a music that O'Brien favours but which he seemingly approaches from the side. Having a command of traditional music as O'Brien does, he still seldom engages the music fully and completely: his folk, Celtic, old-time, and country shades hold sway. Dirk Powell's "My Love Lies in the Ground," the blues standard "Diggin' My Potatoes," and a new Dan Auerbach/O'Brien composition "Amazing Love" are all essentially bluegrass songs, but not the Flatt & Scruggs or even Seldom Scene variety. The album's highlight may be the group's take on Norman Blake's "Last Train From Poor Valley;" the lonesome core of this often-encountered, plaintive piece is on full display within this interpretation. Fabricius takes the lead on the breezy "The Other Woman." O'Brien handles the rest of the leads, with "Beyond," a Shawn Camp-O'Brien co-write, being a prototypically-strong vocal exercise. The energetic "Crooked Road" appeared, in different form, on O'Brien's Chameleon album, and "Drunkard's Waltz" was first heard as an S.O.S. track. I am certain I've previously heard O'Brien interpret Woody Guthrie's "Pastures of Plenty," but the song has seldom been timelier. The group cuts loose on this track, one of the more up-tempo numbers included. Tim O'Brien doesn't take the conventional route on this album; he seldom has during a recording career that extends back forty-some years. Establishing a new band and path, obstinately bluegrass but with all other flavors mix in, is just the latest bold move made by one of Americana's most compelling artists.

TODD SNIDER, Cash Cabin Sessions, Vol. 3 (CD/LP)
Todd Snider's an ace word guy — his lyrics are razor sharp, unsparing, hilarious, and surprisingly tender — so this bare-bones acoustic LP is a fine idea. Punchlines fly from the get-go (there's no Vol. 1 or 2), with humanity the usual butt of the jokes, though Trump's a target, too. Take "Talking Reality Television Blues," a tribute to Dylan (see "Talking John Birch Society Blues," "Talking World War III Blues," etc.) and Woody Guthrie before him that draws a line from Milton Berle's Texaco Star Theatre through MTV, Fox News and The Apprentice, dissecting the talking blues trope along the way. Snider likes meta: see also "Working On A Song," an extended koan that frames the life of a Nashville writer from 22-year-old newbie to a greying bard, still staring at a half-empty page. "The Ghost of Johnny Cash" conjures an encounter (supposedly true) between Loretta Lynn and the late man in black at Cash's old mancave, which Rick Rubin helped transform into a studio during the American Recordings sessions, and where this album was cut. The most provocative moments are topical, when Snider takes scalpels to modern cultural cancers and musical histories both. A lean riff on Willie Dixon's "Spoonful" gets repurposed on "A Timeless Response To Current Events," with variations of the reprise "ain't that some bullshit?" (In reference to what, you ask? Look at your Twitter feed.) In a similar spirit, if more meta still, is "The Blues On Banjo." At first it feels uncomfortably like minstrelsy, as the title itself suggests a sly observation on American music's African roots. Then it upshifts into hydrant-flow indictment of capitalist villainy, invoking the WWII military-industrial end-run Operation Paperclip, various 9/11 ancillaries, and archetypal NRA-owned politicians —the latter conjured with Jason Isbell and Amanda Shires in a chorus that testifies "They're sending out their thoughts and their prayers!" (Or is it "selling out…"?) paced by a Salvation Army tambourine jingle. Border wall hysteria comes to mind as Snider observes "we mistake desperate people for the devil all the time." And circling back to the opening, he telescopes an interrogative blues dissertation into an offhanded "zip-a-dee-doo-dah, motherfuckers." Cultural studies majors: have at it. But to be clear, Snider has heart, which is why his wit and erudition virtually never sounds smug, patronizing or overtly self-serving. He's got hooks, too. See "Watering Flowers In The Rain," a blues for a former Elvis Presley roadie, who may or may not be bullshitting, though Snider assures us he's for real in the song's intro. Either way, the ache and weary resignation feel 100% true. The character is a struggler — like Snider, and a lot of us, too — and his blues are our own.