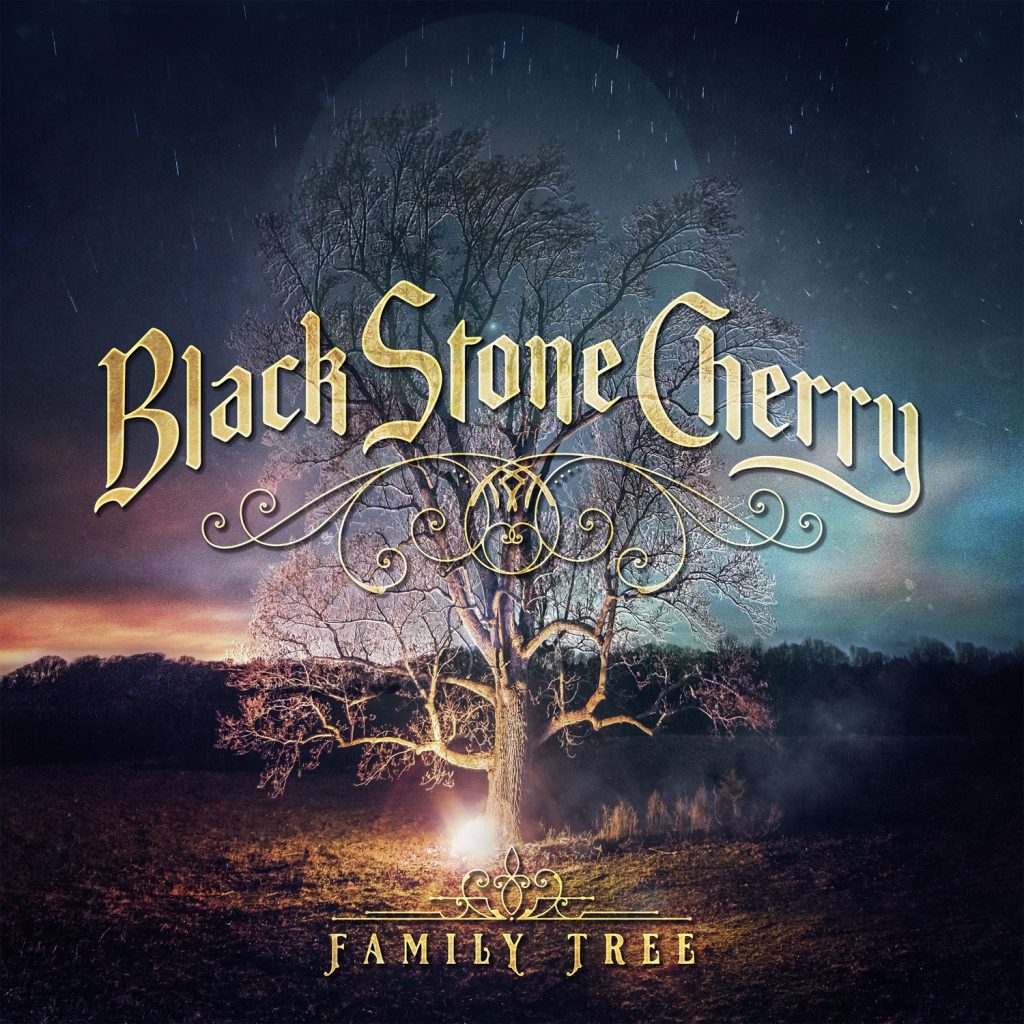 BLACK STONE CHERRY, Family Tree (CD/LP)
From the opening licks of "Bad Habit" to the closing notes of "Family Tree," you can feel the energy pulsing through the new Black Stone Cherry album. "Bad Habit" may be one of the best tracks exemplifying their fully fleshed out swagger. Robertson's lament about a female temptress lets his juke joint-ready voice soar, while the guitar breakdown adds a great touch to the single. "Burnin'" was the first taste of music most fans heard from the record, with a little swampy ZZ Top vibe to the driving rocker. There are other standouts as well, like the extra pep in the step of "New Kinda Feelin," which is bolstered noticeably by a piano backing. The talk box-infused glory of "Southern Fried Friday Night" is a weekend anthem waiting to happen. And there's something wrong if you're head is not bobbing along with some attitude upon hearing the muscular guitar play on "You Got the Blues." We'd also be remiss for not mentioning two other key tracks. "Dancin' in the Rain" is arguably one of the funkiest tracks on the album, getting an assist from Gov't Mule's Warren Haynes. And perhaps the most personal and moving song on the album is "My Last Breath," Robertson's soul baring confession to his wife and child. Starting off as a keyboard-based ballad, the song picks up steam and becomes a chugging rocker complete with a backing choir as the vocalist ponders what his final words should be. The Family Tree title for the album feels fitting as Black Stone Cherry appear to have finally grasped the roots of what they always wanted to be. And at six albums in, it's encouraging to see the band deliver what should stand as one of the top releases of their career.
MARCIA BALL, Shine Bright (CD)
One of America's best known, most beloved roots artists, releases a career-defining album produced by Steve Berlin of Los Lobos. Marcia is simply on fire throughout 'Shine Bright', with a rollicking array of piano-fueled roadhouse romps seasoned by her incomparably soulful balladry. Tracks include nine new Marcia originals, plus brilliant takes on the music of Ray Charles, Ernie K-Doe and Jesse Winchester. Producer/saxophonist Berlin guests on five tracks.
BROTHERS OSBORNE, Port Saint Joe (CD/LP)
Tuesday afternoon, I was making my way home down South Limestone through University of Kentucky traffic with my windows down, when I self-consciously realized I had "Shoot Me Straight" from The Brothers Osborne's new album playing a bit loud. It probably won't be the last time the music of "Port Saint Joe" pours out onto the streets and sidewalks as the weather warms up. The Maryland brothers' new album, named for the Florida panhandle town it was recorded in, is perfectly timed for the coming of summer and to capitalize on the honor they just took home: vocal duo of the year at Sunday's Academy of Country Music Awards, besting superstars Florida Georgia Line and these kids Tim and Faith. Funny thing is the new record, which drops Friday (April 20), highlights something of a misnomer in that honor. While they create some great harmonies, the real duo of the Brothers' collaboration is T.J.'s baritone and John's guitar, which was the reason I inadvertently decided to share "Shoot Me Straight" with the afternoon commuter crowd. The bluesy growl of the liquor-soaked song — there are a lot of them here, and to be fair, more than a handful of references to subsequent headaches — is one of several six-string flavors brother John offers up in the album's 10 tracks. "Pushing Up Daisies (Love Alive)" is a wide-open sound as easy as St. Joseph's Bay (I assume) and "Slow Your Roll" is a jaunty acoustic-electric walk in the sun. It should be noted that this album is summery without being intentionally beachy, something that seems to come naturally to the mid-Atlantic duo. "Slow" opens the album with the brothers united, T.J. offering a clever growl sometimes reminiscent of Lyle Lovett in tone. His standout moments include the current single, "Weed, Whiskey and Wille," and another country tribute, "Drank Like Hank." The former, penned by the brothers and Laura Veltz, exemplifies some of the exquisite songcraft here: "My vices and heroes will hold me together when I'm lettin' you go." It's also one of T.J.'s quieter highlights, along with "I Don't Remember Me (Before You)" — a more positive perspective of Chris Stapleton's "Up to No Good Livin'" — and the album-closing "While You Still Can." Brothers Osborne are clearly still trying on styles, seeing what works here, and there are a few missteps like the goofy "A Couple Wrongs Makin' It Alright." But all-in-all, "Port Saint Joe" is a sophomore success we'll be cranking up well after we can't quite remember what snow looks like.
LORD HURON, Vide Noir (CD/LP)
For all the appeal of Lord Huron's elegiac, ethereal Americana, Fleet Foxes and Bon Iver were ahead of them in a very crowded field. So after two albums of hymnal beauty with acoustic guitars – and a track, The Night We Met, popularised by Netflix – the Michigan band led by Ben Schneider have changed course. Now on a major label, the songs no longer conjure up vast rural or mountainous landscapes but the even more widescreen spaces of the cosmos. The title means "black void", and vast swaths of reverb and echo (sculpted by Flaming Lips' producer Dave Fridmann) create a celestial wall of sound; many of the songs have astral themes or metaphors. Writing on bass guitar has given the music a more powerful chassis, from Killers-like throb to subtle funk. Any remaining acoustic guitars have been blasted beyond recognition. The Balancer's Eye ("I will see you again on the astral plane") is cosmic pop, while Wait By the River – all doo-wop croon and twangs – and Secret of Life are reminiscent of Roy Orbison and Chris Isaak respectively. Schneider's best songs tap into the desolate beauty of the loner, who now has a much bigger universe to get lost in. Although Ancient Names (Part I) is a convincing surging rocker, Schneider is best at penning sparse, delicate songs, which gaze at the stars and ponder life, death, the universe and everything, and the likes of Lost in Time and Space are truly lovely.

MELVINS, Pinkus Abortion Technician (CD)
To say that the Melvins music has gotten weirder is impossible; Melvins were birthed weird. It's just that now, they just seem more inclined to experiment with the songwriting and decision-making, and Pinkus doesn't veer from that sling. The opening cut "Stop Moving to Florida" thickly begins with a cover of James Gang's "Stop," an oddball collision that made me think Buzzo had finally embraced his inner KISS desires of pop riffs and summer fun vocals, before the song swivels and bizarrely melds with the twisted dyed blues of Butthole Surfers' "Moving to Florida." The album tends to nettle in these outposts of planted stomp blues and an almost lighter exploration of sounds, as banjos, acoustic guitars and steel drums act as placebos amongst the double-basses and strange falsettos. Tunes like "Break Bread" and "Embrace the Rub" almost seem gleeful. I could see "Flamboyant Duck" and "Prenup Butter" being spun around a sunspot campfire under Medusa's watch, each song eventually dwelling in its own whisked dawdle. The best moment comes in the form of the album's exit with "Graveyard," a noisy hound that drags itself with clomp and feedback through the door. And yes, this album includes a cover of "I Want to Hold Your Hand." Again, the Melvins surfaced from the depths years ago and started giving less f*cks about ventures into certain areas, and this cements that viewpoint. This is a song that the world most likely never ever needs to hear again, yet somehow they stomp the most overplayed pop rock hit in history into a happy plod with a vocal delivery that almost sounds excited. Technician functions on a level as another notch in the Melvins' career that doesn't act as a gamechanger but more a reminder that the bringers of sludge can do whatever they want and if it isn't submersing into a pit of heavy riffs, it's still interesting. The band has once again created the only other thing a long-time listener can presuppose successfully with this band: something unexpected and strange.
SLEEP, The Sciences (CD/LP)
ASHLEY MONROE, Sparrow (CD)
OLD CROW MEDICINE SHOW, Volunteer (CD/LP)
SHUGGIE OTIS, Tabu (CD/LP)
A PERFECT CIRCLE, Eat The Elephant (CD/LP)
THIEVERY CORPORATION, Treasures From The Temple (CD/LP)
NEIL YOUNG & PROMISE OF THE REAL, Paradox (CD/LP)
JOSHUA HEDLEY, Mr. Jukebox (CD/LP)
COMING SOON:
BONNIE PRINCE BILLY, Wolf Of The Cosmos (4/27)
JANELLE MONAE, Dirty Computers (4/27)
VAN MORRISON/JOEY DEFRANCESO, You're Driving Me Crazy (4/27)
WILLIE NELSON, Last Man Standing (4/27)
And don't forget these STILL-NEW platters that matter!
JOHN PRINE, The Tree Of Forgiveness (CD/LP May 11th)
Let us all rejoice, the might John Prine, master of understatement, walks among us again! A new album from John Prine is always reason to celebrate, but an album in which he wrote or co-wrote all the songs is an even bigger reason to rejoice. The Tree of Forgiveness is the first album since 2005's Fair & Square where Prine has written the songs. He has issued albums since then, but like Bob Dylan, they have been albums of cover versions, but this album is Prine and, I would argue, Prine at his best. Prine co-writes with old friends and longtime collaborators on this album. He even wrote a song with Phil Spector — he started writing the song, "God Only Knows", decades ago.  Pat McLaughlin, Roger Cook, and Keith Sykes have worked with Prine in the past. He has made some new friends too in Dan Auerbach, who co-wrote the brilliant "Caravan of Fools",  and Brandi Carlile, who duets with Prine on the beautiful "I Have Met My Love Today". For the past twenty years, Prine has suffered a lot of health issues including two bouts of cancer, and on this album he does not directly comment on that, but its presence is felt throughout. Just one look at the sleeve photo and you know Prine is not shying away from  anything. It is a stark photo of an artist who has survived. Mortality is a big theme on the album. There are other themes, but they all come back to loss of life. You will note that God and Heaven pop up in songs and song titles throughout the album. The album is also a love song to his wife, and there is nothing wrong with that. His usual word play is present and he comes up with some lines that make the listener stop, think and pay attention. Lyrically, this is one of the best albums Prine has written. The album ends with the song "When I Get To Heaven". It is part recitation and part song. It will make you laugh and cry. A perfect ending to the album.  Love and mortality are the themes of this soon to be classic album. Musically, producer Dave Cobb (Oak Ridge Boys, Sturgill Simpson, Shooter Jennings) lets Prine do what Prine does best. His voice is more gravelly than before, but it adds to the songs, it never detracts. The sparse musicianship adds to the songs — Jason Isbell plays some tasteful slide guitar on "God Only Knows". Recording at the historic RCA Studio A in Nashville adds to the overall sound of the album. This is an important album. There are not a lot of artists/writers around like Prine, and anything new from him should be recognized as the hero's return. Tree of Knowledge is an album full of imagery and a great deal of human emotion. It is an honest account of one man's life, and perhaps the album of the year.
LAURA VEIRS, Lookout (CD/LP)
Soft, dreamy, caressing sounds, sometimes concealing darker, more sinister ideas than the music suggests, continue to emerge from the Colorado-born singer/songwriter Laura Veirs almost 20 years after her debut. The post-Warners phase of her career has spawned a remarkably consistent series of albums, including a children's collection and, two years ago, an exceptional collaborative effort with k.d. lang and Neko Case ( case/lang/veirs). Veirs created her own sub-genre at the outset of her career – what might be termed "geology-pop". To this day, her songs abound with imagery of rocks, earth, land and water, reflected by outdoorsy, pastoral production. With song titles including "Watch Fire" (on which Sufjan Stevens makes a guest appearance), "The Meadow", "Canyon", "Mountains of the Moon" and "Lightning Rod", it's apparent that Veirs's personal infatuations remain roughly the same, and that her tendency to use agrarian metaphors to examine the human condition is still in play. The Lookout is her tenth album and it brings back a touch of the sparkling electronica of Year of Meteors (2005), with less of the brash, gnarly electric guitar (it's present, but not mixed so drily) that defined Warp and Weft (2013). The verses of "Margaret Sands", the first track on The Lookout, have one of those melodies that sounds like an arpeggio exercise in a singing lesson or an ancient incantation. It's a deceptively simple, sparely arranged folk song, with lilting, bird-like harmonies. Then, on "Everybody Needs You", the Veirs of Year of Meteors, springs to mind. It's a billowing, fluttering, pure-pop moment that recalls triumphs of the past, like "Galaxies". Veirs's work continues to be characterized by liquid sounds, simultaneously airy, buffed and, this time around, notably titivated with reverb. "Watch Fire" is another classic Veirs moment. A lithe, dotted-rhythm melody, a whispered Sufjan Stevens response vocal and some pizzicato guitar form the verse, prior to a refrain bathed in vocal harmonies and piano. As always, Veirs manages to use pillow-soft arrangements, not dissimilar to Vashti Bunyan's, without being fey or indulging in twee whimsy. "Seven Falls", with a startling lyric in which she reproves herself for moments of unkindness, couches its ideas in a shuffling, country-tinged folk-rock setting and employs one of Veirs' most affecting melodies.
KING TUFF, Other (CD/LP)
King Tuff is ready for a change. For his fifth studio album, the US musician aka Kyle Thomas underwent what is being described as a "psychic reset," with the man himself saying: "I let the songs lead me where they wanted to go, instead of trying to push them into a certain zone… King Tuff was never supposed to be just one thing. It was supposed to be everything." 'The Other' is far from one thing. It feels like the tingling energy flowing through the fingers of Thomas at his most creative, and most bizarre. If you came here for meaty garage-rock riffs, you may well feel like you've turned down an unexpected path – but you'll certainly benefit by sticking around in this world a little longer, because things get weird as f*ck. The album is chockablock with funky breakdowns that'll have you downing your drink and snaking your way to the nearest dancefloor. 'Raindrop Blue's hypnotic bassline is paired with an electrifying sax riff, 'Psycho Star' wiggles and squirms with cosmic beats and 'Infinite Mile' is a slice of 'Rocks'-era Primal Scream. These are party songs that aren't afraid to push things to their absolute limits.
NELS CLINE, Currents Constellations (CD)
With Currents, Constellations, Nels Cline's second Blue Note release, we hear the debut of The Nels Cline 4, made up of Cline and Julian Lage plus the fierce and versatile rhythm section of bassist Scott Colley and drummer Tom Rainey. All of the music is Cline's, save for a haunting and rare Carla Bley gem from the Jimmy Giuffre 3 songbook.
JOSH ROUSE, Love In The Modern Age (CD/LP)
STILE ANTICO, Victoria: Tenebrae Responsories (CD)
JASON ALDEAN, Rearview Town (CD)
BREAKING BENJAMIN, Ember (CD)
THE DAMNED, Evil Spirits (CD)
MOONDOGGIES, Love Sleeps Deep (CD)