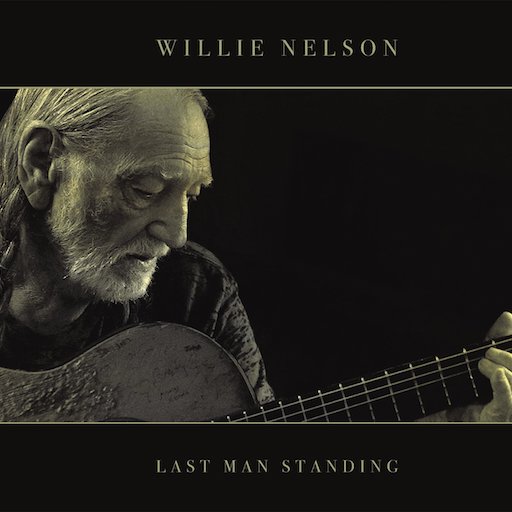 WILLIE NELSON, Last Man Standing (CD)
How do you stare down the fact that your days are numbered? That's the question hovering over the latest album from country legend Willie Nelson. The soon-to-be 85-year-old has watched all the artists that inspired him and nearly all those who were part of his outlaw posse make their final transitions. Sad, yes, but a dull inevitability. Rather than lament his fate, Nelson is facing it with the same humor, humility and gravitas that has marked his entire career. All of that is present in the title of the album: Last Man Standing. And he addresses it head on in the title track. "It's getting hard to watch my pals check out/it cuts like a wore out knife/one thing I've learned about running the road/is forever don't apply to life," he sings, his ragged voice and vibrato fluttering around every word. On paper, it sounds like a slow lament but with the help of producer Buddy Cannon (he also co-wrote all the songs here), it's a swinging joy, a tongue-in-cheek reminder to hold on tightly to life before it's too late.  Last Man Standing is as much about looking backwards and it is toward the light at the end of the tunnel. Cannon's music touches on the peaks of Nelson's long career: the zooted waltz of his late '70s/early '80s output, the Tejano shuffle that infused his work in the '90s and the lightly wasted grooves of his more recent albums. The whiskey and women of his lyrics have been replaced by gentle laments about his bad breath and still kicking up dust on a Friday night, but the spirit is essentially the same. Through it all, Nelson sounds as strong as ever. His recent concert appearances have found him often in shaky spirit, gamely working through the hits but sounding like his age is catching up with him. You can still hear a bit of wear on his pipes and his strumming of Trigger but otherwise his as lucid as he ever was, an impishness within that reads like someone who can't quite believe that he's still above ground and making music in his eighth decade. We should all be so lucky.
VAN MORRISON/JOEY DEFRANCESCO, You're Driving Me Crazy (CD)
Either Van Morrison's muse just won't stop working overtime or he's trying to beat Willie Nelson for total recorded output while both are still active musicians. In any event, You're Driving Me Crazy is not just Van's 39th studio album (Willie's got him substantially beat at 73) but his third batch of freshly recorded material in about six months. That's not including a DVD documenting a recent tour. Even Nelson can't match that.  Morrison's previous release Versatile found him reconnecting with his jazz roots, which he never really left. He doubles down on that by fronting veteran organist Joey DeFrancesco's group for this 15-track, 72-minute swinging set. Unlike Versatile, Van chose all covers this time, either written by him (eight selections) or classics from pop, jazz and blues writers or interpreters like Cole Porter, Walter Donaldson, and Ray Charles. In some cases, he thoroughly reconfigures and rearranges tunes as on his own "Have I Told You Lately," which shifts from sweet ballad to a finger-popping, jazzy romp, and Guitar Slim's "Things I Used to Do" that takes the slow blues and energizes it into a playful, bluesy hip-swaying frolic complete with a sizzling walking bass line and a rare Morrison harp solo. He doesn't need to do much rejiggering of "The Way Young Lovers Do," but kudos for going back and plucking that one from 1968's classic Astral Weeks. He also digs deep into his back pages, dusting off obscurities such as 1991's "All Saints Day" (which on Hymns to the Silence was already in full jazz mode), "Goldfish Bowl" (from 2003's minor What's Wrong with This Picture?), and the appropriately named "Close Enough for Jazz" (would have been a good choice for this disc's title), a relatively recent 2012 track. All this activity seems to agree with the 73-year-old icon who remains in spirited voice, sounding as peppy and vibrant as any time in his extensive history. DeFrancesco and his talented three piece provide an effortless and elegant fit with Van who allows them plenty of room to roam and improvise. Morrison has been singing jazz from as far back as Astral Weeks and this recent dive into the deep end of that genre's pool has clearly pushed a creative button. He's scatting, playing with emphasis on words and acting as if he wouldn't mind riding out the rest of his years in this zone. Fans who have stuck with Morrison for any length of time will eagerly welcome his recent spurt of creativity with You're Driving Me Crazy (the title song has been covered by everyone from Billie Holiday to Frank Sinatra, Big Joe Turner and Louis Armstrong) as another worthy notch in Van Morrison's remarkable and ever-expanding career belt.
BALSAM RANGE, Mountain Overture (with the Atlanta Pops Orchestra) (CD)
Much of what is thought of as classical music has its roots in the folk melodies of European countries. With that in mind, the pairing of bluegrass heroes Balsam Range (based in Canton) and the Atlanta Pops Orchestra Ensemble isn't such a radical concept. Steep Canyon Rangers have similarly augmented their music live, onstage with classical instrumentation. Mountain Overture selects best-loved tunes from Balsam Range's body of work and recasts them in a bluegrass/classical hybrid. A greatest-hits collection of sorts, Mountain Overture builds upon the foundation of songs from the quintet, adding instrumentation from seven classical players and (on some tracks) a percussionist. The album opens with "Trains I Missed," originally the title track from the band's third album. The differences between that 2010 recording and the new version are subtle: The strings don't do much beyond filling in behind the bluegrass players. But the new reading adds wonderful layers of vocal harmonies, and drummer Kevin Leahy adds a welcome solid bottom-end to the tune, one that contrast nicely with the soaring vocals."Blue Mountain" finds the group reaching back to Marching Home, its 2007 debut release. Here, the classical instruments take a more prominent role, suffusing the song with a richness only hinted at in the original recording. The new arrangement for "Eldorado Blue" also makes effective use of the added string players. "From a Georgia Battlefield" (originally recorded for Balsam Range's 2014 album Five) further explores the possibilities presented by the Ensemble. In places, "Battlefield" takes the approach of using the string section as the basis of the arrangement, with members of Balsam Range adding their instruments atop that backing. It's an effective choice, and shows that the overall mission of Mountain Overture isn't to apply a one-size-fits-all arrangement style to all of its 10 tunes.
SPEEDY ORTIZ, Twerp Verse (CD)
TWIN SHADOW, Caer (CD)
KEITH URBAN, Graffiti U (CD)
DR DOG, Y R U Still Here (CD)
GODSMACK, When Legends Arise (CD)
JANELLE MONAE, Dirty Computer (CD)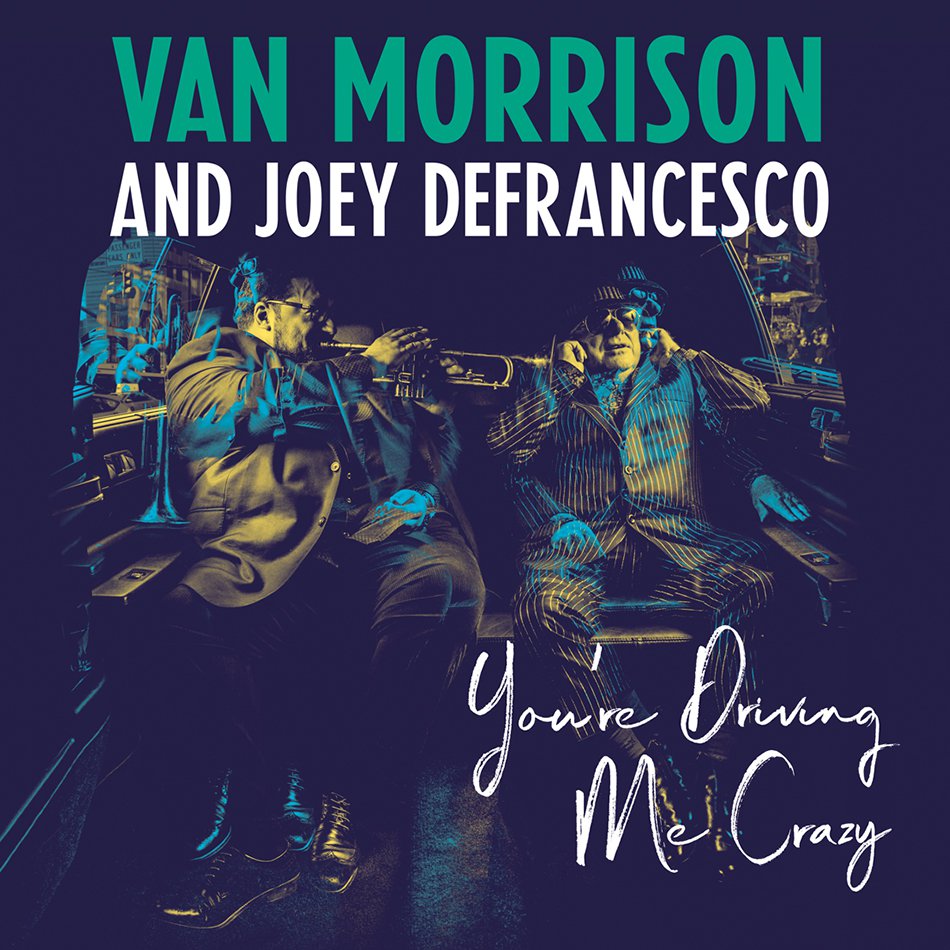 COMING SOON:

BELLY, Dove (5/4)
LAKE STREET DIVE, Free Yourself Up (5/4)
SAM LEWIS, Loversity (5/4)
And don't forget these STILL-NEW platters that matter!
BLACK STONE CHERRY, Family Tree (CD/LP)
From the opening licks of "Bad Habit" to the closing notes of "Family Tree," you can feel the energy pulsing through the new Black Stone Cherry album. "Bad Habit" may be one of the best tracks exemplifying their fully fleshed out swagger. Robertson's lament about a female temptress lets his juke joint-ready voice soar, while the guitar breakdown adds a great touch to the single. "Burnin'" was the first taste of music most fans heard from the record, with a little swampy ZZ Top vibe to the driving rocker. There are other standouts as well, like the extra pep in the step of "New Kinda Feelin," which is bolstered noticeably by a piano backing. The talk box-infused glory of "Southern Fried Friday Night" is a weekend anthem waiting to happen. And there's something wrong if you're head is not bobbing along with some attitude upon hearing the muscular guitar play on "You Got the Blues." We'd also be remiss for not mentioning two other key tracks. "Dancin' in the Rain" is arguably one of the funkiest tracks on the album, getting an assist from Gov't Mule's Warren Haynes. And perhaps the most personal and moving song on the album is "My Last Breath," Robertson's soul baring confession to his wife and child. Starting off as a keyboard-based ballad, the song picks up steam and becomes a chugging rocker complete with a backing choir as the vocalist ponders what his final words should be. The Family Tree title for the album feels fitting as Black Stone Cherry appear to have finally grasped the roots of what they always wanted to be. And at six albums in, it's encouraging to see the band deliver what should stand as one of the top releases of their career.
MARCIA BALL, Shine Bright (CD)
One of America's best known, most beloved roots artists, releases a career-defining album produced by Steve Berlin of Los Lobos. Marcia is simply on fire throughout 'Shine Bright', with a rollicking array of piano-fueled roadhouse romps seasoned by her incomparably soulful balladry. Tracks include nine new Marcia originals, plus brilliant takes on the music of Ray Charles, Ernie K-Doe and Jesse Winchester. Producer/saxophonist Berlin guests on five tracks.
BROTHERS OSBORNE, Port Saint Joe (CD/LP)
Tuesday afternoon, I was making my way home down South Limestone through University of Kentucky traffic with my windows down, when I self-consciously realized I had "Shoot Me Straight" from The Brothers Osborne's new album playing a bit loud. It probably won't be the last time the music of "Port Saint Joe" pours out onto the streets and sidewalks as the weather warms up. The Maryland brothers' new album, named for the Florida panhandle town it was recorded in, is perfectly timed for the coming of summer and to capitalize on the honor they just took home: vocal duo of the year at Sunday's Academy of Country Music Awards, besting superstars Florida Georgia Line and these kids Tim and Faith. Funny thing is the new record, which drops Friday (April 20), highlights something of a misnomer in that honor. While they create some great harmonies, the real duo of the Brothers' collaboration is T.J.'s baritone and John's guitar, which was the reason I inadvertently decided to share "Shoot Me Straight" with the afternoon commuter crowd. The bluesy growl of the liquor-soaked song — there are a lot of them here, and to be fair, more than a handful of references to subsequent headaches — is one of several six-string flavors brother John offers up in the album's 10 tracks. "Pushing Up Daisies (Love Alive)" is a wide-open sound as easy as St. Joseph's Bay (I assume) and "Slow Your Roll" is a jaunty acoustic-electric walk in the sun. It should be noted that this album is summery without being intentionally beachy, something that seems to come naturally to the mid-Atlantic duo. "Slow" opens the album with the brothers united, T.J. offering a clever growl sometimes reminiscent of Lyle Lovett in tone. His standout moments include the current single, "Weed, Whiskey and Wille," and another country tribute, "Drank Like Hank." The former, penned by the brothers and Laura Veltz, exemplifies some of the exquisite songcraft here: "My vices and heroes will hold me together when I'm lettin' you go." It's also one of T.J.'s quieter highlights, along with "I Don't Remember Me (Before You)" — a more positive perspective of Chris Stapleton's "Up to No Good Livin'" — and the album-closing "While You Still Can." Brothers Osborne are clearly still trying on styles, seeing what works here, and there are a few missteps like the goofy "A Couple Wrongs Makin' It Alright." But all-in-all, "Port Saint Joe" is a sophomore success we'll be cranking up well after we can't quite remember what snow looks like.
LORD HURON, Vide Noir (CD/LP)
For all the appeal of Lord Huron's elegiac, ethereal Americana, Fleet Foxes and Bon Iver were ahead of them in a very crowded field. So after two albums of hymnal beauty with acoustic guitars – and a track, The Night We Met, popularised by Netflix – the Michigan band led by Ben Schneider have changed course. Now on a major label, the songs no longer conjure up vast rural or mountainous landscapes but the even more widescreen spaces of the cosmos. The title means "black void", and vast swaths of reverb and echo (sculpted by Flaming Lips' producer Dave Fridmann) create a celestial wall of sound; many of the songs have astral themes or metaphors. Writing on bass guitar has given the music a more powerful chassis, from Killers-like throb to subtle funk. Any remaining acoustic guitars have been blasted beyond recognition. The Balancer's Eye ("I will see you again on the astral plane") is cosmic pop, while Wait By the River – all doo-wop croon and twangs – and Secret of Life are reminiscent of Roy Orbison and Chris Isaak respectively. Schneider's best songs tap into the desolate beauty of the loner, who now has a much bigger universe to get lost in. Although Ancient Names (Part I) is a convincing surging rocker, Schneider is best at penning sparse, delicate songs, which gaze at the stars and ponder life, death, the universe and everything, and the likes of Lost in Time and Space are truly lovely.

MELVINS, Pinkus Abortion Technician (CD)
To say that the Melvins music has gotten weirder is impossible; Melvins were birthed weird. It's just that now, they just seem more inclined to experiment with the songwriting and decision-making, and Pinkus doesn't veer from that sling. The opening cut "Stop Moving to Florida" thickly begins with a cover of James Gang's "Stop," an oddball collision that made me think Buzzo had finally embraced his inner KISS desires of pop riffs and summer fun vocals, before the song swivels and bizarrely melds with the twisted dyed blues of Butthole Surfers' "Moving to Florida." The album tends to nettle in these outposts of planted stomp blues and an almost lighter exploration of sounds, as banjos, acoustic guitars and steel drums act as placebos amongst the double-basses and strange falsettos. Tunes like "Break Bread" and "Embrace the Rub" almost seem gleeful. I could see "Flamboyant Duck" and "Prenup Butter" being spun around a sunspot campfire under Medusa's watch, each song eventually dwelling in its own whisked dawdle. The best moment comes in the form of the album's exit with "Graveyard," a noisy hound that drags itself with clomp and feedback through the door. And yes, this album includes a cover of "I Want to Hold Your Hand." Again, the Melvins surfaced from the depths years ago and started giving less f*cks about ventures into certain areas, and this cements that viewpoint. This is a song that the world most likely never ever needs to hear again, yet somehow they stomp the most overplayed pop rock hit in history into a happy plod with a vocal delivery that almost sounds excited. Technician functions on a level as another notch in the Melvins' career that doesn't act as a gamechanger but more a reminder that the bringers of sludge can do whatever they want and if it isn't submersing into a pit of heavy riffs, it's still interesting. The band has once again created the only other thing a long-time listener can presuppose successfully with this band: something unexpected and strange.