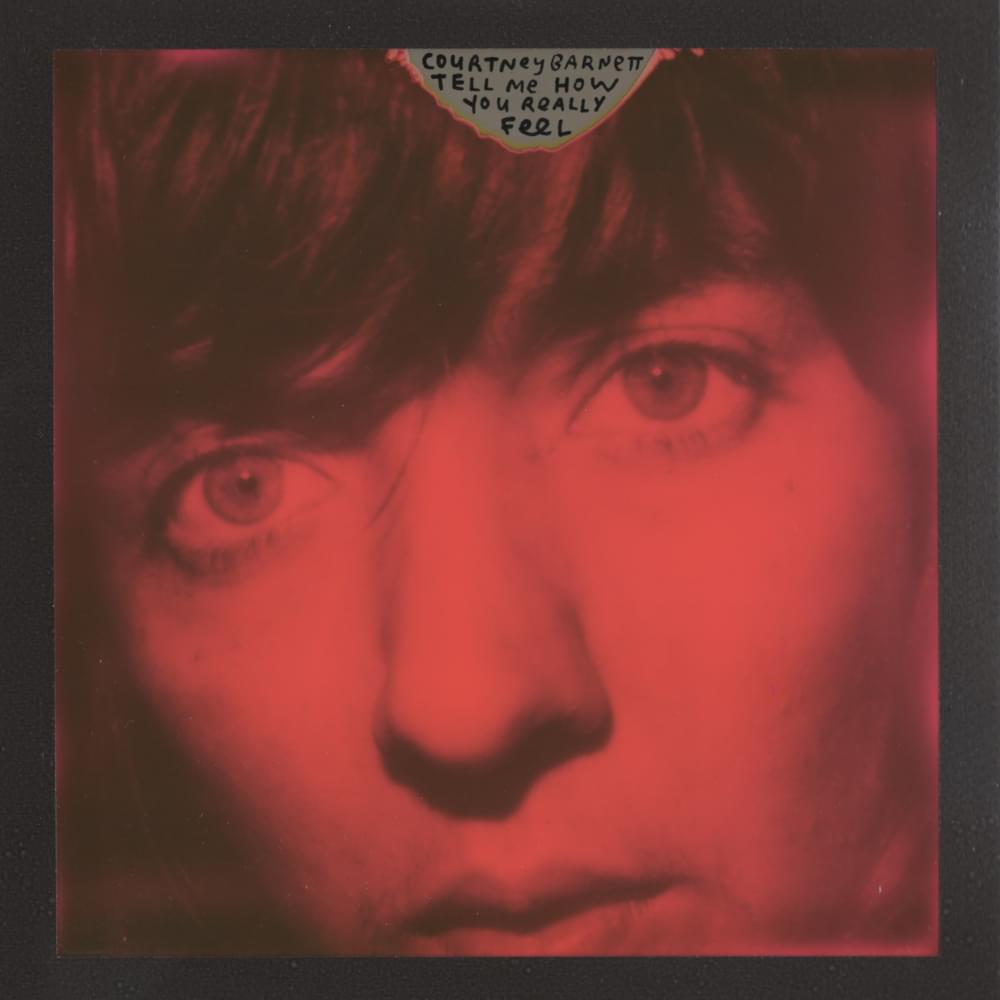 COURTNEY BARNETT, Tell Me How You Really Feel (CD/LP)
Back in 2013, Courtney Barnett covered Kanye West's 'Black Skinhead' on Australian radio as a guitar-charged glam-grunge stomp, reframing its outrage in her bedhead Melbourne white-girl flow. It was a questionable yet telling move for a fellow verbose storyteller, delivered just as her single "Avant Gardener" – a deceptively offhand first-person account of an asthma attack – announced the arrival of a rare talent. Now a bona fide indie-rock heroine, Barnett has made a second LP that occasionally recalls her early come-to-Yeezus session. Tell Me How You Really Feel is noisy and way more pissed off than her 2015 debut, Sometimes I Sit and Think, and Sometimes I Just Sit, unsheathing sharp new earnestness alongside her trademark sabers of sarcasm and penetrating observation. She opens by paraphrasing Nelson Mandela. "Y'know what they say/No one's born to hate/We learn it somewhere along the way," she whispers at the outset of "Hopefulessness," a slithering post-punk inspirational that builds from ambivalent incantation to near-snarl, twin guitars cresting into a glorious noise burst before receding comically behind the earthbound wail of a teakettle – a perfectly Barnett-ish touch. Humor, often dark, flickers throughout like a candle. "Nameless, Faceless" – an echo of Nirvana's "Endless, Nameless" – riffs off a quote from Margaret Atwood, measuring the psychic burden of violence in light of the schism between the sexes. "Men are scared that women will laugh at them," Barnett intones dryly before the punchline: "Women are scared that men will kill them." The song is a marvel of tonal control – she expresses sincere-seeming empathy for an Internet troll, laced with acid sarcasm at the notion women must play the role of default comfort dispensers. Similar dual consciousness appears in songs about relationships ("Need a Little Time") and dream-chasing ("City Looks Pretty"), and in straightforward screeds "I'm Not Your Mother, I'm Not Your Bitch," a furious punk smackdown that takes a moment for measured self-examination, and "Crippling Self Doubt and a General Lack of Self Confidence," a passive-aggressive rant egged on by girl-gang backing vocals from the Breeders' Kim and Kelley Deal, two of Barnett's foremost indie-rock foremoms. They're the most Nirvana-esque moments on this modest masterpiece of an album, made by an avowed fan who shows a kindred underdog solidarity. Kicking against the pricks, including the ones in her own head, Barnett encourages us to do the same, with an impressive generosity of spirit. "Take your broken heart/Turn it into art," she counsels at the LP's outset. "Your vulnerability is stronger than it seems." As Tell Me How You Really Feel amply demonstrates, so is hers.
PARQUET COURTS, Wide Awake (CD/LP)
"You should see the wall of ambivalence I'm building!" sang Austin Brown on his band's 2013 stoned 'n' starving slacker-rock breakthrough Light Up Gold. The band sure don't sound ambivalent now. "Allow me to ponder the role I play/In this pornographic spectacle of black death!" co-leader Andrew Savage hollers on "Violence," a standout on his band's fifth LP that conjures both the Fall and Fear Of Music-era Talking Heads, an epic rant about normalized barbarity that spins into a panic attack of tangential nightmares, while a pitch-shifted Vincent Price-sounding-motherfucker cackles menacingly in the background. Indeed, Wide Awake! is the sort of reality-reckoning many of us have been having on a daily basis lately. In place of the usual Parquet Courts concerns – oblique self-analysis, post-graduate existential ennui, meta-rock references, girl problems – are big-picture anxieties and flabbergasted outrage. "Before the Water Gets Too High" questions the pointlessness of craven money-making and earnest protest both in the face of looming climate-change apocalypse. "Total Football" calls out cultural obliviousness ("Have your hurt Caucasian feelings left you so distraught?") in a post-Kaepernick call-to-action that concludes "Fuck Tom Brady." Yet they haven't lost their deadpan wit, offsetting what might come off as shrill or didactic; see "Death Will Bring Change," which enlists a rag-tag choir of 12-year-olds to drive home the title conceit – in their mouths, a quietly hopeful threat to the powers that be. With light-touch production by Danger Mouse, this is also the funkiest and sweetest Parquet Courts set yet, trading off some of their trademark guitar fireworks for danceable jams. The title track is Eighties Mudd Club boogie-in-the-wreckage punk-funk, complete with cowbells and referee whistles. And the Seventies AM-radio pop strut of "Tenderness" extends a hand to the nihilists, shaking its moneymaker and beckoning them to join the conscious revolution: "You wanna live outside the groove, then fine/But it's there like a flower, blooming in your ears."
BRAD MEHLDAU TRIO, Seymour Reads The Constitution (CD)
When Keith Jarrett mixed mainstream pop into a repertory of modernist covers and songbook classics, he established new parameters for piano trio jazz. Brad Mehldau expanded the project by delving deeper into alt rock and pop and sprinkling in compositions of his own. His current trio of bassist Larry Grenadier and Jeff Ballard on drums have been together since 2005 and have long marked the contours of Mehldau's lines with precision and bite. And, as on this CD, both musicians solo purposefully when required, Grenadier with warmth and a woody attack; Ballard with rattles of snare and rimshots that toy with time. But as good as Ballard and Grenadier are, roles are clearly defined, and there's no mistaking that Mehldau's piano is the lead voice. Particularly when, as on this album, the American displays the iron logic that made his recent solo album After Bach such a standout. Mehldau's compositional rigour is clear from the two originals that open this set. "Spiral" supports a repeated motif with downward-moving harmonies and builds into a drum-feature peak; the title track lives up to its name by unfolding thoughtfully over the gentle slopes of a waltz. Later in the album, Mehldau re-harmonises and toys with the baroque opening line of "Ten Tune" while Ballard is at full stretch; the piece plays out with the pianist unaccompanied, spinning variations with such purpose that they appear pre-composed. Elsewhere, the American's joyous reading of "Almost Like Being in Love" captures the first flush of a romantic relationship. Bryan Wilson's "Friends", taken as a waltz, delivers a serrated landscape of accelerating lines and a brisk and jazzy cover of Paul McCartney's "Great Day" sits on a bed of counterpoint funk. Mehldau invests all three pieces with ambiguity and depth while retaining the clean lines that made them popular in the first place. The album closes with the lyrical modernism of Sam Rivers's "Beatrice", its melody clearly stated so as to linger in the mind.
JOHN WESLEY HARDING, Greatest Other People's Hits (CD/LP)
First hitting the scene in the late '80s, Wesley Stace, professionally known then as the singer-songwriter John Wesley Harding, scored some early musical success, especially on the college radio airwaves with songs like "The Person You Are," "The Devil In Me" and an unlikely cover of Madonna's "Like A Prayer." Over 20 albums and collections later, he tends a multi-faceted career as a novelist, singer-songwriter, festival curator, University teacher, and variety show host. Now, he can add singer of greatest other people's hits to his long list of accomplishments! John Wesley Harding has put together a fantastic compilation of songs by artists as varied as Bruce Springsteen, George Harrison, Roky Erickson, Madonna, Pete Seeger, and Serge Gainsbourg, among others. The collection features Harding's renditions of songs by these great composers, as well as performances with The Minus Five, Fastball, Eric Bazilian, The Universal Thump, and Bruce Springsteen.
ZIGGY MARLEY, Rebellion Rises (CD)
Rebellion Rises is Ziggy Marley's seventh studio album as a solo artist. What makes his prolific ongoing output- a new studio release every two years or so- both continually relevant and critically notable is the way in which each latest effort builds on the prior entries in Marley's illustrious catalog. It's not that the multiple Grammy-winning singer morphs into a new character, or explores a new genre, so much as it is the unfolding experiences of the introspective journey that the reggae superstar is on; he's gracious enough, almost reliably compelled, to take us with him. In the case of this record, it's less vicarious and free as its predecessors. This is one that's more a call to action: Marley wants you involved. He has tucked, and sometimes shouted, message into most of his writing over three decades as reggae's most prominent voice, but often it seemed more reporter, less recruiter. Writing, arranging, and producing this album himself, these ten tracks, with a few exceptions, are rallying cries for humanity. Yes, the cause remains love, but this time Marley is calling to unite all the rebels for the cause. The album opens with the set's most scathing indictment as a djembe rattles and horns shred their way through See Dem Fake Leaders. Marley's son Gideon delivers a spoken-word bridge on The Storm is Coming, an autobiographical tracing of a phone call Ziggy and brother Stephen shared during hurricane season in Miami that plays as a metaphor for an encroaching political climate. Synth claps and electric guitar lines cycle through World Revolution, that touches on racial discrimination, also marked by a rap on the bridge- this one from an intern, SamuiLL Kalonji, Marley discovered at his record label office. The lighter empathy of Your Pain is Mine follows, with a verse melody reminding of an earlier Marley cut, Beach in Hawaii. Then, the arresting staccato Change Your World, utilizing the timeless boy-meets-girl backdrop as a metaphor for activism. Ska-like horns color the bouncy, bright wish list of I Will Be Glad, as one of Rebellion's sunnier tracks, both musically and lyrically. High on Life is a bit of a throwback, evoking the innocent charm of Marley's former group, sibling sensations The Melody Makers, then, fittingly welcoming Stephen for the subsequent Circle of Peace, that affirms the cause and petitions the willing to realize their dreams now. With strumming acoustic guitar and delicate piano runs, I Am a Human works to shed the labels of race, religion, and politics, and return the focus to simple humanity. The titular finale carries something of a core sentiment that has anchored Marley since the beginning. Even in the toughest of times, Ziggy Marley has remained optimistic. The minor-to-major-key shifting within the steady rock of this closer suggests a sense of sunlight emerging from the darkness; that love and peace will win the day.  Rebellion Rises is not an angry record. It is not a bitter record. But, it is not a record of hope, either. The time of hoping for change is a notion Marley considers past due. This is a record of action, and for Ziggy Marley, the time for action is now.
STEVE TIBBETTS, Life Of (CD)
One-of-a-kind guitarist and record-maker Steve Tibbetts has an association with ECM dating back to 1981, with his body of work reflecting that of an artist who follows his own winding, questing path. The BBC has described his music as an atmospheric brew… brilliant, individual. Life Of, his ninth album for the label, serves as something of a sequel to his 2010 ECM release, Natural Causes, which JazzTimes called music to get lost in. Like the earlier album, Life Of showcases the richness of his Martin 12-string acoustic guitar, along with his gamelan-like piano and artfully deployed field samples of Balinese gongs; the sonic picture also incorporates the sensitive percussion of long-time musical partner Marc Anderson and the almost subliminal cello drones of Michelle Kinney. Tibbetts, though rooted in the American Midwest, has made multiple expeditions to Southeast Asia, including Bali and Nepal; not only the sounds but the spirits of those places are woven into his musical DNA as much as the expressive inspiration of artists from guitarist Bill Connors to sarangi master Sultan Khan. Life Of has a contemplative shimmer like a reflecting pool, with most of the album's pieces titled after friends and family, living and past.
GERALD ALBRIGHT, 30 (CD)
BOMBINO, Deran (CD)
JOE BONAMASSA, British Blues Explosion Live (CD)
FIVE FINGER DEATH PUNCH, And Justice For None (CD)
JONNY GREENWOOD, Bodysong (CD/LP)
DAVID GRISMAN/MARTIN TAYLOR, First Time Together (CD)
RAY LAMONTAGNE, Part Of The Light (CD)
STEPHEN MALKMUS & THE JICKS, Sparkle Hard (CD/LP)
NELLIE MCKAY, Sister Orchid (CD)
OTIS REDDING, Dock Of The Bay Sessions (CD)
MATTHEW SWEET, Tomorrow's Daughter (CD)
COMING SOON:
DAVE ALVIN & JIMMIE DALE GILMORE, Downey To Lubbock (6/1)
NEKO CASE, Hell-On (6/1)
DEL MCCOURY BAND, Del McCoury Still Sings Bluegrass (6/1)
And don't forget these STILL-NEW platters that matter!
ARCTIC MONKEYS, Tranquility Base Hotel & Casino (CD/LP)
There are hard acts to follow, and then there's Arctic Monkeys' last album. 2013's AM was, in so many respects, the perfect rock record of our times. With a few exceptions, mainstream indie guitar music often seems an exhausted idiom, trying on fifth-hand poses to diminishing creative returns. On AM – a record about lust in LA – the Monkeys' carnivorous riffs and piledriving drums exchanged body fluids with the slink and anomie of contemporary R&B and west coast hip-hop. AM's qualitative brilliance was matched by its quantitative uptake, earning the Sheffield outfit No 1 spots internationally, and a massive new audience in the US. Was it the band's best since their 2006 debut, Whatever People Say I Am, That's What I'm Not? In all likelihood. Five years on, Tranquility Base Hotel & Casino totally strips out the rock from the Arctics' offering. Sure, there's a fuzz-toned guitar on Golden Trunks. The low-slung She Looks Like Fun opens with a very rock band-y "one, two, three, four". Guitarist Jamie Cook, drummer Matt Helders and bassist Nick O'Malley are here, but they are muted, repurposed. All contribute to the vibe – not least, in soulful falsetto backing vocals – but their instruments are not slamming up against your chest cavity and dislocating your spleen. Instead, singing guitarist Alex Turner has taken his muse off into space – the moon, specifically. It's an awe-inspiring place, somewhat despoiled by humans and their need to build hotel-cum-casinos near the Sea of Tranquility. If you've been to Niagara Falls, you'll have a flavour. There's a taqueria on the roof, too, scoring four stars out of five ("and that's unheard-of", vamps Turner).  This is another record, tangentially, about coupling and uncoupling in LA, as songs like Science Fiction ("I must admit you gave me something momentarily in which I could believe") and Batphone ("I'll be by the batphone if you need to get a hold") attest. But it is set, sonically and aesthetically, in a cocktail lounge, looking back on the home planet with a seething croon. Buried inside scenarios, allusions and lunar perspectives are disarming moments of what you might laughably call "realness" in the hall of mirrors that is art. "So I tried to write a song to make you blush," sings Turner, "but I've a feeling that the whole thing may well just end up too clever for its own good, the way some science fiction does." There is a risk that this atmospheric record, one that wrong-foots expectation, might not land well. But this voyage into themed purgatory – what one song calls the Ultracheese – is worth it.
BEACH HOUSE, 7 (CD/LP)
Beach House have spent the last decade-plus making music that hums with feverish intensity even at its most quiet. The Baltimore duo's albums inspire cult-like devotion from fans, which makes sense: Victoria Legrand and Alex Scally are less a band than a two-person mystical order, endlessly searching for new secrets in the same sacred texts, from Cocteau Twins to the Beach Boys. It's a subtle sound, better suited for insomniac nights than festival stages, but don't let that lull you into missing the point. Almost no indie-rock acts that debuted in the 2000s have made it to the present day with fewer missteps. 2015's Depression Cherry was Beach House's lushest album to date, raising the question of how they could possibly top it, short of tapping a team of quantum scientists to develop even headier reverb pedals. 7, which arrives after the understated/underrated Depression Cherry companion piece Thank Your Lucky Stars and a 2017 B-sides set, is the duo's first attempt since then to push their sound forward. The lead single, "Lemon Glow," signaled that Legrand and Scally were serious about evolving. With its synths pulsing in bold, outrageous color, it's a radical blast of psychedelic pop bliss. The rest of 7 isn't quite that wild, but it's just as thrilling. This is the least introverted record Beach House have ever made; it'll still blow your mind with candles lit and headphones on, but it's the first time they've sounded like a band you might want to hear at a party with more than one guest. Some of the credit goes to co-producer Pete Kember of Spacemen 3, who's polished every surface to a fresh gleam, but mostly it's about Legrand and Scally's confidence in their own powers. "Black Car" and "Drunk in LA" revel in their expansive melodies. "Pay No Mind" and "Lose Your Smile" burn so slow and majestic, they are practically power ballads. These are big songs, full of wonder, and Beach House know it. Seven albums in, they're at the start of something new.
LUKE WINSLOW-KING, Blue Mesa (CD/LP)
Don't look for ferocious twists and turns on Luke Winslow-King's "Blue Mesa." Though he well knows life is usually far from trouble-free, this is a collection of soulfully simple and effective songs with a wide range of guitar sounds and a mix of blues, rock, folk and boogie. Returning to his native Cadillac, Michigan, after a long stint in New Orleans, Winslow-King recorded the album in the Tuscan region of Italy with a band including guitarist Roberto Luti, drummer Chris Davis, keyboard player Mike Lynch and Christian Carpenter on bass. While its predecessor, "I'm Glad Trouble Don't Always Last" from 2016, dealt with the breakup of his marriage, the source of his melancholy this time were the deaths of his father and of "Washboard" Lissa Driscoll, one of his New Orleans mentors. The title track is a gentle road song in farewell mode with a weeping slide guitar, while the character on "Born to Roam" probably won't even bother saying goodbye. In any case, he's settled down considerably by "Better for Knowing You," an admission that things are better when you have someone to share them with. "Thought I Heard You" is ZZ Top-style boogie with a heart of stone, while "Chicken Dinner" (written with Driscoll) has some cool horns and playful interplay between the guitars. "After the Rain" is another laidback tune, like something from the early 1970s by Taj Mahal or Ry Cooder. Driscoll also co-wrote opener "You Got Mine" and the album ends fittingly with "Farewell Blues." Written after his dad's diagnosis, a combination of violin, slide guitar and accordion bears the burden of the emotions and leaves Winslow-King to express his hurt with a deceptive calm in his voice. Winslow-King has raised the bar a few notches with every new album and it's the unadorned and heartfelt sincerity of the songs that elevates "Blue Mesa" above the horizon.
RY COODER, Prodigal Son (CD/LP)
Guitar virtuoso Ry Cooder has spent the majority of his 50-year career as one of the country's most vital communal historians and champions of roots music, illuminating and reanimating everything from bolero to bluegrass. Over the past decade or so, Cooder has also emerged out of his group of Sixties and Seventies contemporaries as one of folk music's preeminent polemicists, channeling Occupy Wall Street angst on 2011's recession-era lament Pull Up Some Dust and Sit Down and, more recently, lambasting the GOP on 2012's Election Special. On The Prodigal Son, however, Cooder returns to his foundation as vital roots music re-furbisher, spending the majority of the album dismantling and reassembling a series of 20th-century gospel, blues, folk and bluegrass traditionals. The never-predictable results range from rousing (see Cooder's partially rewritten title track) to revelatory ("Straight Street," "Harbor of Love"). And although there are no condemnation as literal as 2012's "Mutt Romney Blues" to be found this time around, Cooder is far from apolitical. In his mere three originals, the singer-songwriter-arranger, fueled by a mix of offbeat humor and righteous crankiness, crams references to climate change, third-world sweatshops, gentrification and fascists – the latter, most pointedly, on his six-minute epic "Jesus and Woody." The Prodigal Son, Cooder's first album in six years, serves both as an urgent commentary on our current dystopia and a satisfying window into the interpretive process of a musical mastermind.