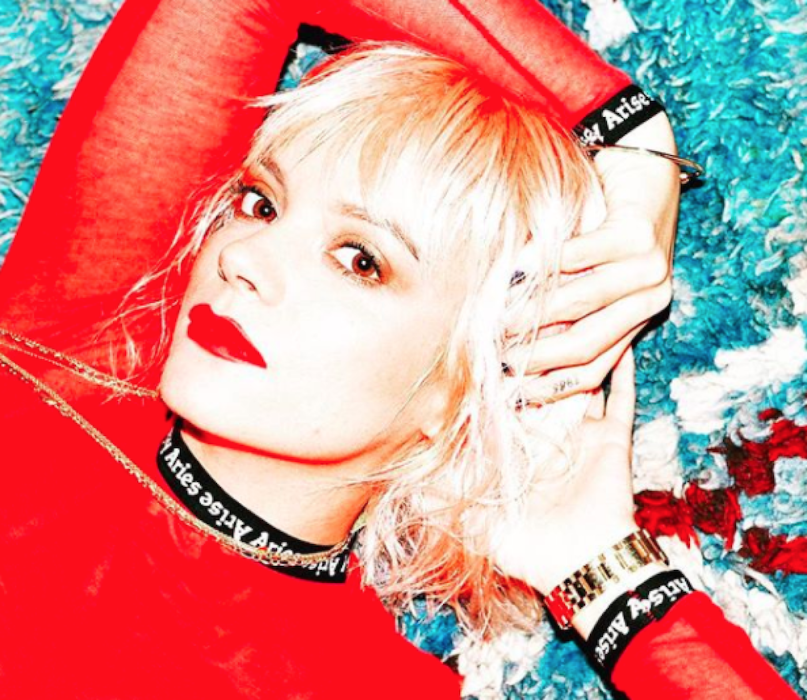 LILY ALLEN, No Shame (CD)
This late into the age of confessional songwriting, when even the most bubblegum of artists trouble the Top 40 with TMI, it's rare to find an album that can startle you with its cat-out-of-the-bag bluntness. But you get a whole lot of those "Wait, rewind that" moments in Lily Allen's "No Shame," a collection whose promising title only hints at the embarrassment and brazenness within. It's as raw a record as you'll hear this year, even if the British singer's calm tone and heavily programmed production are the picture of pop refinement. Her sweet voice has always been Allen's not-too-secret ammo, weaponized to take down the fools she didn't suffer gladly. Hearing her now turn that tart, dulcet dagger of a tongue around on herself makes for a bracing listen. Probably two-thirds of the tracks have to do with the marital split since her last album, 2013's "Sheezus," so you could say that "No Shame" follows in the tradition of many great rock and soul divorce records. Except that, as tough as Marvin Gaye was on his ex in "Here, My Dear," for instance, that's how hard Allen is on herself. She starts out on the defensive side with the opening "Come on Then," her highly quotable rejoinder to tabloid gossip: "Yeah, I'm a bad mother, I'm a bad wife / You saw it on the socials, you read it online / If you go on record saying that you know me / Then why am I so lonely, 'cause nobody f—ing phones me." From there, rather than paint a more spirited defense, Allen proceeds to write songs that address what she sees as her real setbacks as a spouse and mom. Rest assured that she can still dish it out as well as she takes it, but the level of vulnerability required to write this openly about seeking solace in "sex, alcohol and drugs" in the latter stages of a restless union outweighs even her usual level of brassiness. Which is saying something. The album is divided roughly into thirds: The opening section sets some of her despair to sprightly rhythmic pop and dancehall. Later on, a few more balladic selections strip away the good cheer to allow things to sound as stark as they are. And then, toward the close, there's a chipper send-off as a new boyfriend arrives, like a deus ex machina and/or sex machine, and a female-empowerment message ensues. These bends of the arc all have their merits, but the songs you'll remember most are the more naked numbers in the middle. "Everything to Feel Something" is an exceptionally powerful expression of how self-destructive experiences can substitute for, and fail as, self-medication, with a pretty, downward chord progression that's spookily apropos. On the far other end of the world-weary scale, there's "Three," written from the point of view of Allen's young daughter, wondering why Mum would rather tour than watch her grow up. We've all heard variations on this rocker-missing-the-kids theme, but Allen seems determined not to sentimentalize the frequent separation or let herself off the hook for it. You can sense her warring with her own shamelessness at times, not quite sure whether to castigate or celebrate herself for having ended a marriage in which she "turned a strong man weak." A wiser artist might have held off — to reach a place of more mature perspective before making an album centered on the split — but we benefit from catching Allen in the moment of ambiguity about how she's handled it all. Her refusal to put a neat bow on things also leaves room for her irreverence and Briticisms, though they're toned down here. Allen is not about to completely forgo trademark cleverness, any more than she's about to quit being as consistently tuneful as she is. Yet she's learned that when there are emotions this bald and frank to convey, she doesn't need to gild the Lily.
THE BEACH BOYS, With The Royal Philharmonic Orchestra (CD)
DIERKS BENTLEY, Mountain (CD)
ERIC CLAPTON, Life In 12 Bars (2xCD)
LYKKE LI, So Sad So Sexy (CD)
DAVE MATTHEWS BAND, Come Tomorrow (CD)
SUGARLAND, Bigger (CD)
TREMONTI, Dying Machine (CD)
KILLER REISSUES:
TOM WAITS, Small Change (180g LP)
One of Tom Waits' classic Bukowski-Chandler era barfly epics, newly remastered by Mr. Waits and Kathleen Brennan on indie-store-only colored vinyl!
THE ROLLING STONES, Their Satanic Majesties' Request (180g LP w/ original lenticular cover)
LIZ PHAIR:
LIZ PHAIR (Gatefold LP)
WHIP-SMART (Gatefold LP)
WHITECHOCOLATESPACEEGG (Gatefold LP)
COMING SOON:
MANIC STREET PREACHERS, Resistance Is Futile (6/22)
NINE INCH NAILS, Bad Witch (6/22)
And don't forget these STILL-NEW platters that matter!
NEKO CASE, Hell-On (CD/LP)
When Neko Case's house burned down in 2017, her local newspaper invaded her privacy to a degree that made her fear the return of the stalker she had recently bankrupted herself to defeat. The journalist publicized her furious, private response, which told her something about how women's life stories are stolen from them, how quickly their anger is spun as hysteria. Hell-On, Case's seventh album, addresses this theft at the hands of selfish writers and cruel men – and finds Case asserting the facts of her life with daring candor and wit. When it comes to theft, Case favors dense, naturalistic imagery and thorny parable: the "last lion of albion" slaughtered for profit and admired only in death as a marketable symbol; the Fleetwood Mac-inspired Halls of Sarah, a muse to poets who "do an odious business loving womankind as lions love Christians so". "My voice is not the liquid waves," she warns on the title track's flinty waltz. There's foreboding to these deep, eerie songs with their ticking tempos, mysterious synthesizer sounds and bright vocal harmonies left hanging rather than resolving neatly. They contrast beautifully with the brighter pop moments – Bad Luck's clarion 1960s strut and a heartfelt cover of Sleep All Summer – and the starker language that Case deploys in her own histories. Memory, she suggests, can be as unsparing as any other force that tries to lay claim to your story. "I waited too long to write this down / The startling sensation is fading," she sings on Curse of the I-5 Corridor, a gorgeous, slouchy song in which Case remembers running away from home age 15 and discovering the world. "There's memories I'd pay to remove," she rues on My Uncle's Navy, whose moody, 80s alt-rock tone suggests the distance she would like to establish from the violent man who terrorized her as a child. In the seasick love song Winnie, Case personifies her feminist awakening as a maritime heroine. "I wanted to be her sailor's tattoo," she sings in awe. Anyone listening to Hell-On, yet another high-point in Case's unstintingly stirring career, will know exactly what she's talking about.
AMERICAN AQUARIUM, Things Change (CD/LP)
American Aquarium is a most appropriate name for the band that made "Things Change," because frontman BJ Barham presents his life for all to see. Earnest and intense, the North Carolina native sings about marriage, parenthood and divorcing his former band. He quotes his wife, his father and Tom Petty. He delves into his drinking, his politics and his passion for writing songs and righting wrongs. The humor Barham shows in concert is mostly absent. But he's likable and literate, delivering heavily autobiographical heartland rock with heart on sleeve. Best is the anthemic opener, "The World Is On Fire," which recounts the reaction in the Barham household to the 2016 presidential election. Weepy pedal steel reflects the mood before Barham sings, "We must go boldly into the darkness and be the light." There's empathy for those who voted the other way, too. On "Tough Folks" Barham sings, "I saw firsthand what desperation makes good people do." The album's supporting cast — including producer John Fullbright — is fully invested in helping Barham explore his inner Springsteen, before power chords give way to twang down the stretch. On the closing "'Til the Final Curtain Falls," a lovely, gospel-tinged ballad of devotion, Barham sounds more relaxed but still fully committed, even as he leads the band out in a spacey coda.
FATHER JOHN MISTY, God's Favorite Customer (CD/LP)
FLAMING LIPS, Greatest Hits 1 (CD/LP)
GHOST, Prequelle (CD/LP)
TOWER OF POWER, Soul Side Of Town (CD/LP)
PETE YORN & SCARLET JOHANSSON, Apart (CD/LP)