Big week here at New Release central, with Gov't Mule talkin' 'bout a revolution, Lindsey Buckingham and Christine McVie teaming up, Amanda Anne Platt & The Honeycutters, and another beautiful and bizarre platter by Sufjan Stevens. Read on….
JACK DEJOHNETTE/JOHN SCOFIELD/JOHN MEDESKI/LARRY GRENADIER, Hudson (CD)
So this is what happens when a group of old jazz hands get into a Levon Helm kind of way. Hudson is the name of an album, a supergroup and a song on the album by the supergroup. The combination of Jack DeJohnette, John Scofield, John Medeski and Larry Grenadier is capable of so much; Hudson delivers in that it doesn't kowtow to expectations of what kind of music these four legends should make. The careers of these four follow timelines that only partially overlap each other but the common denominator among them is not just that they are jazz musicians, but musicians and fans of more popular forms of music before they turned to jazz, such as rock, RnB, folk and funk. This is a record of relating to the music they dug growing up as much as it's about their current environs. The covers chosen all relate in some way to the sacred ground near the Catskills; Bob Dylan's "Lay Lady Lay" is set to a relaxed, reggae groove and fronted appealingly by Scofield's lyric lead. Another Dylan number "A Hard Rain's A-Gonna Fall" is another jam, whereby the boys test dissonance, mostly around Medeski's swirling B3 and a psychedelic electric piano. Joni Mitchell's "Woodstock" — the most obvious choice for this setting — is a spiritual communion. Jim Hendrix's "Wait Until Tomorrow" is a funky excursion that isn't that far removed from Medeski Scofield Martin and Wood. Medeski's barroom piano intro gives little hint of the Band's "Up On Cripple Creek" that soon follows, which is played in a mostly straightforward fashion. The back-to-nature sentiment that's threaded throughout this album is strongest right at the end with "Great Spirit Peace Chant," where the crew play wood flutes amid hand drums and Native American chants. The Hudson River Valley is not just a place, it's a state of mind that's carried out so earnestly and effortlessly in music by Dejohnette, Grenadier, Medeski and Scofield.
SUFJAN STEVENS, Planetarium (CD/LP)
As lofty ideas for concept albums go, outer space is one that continues to fascinate beardy musicians. Techno pioneer Jeff Mills has just released Planets, an electronic-classical record inspired by Gustav Holst's orchestral suite of the same name. And from the sensitive indie sphere, there is Planetarium, a 17-track exploration of the solar system from Sufjan Stevens and his drummer, James McAlister, the National's Bryce Dessner and composer Nico Muhly. It manages to balance ambient force fields, 70s sci-fi synths, chiming guitars, sublime string arrangements, Caribou-like shimmer-pulses and Stevens's penchant for R&B rhythms to majestic and yet weightless effect, creating an immersive, celestial space opera that's best enjoyed loud, certainly in a live setting. It's clever as well as cosmic, though: dainty-voiced Stevens isn't one to coo about interplanetary flights, so Venus becomes a tale of lustful youth at "Methodist summer camp"; Uranus is a choral piece seemingly about the power of the elements, and Mars (as if Daft Punk had made an IDM soundtrack for Tron), is a boshing meditation on war. The result can't help but sound as if the planets have aligned for Sufjan's dream musical – but, if you're a fan, you'll know that's glorious.
GOV'T MULE, Revolution Come, Revolution Go (CD/LP)
Revolution Come… Revolution Go is the most ambitious album of Gov't Mule's career. The band's widest grasp of musical styles meshes with pointedly personal and topical material on which the core quartet, with some judicious assistance, displays deceptive ingenuity in the writing, arranging and playing. This collection of brand new material features a number of influences the group has displayed on stage, but never fully explored in the studio. For instance, "Sarah Surrender," has an easygoing Latin swing and vividly evokes the R&B style of Al Green, while "Traveling Tune," a friendly ode to the road, features the sweet ornamentation of  pedal steel as an overt nod to country & western music.
AMANDA ANNE PLATT & THE HONEYCUTTERS, Amanda Anne Platt & The Honeycutters (CD)
The name may have been tweaked a bit, but nothing else about this enchanting country roots band from Asheville, NC has changed. They still have the same line-up- Platt (vocals, guitar), Matt Smith (pedal steel, electric guitar), Rick Cooper (bass) Josh Milligan (drums) and Evan Martin (keys). They still deliver a feisty, witty, hard-knock life realism on their records and this eponymous release, their fifth, is like the continuation of a classic serial novel you just can't put down. The first track, "Birthday Song", is an optimistic and candid look at what it's like to grow older while counting your blessings to still be alive and kicking. Platt wrote this song right before her thirtieth birthday: "I know you worry, but what's your hurry, baby? We're all gonna get there in the end. And if love is the seed, the fruit is gonna taste so sweet."
LINDSEY BUCKINGHAM & CHRISTINE MCVIE, Buckingham McVie (CD/LP)
Well, here's an album nobody thought would happen – the first-ever collabo from Lindsey Buckingham and Christine McVie. It's full of surprises, considering we've all spent years already listening in on both their private worlds. But these two Fleetwood Mac legends have their own kinky chemistry. When McVie jumped back in the game for the Mac's last tour, the songbird regained her hunger to write. And Buckingham remains one of the all-time great rock & roll crackpots, from his obsessively precise guitar to his seething vocals. They bring out something impressively nasty in each other, trading off songs in the mode of 1982's Mirage – California sunshine on the surface, but with a heart of darkness. There's something strange about hearing Lindsey and Christine team up without Stevie Nicks, but that just enhances the album's strange impact. This would have been the next Mac album, except Stevie didn't want in. It sounds like that might have fired up her Mac-mates' competitive edge – but for whatever reason, these are the toughest songs Buckingham or McVie have sung in years. "In My World" is the treasure here – Lindsey digs into his favorite topic, demented love, murmuring a thorny melody and reprising the male/female sex grunts from "Big Love." In gems like "Sleeping Around the Corner" and the finger-picking "Love Is Here to Stay," he's on top of his game, with all the negative mojo he displayed in Tusk or his solo classic Go Insane. McVie is usually the optimistic one, but she seizes the opportunity to go dark in "Red Sun." And what a rhythm section – Mick Fleetwood and John McVie, cooking up the instantly recognizable groove no other band has found a way to duplicate. Everything about this album is a little off-kilter, right down to the way the title echoes the pre-Mac Buckingham Nicks. But if this had turned out to be a proper Fleetwood Mac reunion album, that would've felt like a happy ending – and who wants happy endings from these guys? Instead, it's another memorable chapter in rock's longest-running soap opera, with both Lindsey and Christine thriving on the dysfunctional vibes.
CHUCK BERRY, Chuck (CD)
Being released just three months after his death, Chuck Berry's first album since 1979 includes songs that originate as far back as the 1980s. There are three generations of Berry guitarists and guest appearances from the likes of Nathaniel Rateliff and Rage Against the Machine's Tom Morello. Perhaps this explains why it doesn't sound anything like the work of a 90-year-old man. The riffs are instantly familiar as those with which Berry defined rock'n'roll in the 1950s and his themes are mostly youthful: teen queens, sweet 16s and schoolboy naughtiness. Lady B Goode revisits his signature tune in honour of his long-suffering wife, Themetta, and only the slower, bluesy Darlin' and Eyes of Man include direct ruminations on mortality and ageing. Elsewhere, Jamaican Moon rewrites 1956's Havana Moon for Berry to sing in patois and there are innumerable echoes of Roll Over Beethoven, Maybellene et al. Still, if Chuck sounds like a nostalgic tribute to his pioneering self, he certainly deserves one.
THE HELIOCENTRICS, A World Of Masks (CD/LP)
Rather than circling a solitary music style, the Heliocentric's far reaching jams winding out into incalculable worlds of sound. The U.K. troupe has invested years pressing pieces of hip-hop, jazz, psych, and krautrock into their sleep inducing, droning structures since appearing on DJ Shadow's 2006 album The Outsider. The group's fourth album, A World of Masks, brags a comparable mix of sounds, yet the addition of Slovakian vocalist Barbora Petkova brings a crisp component, putting their minor-enter grooves into exciting new setting.
KRONOS QUARTET, Folk Songs (CD/LP)
When Nonesuch Records celebrated its 50th anniversary in 2014, with festivals at London's Barbican Centre and New York's Brooklyn Academy of Music (BAM), Kronos Quartet joined forces with four labelmates-Sam Amidon, Olivia Chaney, Rhiannon Giddens, and Natalie Merchant-to perform a concert entitled Folk Songs. The group later recorded the songs, most of which are traditional with contemporary arrangements, with Doug Petty as the album's producer.
PIXX, Age Of Anxiety (CD/LP)
The title of 21-year-old Hannah Rodgers' first album may seem like an attempt to capitalise on the zeitgeist but, satisfyingly, is actually taken from a 1947 Auden poem about industrialisation. There's plenty more pleasingly cliche-defying action from Pixx here – who looks like a hip south London art school student but actually went to the Brit school, and who makes ethereal electro but performs it as if she might nut you at any moment. Perhaps the most obvious touchstone for Rodgers' crisp and airy pop is British electronica of the late 90s, with the new-agey lyrics and otherworldly sonic motifs bringing to mind Zero 7, Dubstar, Morcheeba, and, occasionally, Lemon Jelly jolliness. Yet by flitting between a low, clear vocal, and something more urgent and old-fashionedly English, which evokes both 1960s pop and Tudor carols, Rodgers manages to dodge straightforward comparisons. It makes for a riveting and refreshing debut, which balances weirdness with sweet and soothing electropop joy.
MAGPIE SALUTE, Magpie Salute (CD/LP)
For all his recent solo ventures, Rich Robinson clearly misses making music with the Black Crowes. The Magpie Salute connect to his old band in more ways than its avian moniker, the nine-headed collective feeding from the same riffy traditions of blues, soul and gospel.
ANI DIFRANCO, Binary (CD)
GLEN CAMPBELL, Adios (CD/LP
LADY ANTEBELLUM, Heart Break (CD/LP)
PHOENIX, Te Amo (CD/LP)
RANCID, Trouble Maker (CD/LP)
PAUL SIMON, Concert In Hyde Park (CD/CD + DVD)

KATY PERRY, Witness (CD)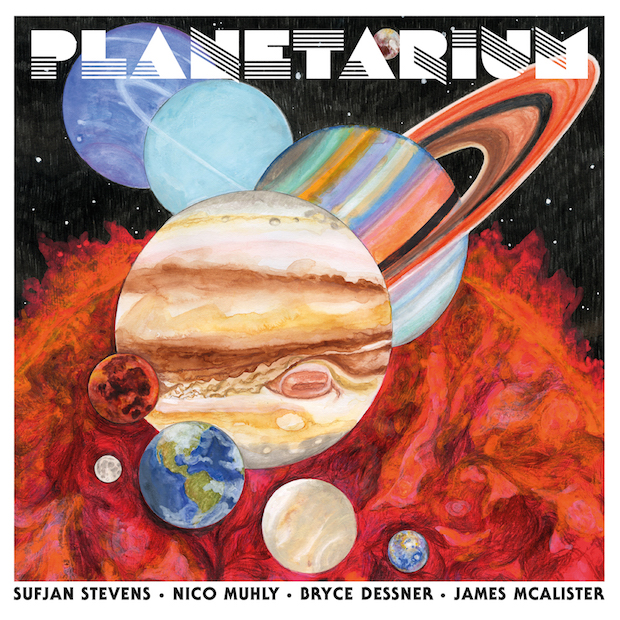 KILLER REISSUES:
GAME THEORY, 2 Steps From The Middle Ages (CD)
Game Theory's final album, 2 Steps From The Middle Ages, remastered and expanded on Omnivore Recordings with 11 previously unissued bonus tracks, plus essays from Frank Bruno, Mitch Easter, Ken Stringfellow and reissue producer Dan Vallor. Following up 1987's album Lolita Nation (whose reissue appeared on numerous year-end "best of" lists for 2016) would be no easy task for Game Theory. But Scott Miller and company were certainly up to the challenge. Re-teaming with producer Mitch Easter (R.E.M., Marshall Crenshaw, Velvet Crush), 2 Steps From The Middle Ages was released in 1988, and showed the band had no shortage of energy, experimentation, and excellent material.
JOHN COLTRANE, Trane: The Atlantic Collection (CD)
An introduction to John Coltrane's revered Atlantic recordings. Trane: The Atlantic Collection includes the hit single 'My Favorite Things,' the iconic 'Giant Steps, Naimi' and more, from the 'heavyweight champion' of the jazz world. The album features unique artwork, audio remastered for this release, and a new liner notes essay by Ben Ratliff, former NY Times jazz critic, & author of the 2007 biography 'Coltrane: The Story of a Sound.'
DOC WATSON, Live From Chicago March 1964 (CD)
As a result of the resurgence of interest in folk and bluegrass music, Doc was invited to appear at the 1963-64 Newport Folk Festivals and he performed at Town Hall in NYC in 1963 with Bill Monroe This revival of interest was often manifested by enthusiasm for the genre on college campuses, which led to these amazing and rare performances recorded at Purdue University on March 19, 1964.
DAVID GRISMAN & FRANK VIGNOLA, Frank N' Dawg (CD)
THE DAVID GRISMAN BLUEGRASS EXPERIENCE, Muddy Roads (CD)
THIRD EYE BLIND, Third Eye Blind (20th Anniversary Edition)
COMING SOON:
STEVE EARLE & THE DUKES, So You Wanna Be An Outlaw (6/16)
FLEET FOXES, Crack-Up (6/16)
JASON ISBELL & THE 400 UNIT, The Nashville Sound (6/16)
And don't forget these STILL-NEW platters that matter!
NORTH MISSISSIPPI ALLSTARS, Prayer For Peace (CD/LP)
With their swampy riffs and mud-covered rock n' roll, the North Mississippi Allstars have always honored the past while keeping an eye on the future. That tradition continues with their forthcoming album, Prayer For Peace, a collection of Allstars originals as well as reinterpretations of works by legendary artists that have influenced the band. Anchored by core members and industry vets Luther and Cody Dickinson, the Allstars have earned a well-deserved reputation as blues masters.  Despite Prayer For Peace being the band's eighth album, the brothers' passion for playing is still front and center. Building on the success of 2013's World Boogie is Coming, the band continues to explore global themes with Prayer For Peace.  As the first song on the album, the title track sets the mood early with messages of inclusion and calls for equality.  With a driving bass line and funky drum beat, the song is an optimistic rallying cry that gets the heart beating and the mind thinking about the evolution of societal peace.  Another standout is their uptempo take on the classic gospel song "You Got to Move"–a bluesy standard made famous by Mississippi Fred McDowell. The track features the impressive and soulful vocals of Danielle Nicole which provide a classical twist on the Allstars' modern musical approach. They also pay tribute to Mississippi blues legend R.L. Burnside with their take on "Long Haired Doney," which should carry a warning label for its insane amount of funky electric slide guitar. In what could be a risky move, the album was created in five different studios and features co-production; recording took place in hubs of the blues scene–Memphis (at the legendary Royal Studios), New Orleans, St. Louis–and includes co-production from Memphis legend Boo Mitchell. Even with many hands in the pot, Prayer For Peace is remarkably cohesive, and the most refined production of the Allstars' work to date. Too often bands try to adapt or evolve to conform to the whims of the modern music scene, and in the end, forget who they are and from where they came. Fortunately, the North Mississippi Allstars have long mastered the art of blending tradition with contemporary influences; while more mature and polished, the band maintains the same core rocking blues style (after eight albums!) and keeps it fresh and exciting.  With Prayer For Peace, the North Mississippi Allstars prove yet again why they are stalwarts of the contemporary blues and blues rock realm.
DAN AUERBACH, Waiting On A Song (CD/LP)
No one wants to be pegged as a carpetbagger, so it was but a matter of time 'til multi-tasking Dan Auerbach made his Nashville LP, having based his Easy Eye Studio there. He's taken the right tack, tapping great talent to grow his retro style without just playing dress-up, creating a Seventies country-soul-rock palette part Lee Hazelwood, part Jim Ford, plus spare parts. The title track is a zen-like meditation on craft co-written with master John Prine; "Cherry Bomb" boasts Duane Eddy's signature twang; "Undertow" conjures the Spinners with Philly soul strings and a "Games People Play" quote, while "Stand By My Girl" mirrors the piano riff off Fatboy Slim's "Praise You." It's a "Nashville Sound" the town could use more of.
ROGER WATERS, Is This The Life We Really Want (CD/LP)
The grim charm of this set, a 12-track dystopian concept LP that makes The Wall read like Rebecca of Sunnybrook Farm, is precisely his emeritus off-the-leash ranting, a fitting response to the stench and stupidity of our present moment. Is This The Life We Really Want? is not without humor. It opens with the old rock star imaging his first act as God: undoing the longterm effects of alcohol on his face (priorities, people!) Elsewhere, classic song allusions flicker sardonically ("Wish you were here in Guantanamo Bay!") But from the redacted-text package design forward, it's a relentlessly dark image-feed: drone warfare ("Déjà Vu"), forced parent-child separations ("The Last Refugee"), the gluttony of the American dream ("Broken Bones"), the psychosis of terrorism ("Smell The Roses") – pretty much the nightly news. The music is quintessential post-Dark Side Of The Moon Floyd, but channeled by offspring: Producer Nigel Godrich brings prog-rock grandeur, multi-instrumentalist Jonathan Wilson microdose psychedelia, Lucius alt-R&B backing vocals. It's precisely what a Trump-era Roger Waters LP should be.
ALT-J, Relaxer (CD/LP)
There is much for an addled brain to explore here on Alt-J's third album: spooky shadows, flourishes of beauty that dissolve into horror, bizarre historical references, splurging sexuality. Deadcrush is Nine Inch Nails on helium, and Wolf Alice's Ellie Rowsell creeps in on the labyrinthine 3WW. It's a short yet extravagant blow-out, a Heston Blumenthal banquet of an album, consumed with its own belligerently perplexing path.
BEACH FOSSILS, Somersault (CD/LP)
The most amazing aspect about Somersault is that it still has that bedroom-composed feel. While singer/songwriter Dustin Payseur has matured dramatically over the last decade, he still manages to consistently produce records that reflect his roots and he highlights just how easy it is to create a catchy, successful LP without the needs or complications that, quite frankly, ruin a lot of high-end pop music today. This is Beach Fossils' homage to the DIY musician and a perfect example that, with persistence and rigour, anyone can compose outstanding music using whatever resources are available; from any background or culture; wherever they are in the world.
BLEACHERS, Gone Now (CD/LP)
Jack Antonoff is a grown-up emo kid and a fully realized tune machine – an Elton John whose yellow-brick road always leads back to his sad bedroom. Bleachers' second LP exudes a kind of afflicted bliss, anthemic Eighties pop and R&B impressions built from the harried, diaristic isolation that era's Top 40 only allowed in at the margins. Lorde co-writes and sings on the synth-pop gusher "Don't Take the Money," and Carly Rae Jepsen shows up on "Hate That You Know Me," part snappy electro-pop tune, part industrial angst spiral.
HANDSOME FAMILY, Singing Bones (CD/LP)
Rennie and Brett Sparks are the oddest and most bizarre couple in alt.country or old-time country circles today. And god bless them for it! The Chicago couple who now call New Mexico home have continued to push the sound of the likes of early George Jones, Merle Haggard, Lefty Frizzell, and Marty Robbins with a style that is near impossible not to appreciate. And the tales in each song are fit for either a David Lynch or Coen brothers score. The group's last album Twilight spoke about animals, mothers and offspring drowning in cars, and other assorted eerie tales. The new album is no different, although peaches, toads and two anthems about possible Armageddon are the topics. It's only adding more shine to what is becoming a very impressive discography. The baker's dozen tracks starts with "The Forgotten Lake", a song that has Brett's baritone in fine form. Rennie adds harmonies as lyrics about shadows climbing darkened walls. It's knee-deep in that unmistakable slow, waltz-y country that ambles along beautifully. And the sparse instrumentation makes the vocals the centerpiece each and every time. Brett, who plays most of the instruments on the album, has a rich and deep vocal that never falters. "Gail with the Golden Hair" is just slightly more up-tempo, possessing a certain Mariachi flavor as the subject sits on his roof of his car shooting beer empties. Harmonizing against his lead vocal, creating a ghostly tone throughout. "I draw circles through the alleys / Calling my burning lover / But Gail ran deeper into the gloom / Screaming at the street lights", is a perfect example of the dark yet comical nature of the song.