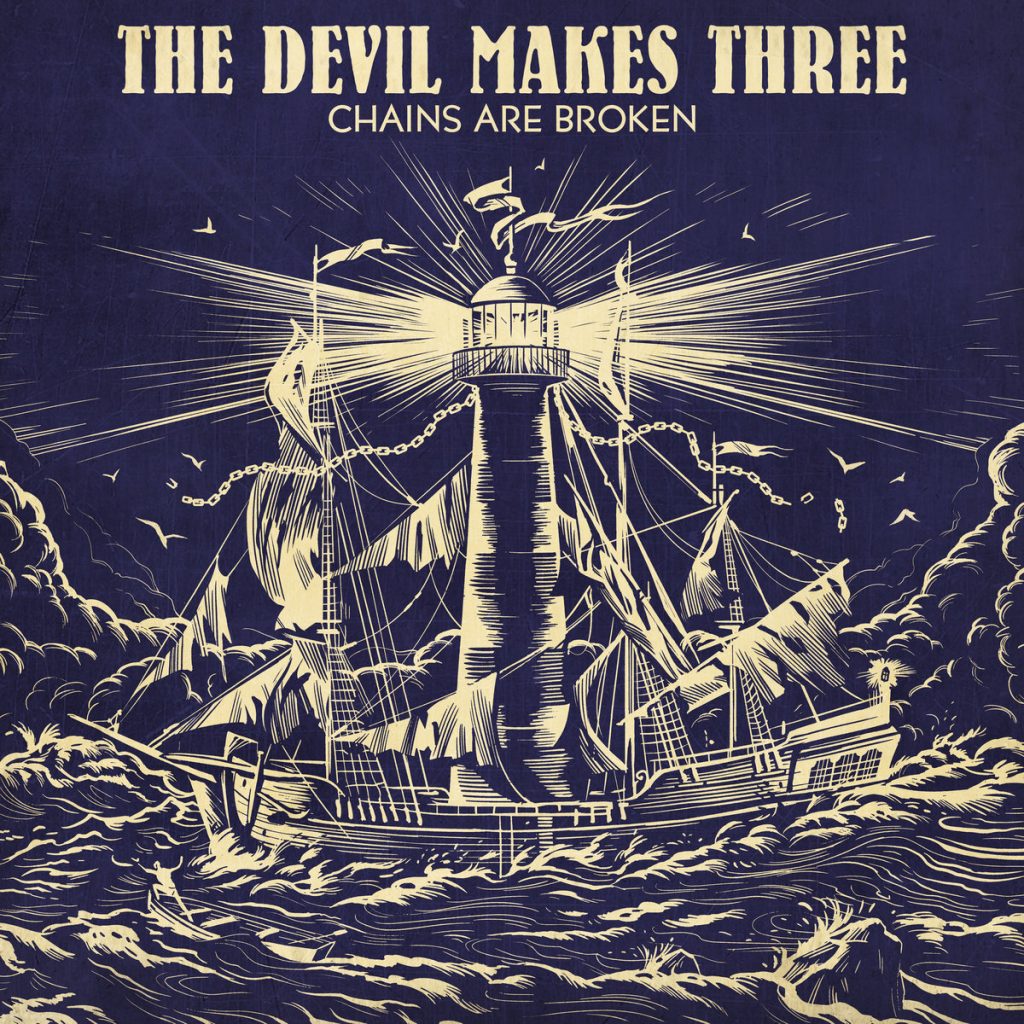 THE DEVIL MAKES THREE, Chains Are Broken (CD/LP)
It's ironic that The Devil Makes Three score their biggest successes with solid showings on the bluegrass charts. Although their earlier efforts found them extolling a kind of swampy, roots-relevant approach, their last album, Redemption & Ruin, was a collection of covers, making this effort their first album of original material since 2013's I'm a Stranger Here. But a bluegrass band? Hardly. Granted, bluegrass is all about the energy and enthusiasms and in that sense, Chains Are Broken is an album imbued with solid hooks, catchy choruses and irresistible refrains. Even so, singer Pete Bernhard describes as a set of songs imbued with a more personal perspective, especially as it regards the challenges faced in any struggle for survival. Not exactly the sort of sentiments likely to inspire a sense of celebration. Yet, despite such dire directives, this is a remarkably upbeat effort. "Can't Stop," "Need to Lose," "Bad Idea," and "All Is Quiet" are instant attention grabbers, the sort of songs that leave an impression even on initial contact. While Bernhard and his colleagues—bassist Lucia Turino, guitarist Cooper McBean and new recruit, touring drummer Stefan Amidon—are intent on conveying these tales of darkness and despair, their upbeat approach, flush with propulsive rhythms and distorted guitars, suggests a punk-like persona and a devil-may-care distinction, one that distracts and departs from any deeper meaning. Indeed, when Bernhard sings "Deep in my heart, I'm a terrible man," on "Deep in my Heart," the tendency is to simply forgive his faults and get in a groove. Of course, the easiest thing is ignore the negative and simply celebrate the sound of a band at full throttle. Given the fractured world we live in, most of us would rather opt for an escapist option anyway. Best then to pay heed to the assertive statement that sums up "Native Son" as Bernhard declares "I ain't going nowhere 'cause I'm right where I belong." That seems a momentary sentiment in a set of songs that describe circumstances that are anything but uplifting. And yet, best to favor the music over the malaise.
NEIL & LIAM FINN, Lightsleeper (CD)
"Lightsleeper" is the result of another crowded house at the Finn residence. The album principals, father Neil and son Liam, get the rest of the family involved — mother Sharon, son Elroy, nephew Harper — and also provide room and board to one of Neil's new Fleetwood Mac bandmates, Mick Fleetwood. On the surface, "Lightsleeper" is closer to the Finn family's foundational Split Enz era than to the more renowned Crowded House productions, with dreamy atmospheres, multi-section song structures and hazy shades of melody providing the framework, not tight pop songs with instantly memorable refrains. Most of the tracks are father-and-son co-writes, but Neil wrote album opener "Prelude-Island of Peace" with an uplifting, congenial choir, as a gift for Liam's wedding. "Meet Me In The Air" follows, its relaxed harmonies harking back to the "Surf's Up"-period Beach Boys, while "Where's My Room," which seems to describe a musician's unenviable condition near the end of a long tour, begins with what sounds like an updated Roland drum machine and, over seven minutes across various "movements," keeps adding elements, including a string section that at times emulates the sounds of Philly soul. The theatrical, character-rich "Ghosts" is where the Split Enz influence — or is that Liam's more experimental side? — is clearest, while album finale "Hold Her Close" is a lullaby that includes practical tips for parents. As with any music involving a Finn, the vocals are one of the main reasons for listening and the father-son combo more than meets expectations. Neil's voice is still a tad sweeter but Liam's phrasing is very similar and no less expressive and they complete each other fabulously. Ideal for late-night listening, "Lightsleeper" demonstrates that with talents such as these at hand, it makes sense to keep it all in the family.
MARK LANEGAN & DUKE GARWOOD, With Animals (CD)
Besides being one of the only grunge frontmen still ticking, Mark Lanegan has never rested on his legacy with the Screaming Trees. After the breakup of his Seattle-based band in 2000, Lanegan released a sturdy stream of albums as a solo artist while collaborating with Queens of the Stone Age, Soulsavers and Greg Dulli of Afghan Whigs (under the name the Gutter Twins). With the release of With Animals, his second collaboration with English multi-instrumentalist (and touring band member) Duke Garwood, Lanegan doesn't change his musical M.O. so much as Garwood alters the tone and mood in which his bluesy vocals are delivered. Where the duo's first album, 2013's Black Pudding, was flanked by Garwood's sparse guitar arrangements, their latest features dusty tape loops, brittle drum machines and a lo-fi eight-track recording sound that gives Lanegan's dark-night-of-the-soul delivery a whole new aesthetic. The trick to With Animals is its brevity, as only two of the album's 12 tracks surpass the four-minute mark. On album highlights "My Shadow Life" and "With Animals," Garwood coils simple guitar lines, keeping things hypnotic and digestible. On "Save Me" and "Scarlett," Lanegan spaces out his verses, giving these songs the sense of gravitas he's always dreamed of delivering, while allowing terrific lyrics like, "I picked a winter daffodil, and spied a lonesome infidel, I know I'm going out of my head," to stand out.

ALICE IN CHAINS, Rainier Fog (CD/LP)
INTERPOL, Marauder (CD/LP)
SLEEP, Leagues Beneath (LP)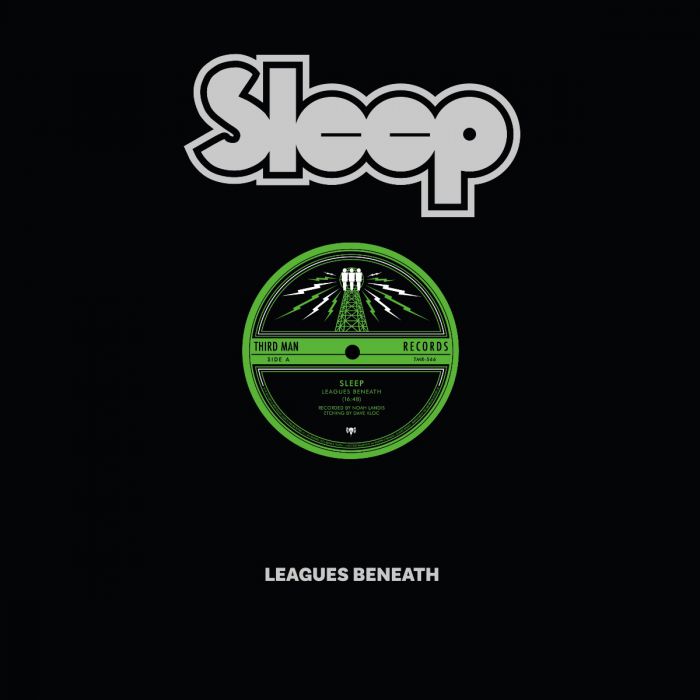 COMING SOON:
IRON & WINE, Weed Garden (8/31)
AARON LEE TASJAN, Karma For Cheap (8/31)
JEFF THE BROTHERHOOD, Magick Songs (9/7)
And don't forget these STILL-NEW platters that matter!
BLUE OCTOBER, I Hope You're Happy (CD/LP)
Blue October return with their ninth album with expectations high after the excellent 'Home' album released in 2016.  Vocalist and main songwriter Justin Furstenfeld is in a happy place in his personal life being a proud and doting dad judging by his various social media posts. This is reflected in the album's general upbeat air in the music which is a mixture of rock, dance, 80′s influences, indie, pop and more. The title track and 'How To Dance In Time' are the album's lead songs, both have wonderfully uplifting melodies and emotive lyrics. Blue October have the knack of recording deeply personal music that can connect to a wider audience. The upbeat air comes through on 'Let Forever Mean Forever', whilst opener 'Daylight' adds in beats, effects – reminiscent of Imagine Dragons. The rhythm section of drummer Jeremy Furstenfeld and bassist Matt Noveskey keep the beat tight, modern and tasty. Fans of the band's earlier albums may not be overly taken by the dance/pop of 'I Want To Come Back Home', however the band always evolve on each album and that is part of the attraction about them. 'Colours Collide' is the most 'in your face' song, Justin upping the vitriol in his singing, the one song that harks back to the band's early sound. What gives Blue October that extra lift above other bands is not only Justin Furstenfeld's vocals and songs, but the violin and soundscapes created by Ryan Delahoussaye. Take for example 'Further Dive (The House That Dylan Built)' where the violin and strings arrangement creates a beautiful ambience midway through. At over nine minutes this is a proper dim the lights, headphones on, and immerse yourself into the music.
CIRCLES AROUND THE SUN, Let It Wander (CD/LP)
Let It Wander signals a new beginning for the band as they move beyond their original musical mandate of evoking the spirit of the Dead and fully embrace their own personality. More than anything, what you hear on this album is a band growing into its own sound. The songs on Let It Wander are focused and filled with imaginative musical turns. Bassist Dan Horne and drummer Mark Levy form a veritable groove machine that knows intuitively when to tighten up and when to stretch out. They expand and collapse the rhythmic pocket around guitarist Neal Casal and keyboardist Adam MacDougall, who pass melodies back and forth in an elaborate game of musical tag as they take turns adding color and shade from a seemingly endless kaleidoscope of cosmic sounds.
DEATH CAB FOR CUTIE, Thank You For Today (CD/LP)
It's almost exactly 20 years since Death Cab for Cutie released their first album, Something About Airplanes, on the tiny Barsuk label. The intervening years saw them sign to a major label, get nominated for Grammys and become poster boys for canvas-haversack-toting mopey emo kids everywhere. But nine albums in, and Ben Gibbard and co are no longer kids themselves, and their nostalgia has a decidedly autumnal feel. Gibbard can recall being 22 and "Trying so hard to play it cool" (60 & Punk), and reflects that "Sometimes I'm overcome by every choice I couldn't outrun" (Summer Years). The dilemmas that are faced are adult ones: "I don't need you to be honest / Or to be faithful to the end / I just need you to be always a friend," Gibbard sings on When We Drive. At this point, Death Cab have settled into a sound that eschews experimentation: in a sense this is MOR music. Nothing surprises, nothing jolts, but it's so expertly judged, such a warm fug of melancholia, that it's all but irresistible, like slipping into delicious self-pity. The melodies are gorgeous, never overdone but always foregrounded: you would get almost nothing from the individual elements, from the bass, the guitar, the keyboards and the voice, but they add up to much more than the sum of their parts. It's not that it sounds like 80s adult rock, but there's something of artists like Bruce Hornsby and the Range here – something welcoming and accepting that feels awfully appealing.
CULLEN OMORI, Diet (CD/LP)
It's easy to roll eyes at the concept of an album comprised entirely of love songs. Hasn't that been done — perhaps superlatively — by groups like the Magnetic Fields, the Shins, the Beatles? Isn't about every other pop song on the radio about love? And yet, former Smith Westerns frontman and self-proclaimed piece-of-shit Cullen Omori's sophomore solo album The Diet proves that there's more to be said. Recalling Andy Shauf's The Party with its curiosity about sound, vocal quality, and narrative structure, Omori's newest effort suggests that love isn't dead — perhaps it was simply on hiatus. Love songs can often have a stale nostalgia or, on the other side of the coin, over-exuberant anticipation. We're all familiar with thumpy pump songs that anticipate a night with an attractive prospect ahead or a breakup album that succeeds through sulking in the rejection. However, The Diet lives in the present; Omori even reportedly wrote some of the tracks with his girlfriend at the time. The songs live beyond the realm of corporeal romance, instead often professing love for drugs, ideals, and beyond. Perhaps the only straightforward love song on the album is "Natural Woman", a song that explores the get-and-give of modern-day relationships. Omori sings, "Pink silk shorts and the pictures on TV / Your bedroom eyes make it hard to breathe now they're part of me / Oh I want you, Oh I want you, Honey / there's so much more to come / So many lonely people but I ain't one." His ability to expand the love song form while also living within it showcases a dual-talent for control and exploration, a gift that is the root of The Diet's sonic success.
THEE OH SEES, Smote Reverser (CD)
If you were to look at the album cover of Oh Sees' 22nd (!) record for the first time, you'd think it belonged to that of a death metal band and not the California psych-rockers. Dark and gothic, the artwork depicts the figure of a monster not dissimilar to that of the Balrog from Lord of the Rings, and you'd expect the album to belong to a band who plays Download Festival every year without fail and whose logo obscures their name in some illegible scrawl. But it doesn't belong to some Download band. On their latest album, Oh Sees reinforce the idea that they don't want to be pegged to one genre – or idea, or philosophy. Smote Reverser is not so much a new album from Oh Sees as it is a new album from a new incarnation of Oh Sees – a culmination of the ideas and the works of the band also known as Thee Oh Sees, The Oh Sees, Oh Sees, OCS and The Ohsees. Picking up from where they left off with last year's Orc, Smote Reverser is linked by its very inability to sound like a grander project. Less thematic or cohesive than other records, Smote Reverser is, quite deliberately, a record that sounds like an endless stream-of-consciousness, with no underlying nucleus that pulls it all together. Any of these tracks, each so distinct from the others, could potentially hold the charm of the record. Perhaps its off-kilter nature is an honest reflection of the chaotic, restless and lawless nature of our society today. Smote Reverser has Oh Sees go full-out psych-rock, with inklings of post-apocalyptic soundscapes, both thematically and sonically. Where the punishing goth-doom of lead single "Overthrown" is caustic and feral, there are instances of fresh organs and keyboards to reinforce a more progressive rock feel. There are more pop and garage-rock elements strewn across the record, but they play second-fiddle to the more grandiose and amplified energy of the rest of the tracks. "Moon Bog" is a more dialled-down number, but still haunting nonetheless, and the restlessness of the tracks create for an unsettling energy. So who really are Oh Sees? Are they themselves aware of who or what they are? They could be anything they want to be.