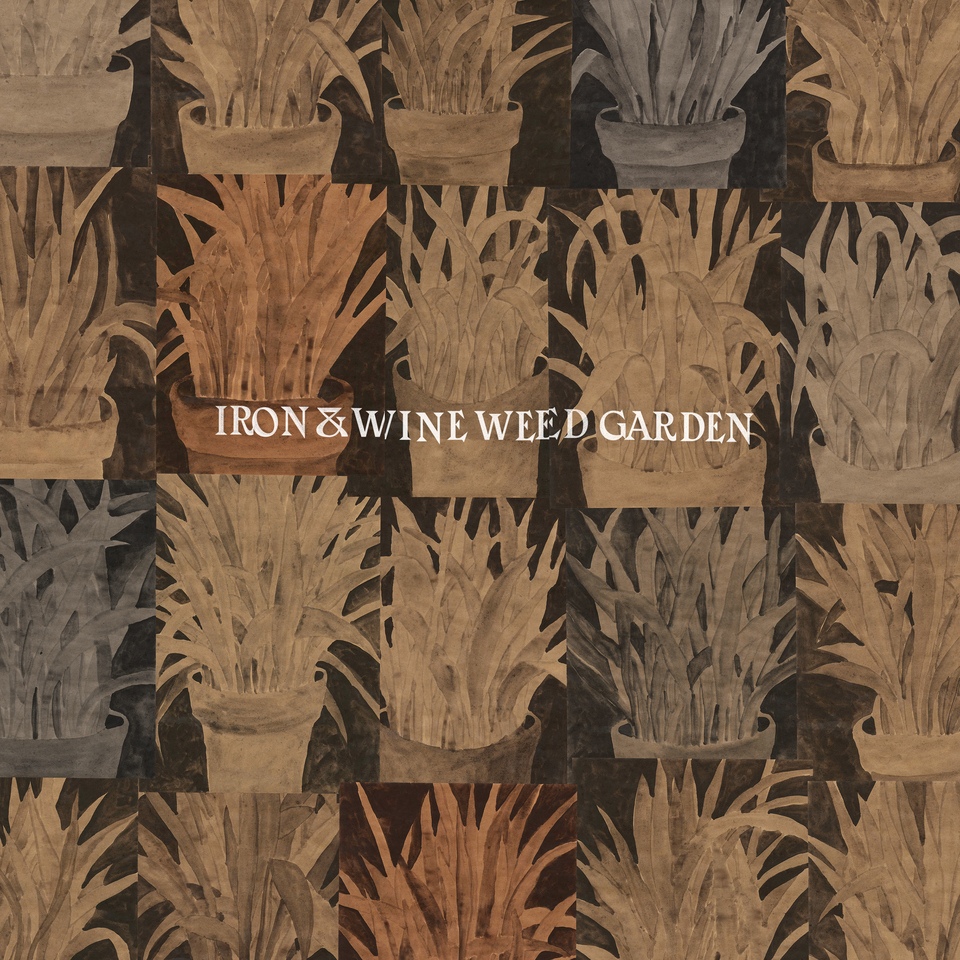 IRON & WINE, Weed Garden (CD/LP)
For fans of Iron & Wine, it's Christmas in August. "Weed Garden" is a six-track EP including songs written by Sam Beam mostly while working toward his last full album, "Beast Epic," and they sound very much like it. "Beast Epic," released a year ago, marked not just Beam's return to Sub Pop, but also to a more uncluttered style. While still backed by a full band, both the EP and its predecessor benefit from a regained intimacy which boosts the directness of Beam's vocals and his bandmates' harmonies. On opener "What Hurts Worse," there are attempts to reconcile the idealistic aspects of a relationship with what's actually achievable before it all crumbles, while "Last of Your Rock 'n' Roll Heroes" has a vibe like Tim Hardin fronting Stephen Stills' Manassas and a disheveled, rickety protagonist who's searching and struggling but also learning a life lesson every day. Beam's surprise gift is the exquisite "Waves of Galveston," a fan favorite getting its first official release. Its very 70's-sounding refrain caresses the eardrums and Nick Drake may have sounded like this if singing about Texas. There are plenty of references to nature — the sea, butterflies, serpents, rain, clouds, flowers, winds and waves — but it's all related to the human experience and the final three songs sustain the theme. Especially affecting are the gorgeous "Autumn Town Leaves" and the increasingly intense and desperate closer "Talking to Fog." "Weed Garden" is both a wonderful bonus in relation to "Beast Epic" and an enchanting collection that deserves to be valued for its own plentiful merits.
DAVID OLNEY, This Side Or The Other (CD)
Veteran singer-songwriter David Olney takes a poetic look at the darkness inevitably surrounding the current immigration crisis, pleading for open hearts and mercy in the process. It's not quite a themed album but, for the most part, it reads that way. "I wanted to explore the idea of walls," says Olney," What does a wall mean? What does it mean to be an immigrant who comes upon that wall as a wanderer, someone lost and alone?" Olney's point of view is inferred from the songs as he takes the third person approach.  "I'm not comfortable writing abut my own dirty laundry. It's better for me to look at characters and what they might be going through. When I write about the heavy stuff of life, it's usually while I'm in someone else's shoes." On This Side or the Other Olney teams with label owner, Juno-Award winning producer and multi-instrumentalist Steve Dawson who splits his time between his home in Vancouver and Nashville these days. Olney is one of the pillars of Americana, a songwriters' songwriter, who can attract the best session players. Joining him are Country Music Hall of Fame harmonicist Charlie McCoy, singer-songwriter Anne McCue, The McCrary Sisters, Fats Kaplin, Dawson, and his regular band: Daniel Seymour on bass, Ward Stout on fiddle, and Justin Amaral on drums. These ten songs are both fresh and taken from old writings. Olney also collaborates with friends, co-writing three with John Hadley, penning the title track with both Hadley and McCue, and one with Abbie Gardner. He also takes a marvelous reading of The Zombies' "She's Not There." Olney was thinking of Johnny Cash, the eternal outsider, for the opener "Always a Stranger," colored by Stout's fiddle and McCoy's full-bodied enveloping harmonica tone.  The tone gets dark and bluesy for "Wall" as Olney rather existentially raises the symbolism of a wall which is necessary for a door which, in turn, is necessary for a lock, which in turn, is necessary for a key. He summarizes so succinctly in the last verse – "Brick by brick, stone by stone/You build a wall and then it's done/Fear by fear, doubt by doubt/You keep me in you keep me out." He takes a metaphorical look at borders in "Border Town," featuring the McCrarys on background vocals and Dawson on the hybrid string instrument, the mandotar. Two songs about spies come with spooky backdrops. McCue's voice is the perfect complement on "I Spy" while "Running From Love," an older song gets a more upbeat treatment with McCoy, Stout, and Dawson adding crisp solos.  The title track takes its idea from the film about Boston gangsters, "The Town," with Dawson on pedal steel and McCue again singing angelically. "Death Will Not Divide Us," written with Gardner, has biblical references and the McCrary Sisters bringing the gospel feel, as Dawson delivers an inspired guitar solo. "Open Your Heart (And Let Me In) is a melodic love song, apart from the prevailing theme again featuring McCue. "Stand Tall" is one that Olney's been working with for years, a stoic statement that invokes migrant workers, miners, troubadours and prisoners. Lines like these "here they teach you while you're young/There's a price you have to pay for being real/ You have to learn to walk away/To close your heart pretending you don't, feel/But you know you feel" give us reassurance that Olney's going to be strong and be a comforting voice.   Olney likens "She' Not There" to a magic trick. You're looking for her and she somehow disappears.We can just as easily call this pairing of Olney with Dawson and these musicians magical too. Words can be a powerful force.  In the hands of master wordsmith Olney, they can work wonders.
MOGWAI, Kin (CD/LP)
Since the mid-2000s, Mogwai have provided the musical accompaniment for one television series, Les Revenants, and a clutch of documentaries. Among those docs, their soundtracks for Zidane: A 21st Century Portrait (2006) and Atomic (2016) have felt the closest in character to the band's regular work, and they even toured in support of the latter. KIN comes even closer to the composition of a Mogwai studio album, to the point where the line between the two is starting to blur. "We're Not Done (End Title)" is the most striking example of this breakdown in difference; a storming tune in a similar vein to "Teenage Exorcists" but even more catchy and upbeat, with frontman Stuart Braithwaite using one of his occasional opportunities at the mic to sing verses and choruses about holding back fear and fighting against the past, which one would imagine relate at least vaguely to the plot of the movie. This kind of deep-in-the-career turn toward the accessible is still not the usual for Mogwai, but it is becoming less of a rarity. The eight tracks that come before that parting shot offer more in the way of space, tension and texture, as befits music that is meant to accompany cinematic action, but as a stand-alone album KIN stands up well from start to finish. The shifting atmospheres and swirling build-ups of "Donuts," "Guns Down" and the title track in particular are worthy of being put center stage, and could easily become live favorites. Same goes for the deep, heavy-footed "Flee." KIN is the uncommon soundtrack that doesn't require any context other than its own to command more than passive attention.
AARON LEE TASJAN, Karma For Cheap (CD)
Karma for Cheap is Aaron Lee Tasjan's sophomore release for New West following 2016's acclaimed Silver Tears. While that one had just enough twang to barely qualify it as an Americana album, this one jingles and jangles fully with power pop. It's just his third solo effort, but he has widely varied experience as a sideman, playing guitar in the modern day New York Dolls, the inventive Semi Precious Weapons, the Neil Young-signed Everest, British roots rock band Alberta Cross, Southern rock band Drivin' N' Cryin', or even as front man of the rockers Madison Square Gardeners. Clearly, this informs his mix of psychedelic-pop and rock 'n' roll. Some have described his range as extending from Brian Wilson to Todd Snider with hints of Tom Petty (Traveling Wiburys version). Even the opening riffs to "If Not Now When" evoke the Beatles psychedelic period. That's not by accident either. You could even read into the title a reference to John Lennon's Instant Karma. As the album unfolds more British pop influences emerge as do the vocal harmonies that hearken back to previous eras too. Throw in a dash of Bowie for glam rock and it's a mashup of vintage sounds with his own psychedelic twist. "the sound of the new record is a little more rough and ready, more raw than anything I've done before," says Tasjan, continuing, "…There are a lot of people out there carrying the burden of this weird, twisted world we 're living in at the moment on their shoulders. So I tried to write a record that offers some comfort, encouragement and hope to those people, as much as it's possible to be hopeful right now." These ten songs are all originals and the album is co-produced by Tasjan, Jeff Trott (Sheryl Crow), and Gregory Lattimer (Albert Hammond Jr.). It features Tasjan's road band – guitarist Brian Wright, bassist Tommy Scifres, and drummer Seth Earnest. Sheryl Crow is aboard for background vocals. Tasjan considers himself an experimentalist and prides himself on not being obvious.  He does get to the heart of rather disguise theme immediately in "If Not Now When" with this verse – "All of your friends are asleep/And you can't buy karma for cheap/And the cards say, 'Read em' and weep'." Optimism, Tasjan style comes in verses like this from "The Truth Is So hard to Believe" – "It's all in your head/There's no race to be won/The world that you're in /Is a beautiful one/With the sun in your eyes/Through the golden haze/You're doing alright in so many ways." The shiny, gleaming music is as uplifting as the lyrics. Amidst the mostly up-tempo, bubbly tunes is the crooning ballad "Dream Dreamer," seemingly inspired by Roy Orbison as Tasjan sings in the high register. This is not to say he loses any momentum in the second half of the album: it's as good, maybe even a tad better than the first half. In Echoes of Neil Diamond appear in "Set You Free" and "Strange Shadows," "Crawling At Your Feet" and the closer "Songbird" are just terrific melodic, hook-laden pop songs.   This is all perfect radio friendly fare. Pop the disc in your player and you'll be smiling and perhaps thinking back to less stressful times.
ALKALINE TRIO, Is This Thing Cursed (CD)
It's been five years since Alkaline Trio's last studio album, and a lot has happened — a celebrity became president, a conman faked a music festival in the Bahamas and vocalist Matt Skiba replaced one of Blink-182 founding singers. These topics and more are dealt with on Alkaline Trio's latest release Is This Thing Cursed?, where the punk rockers return to scornful form with a vengeance. The Chicago band was in the middle of America's current political turmoil when penning the song "I Can't Believe" about Donald Trump's infamous Access Hollywood tape, and Skiba himself almost flew to play Fyre Fest with Blink-182 when the festival was outed as fraudulent; he wrote "Goodbye Fire Island" about not only that, but also as a call to action for environmentalism in underdeveloped countries. The album's second single and eponymous track is a standout, as Alkaline Trio do what they do best: tackle serious subjects (in this case, depression) with zealous, head-banging fervour. Fans just finding Alkaline Trio, perhaps via Blink-182 fandom, will undoubtedly enjoy this album for its prevalent, socially conscious lyrics, delivered like a paintball to an already bruised arm with the band's signature passion. Longtime devotees, meanwhile, will appreciate the way Is This Thing Cursed? calls back to earlier Alkaline Trio albums, and its mix of both nostalgia and originality. It's a punch to the gut you didn't know you needed.
DARBY WILCOX & THE PEEP SHOW, 11:11 (CD/LP)
AMOS LEE, My New Moon (CD)
ALICE COOPER, Paranormal: An Evening At The Olympia Paris (CD)
ATLAS ROAD CREW, Chasing Fire (CD)
DONNIE FRITTS, A Tribute To Arthur Alexander (CD)
BOB JAMES, Espresso (CD)
TASH SULTANA, Flow State (CD/LP)
KIM KASHKASHIAN, J.S. Bach: The Six Cello Suites (CD)
HOWARD SHELLEY, Classical Piano Concerto #5 (CD)
KILLER REISSUES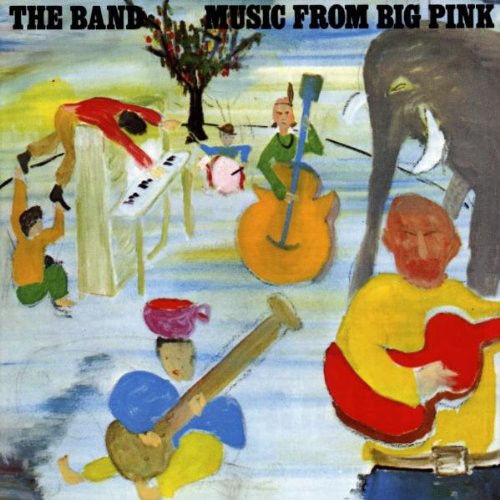 THE BAND, Music From Big Pink (50th Anniversary Edition) (CD/2xLP/2xLP + CD + Blu Ray)
For many rock acts, 1968 was a year for exploring psychedelia and the outer limits of the studio. The Beatles took off on a Magical Mystery Tour, for example, while Jimi Hendrix served up the otherworldly guitar excursions of Electric Ladyland. But a few artists—most notably Bob Dylan, followed closely by his friends the Byrds and the Band—headed in a completely opposite direction, turning away not only from prevailing trends but from the styles of their own past work. Early in the year, Dylan went all the way to No. 2 on the album charts with the stripped-down folk balladry of John Wesley Harding, an astonishing followup to Blonde on Blonde that actually came out a few days before 1968 began. The Byrds helped launch the country-rock genre with Sweetheart of the Rodeo, which appeared in August of '68. And a month before that, the Band—the group that had been working as Dylan's backup outfit—released Music from Big Pink, which still ranks among the most significant debut albums of the entire rock era. The record—which sports a whimsical cover painting by Dylan and takes its moniker from the group's nickname for the house where several of them lived at the time—is as atypical of its period as it is first-rate. It contains no obvious studio embellishments, no guitar solos; and its deliberately rough-edged vocals have virtually nothing in common with what was currently on the radio. If there had been rock music shortly after the Civil War, it might have sounded a lot like this. If there had been an Americana/roots genre in the 1960s, this would have been an important part of it. As is, nobody had ever heard anything quite like Big Pink; at the same time, though, it sounded reminiscent of records you'd been listening to all your life. That's because the album draws on virtually every strain of American music—rock, blues, gospel, soul, country, rockabilly, and more. What was new about it in 1968 was the way the Band merged all of their influences. Their work seemed completely fresh, and also as traditional and timeless as the tracks on Harry Smith's Anthology of American Folk Music. The group that delivered this highly influential tour de force had no one standout star: Levon Helm (drums), Robbie Robertson (guitar), Garth Hudson (organ), Richard Manuel (piano), and Rick Danko (bass) all made major instrumental contributions; and the Band had three strong vocalists in Danko, Manuel, and Helm. As for the tightly constructed story songs, the album includes one classic after another: it features the debut of Dylan's "I Shall Be Released," as well as "This Wheel's on Fire," which Dylan wrote with Danko, and "Tears of Rage," which he penned with Manuel. Also here: Robertson's "To Kingdom Come," "The Weight," "Caledonia Mission," and "Chest Fever"; Manuel's "In a Station," "We Can Talk," and "Lonesome Suzie"; and one well-chosen cover, the 1950s country ballad "Long Black Veil," which Lefty Frizzell first recorded. The protagonist of "Long Black Veil" is a man who was executed for a crime he didn't commit because he refused to use his alibi: at the time of the murder, he'd been in the arms of his best friend's wife—a woman who now "walks these hills in a long black veil" and "visits my grave when the night winds wail." That vignette fits right in on an album loaded with mournful lyrics on songs like "I Shall Be Released," in which Manuel applies his evocative tenor to the tale of a man in prison who remembers "every face of every man who put me here." And yet there are moments of lightness, such as in "Caledonia Mission," where "we'll be gone in moonshine time / I've got a place they'll never find." There's also the funky "We Can Talk," a seemingly stream-of-consciousness lyric that asks, "Did ya ever milk a cow? / Well I had the chance one day but I was all dressed up for Sunday" and concludes, "I'd rather be burned in Canada than to freeze here in the South." Music from Big Pink sounds better than ever in a 50th anniversary edition that incorporates an incisive essay by David Fricke and photos by Elliott Landy that make the group look less like rock stars than 19th century Southern gentlemen. The package delivers a new stereo mix by Bob Clearmountain of the 11-song original album. It also offers alternate takes of "Tears of Rage" and "Lonesome Suzie"; outtakes of "Yazoo Street Scandal," "Long Distance Operator," and "Keys to the Highway," all from the Basement Tapes sessions with Dylan; and a fine a cappella version of "I Shall Be Released." A Blu-ray features a 5.1 surround-sound mix of all 17 of those tracks. There's also a vinyl version of the original album, with the songs spread over two 180g LPs for added fidelity. For serious vinyl junkies, the box additionally includes a reproduction of the 1968 seven-inch single of "The Weight," the album's most famous song (b/w "I Shall Be Released"). The Clearmountain mix adds depth plus a bit of studio chatter to the songs, but you'd probably have to be a major fan—and the owner of good audio equipment—to want to upgrade from the original album just to hear it. The half-dozen bonus tracks are another potential carrot, though only the a cappella "I Shall Be Released" was previously unavailable. I can think of several other compelling reasons to buy this box, however. For starters, it's a must for anyone who doesn't own the original album or has a scratchy old vinyl copy. But even if you have a pristine LP or CD, you might well want this for the Blu-ray: you will need a high-quality five-channel sound system to appreciate that, but like most such mixes, it sounds dramatically better than stereo and showcases detail that gets buried in the original version. (As regular readers know, I'm a big fan of Blu-ray audio. As far as I'm concerned, we should forget the back-to-vinyl movement and go forward to Blu-ray surround.) Hearing Big Pink again made me want to revisit the group's later albums and also wish for something new, but that, of course, is impossible, since Manuel, Danko, and Helm respectively fell victim to suicide, heart failure, and cancer between 1986 and 2012. At least they and their bandmates left us a lot to remember them by, starting with this fine debut.
GRANT GREEN, 5 Original Albums (5xCD)
CHARLIE HADEN, 5 Original Albums (5xCD)

JACKIE MCLEAN, 5 Original Albums (5xCD)
HANK MOBLEY, 5 Original Albums (5xCD)
HORACE SILVER, 5 Original Albums (5xCD)
JIMMY SMITH, 5 Original Albums (5xCD)
COMING SOON:
ERIC BACHMANN, No Recover (9/7)
MIKE FARRIS, Silver & Stone (9/7)
JEFF THE BROTHERHOOD, Magick Songs (9/7)
PAUL MCCARTNEY, Egypt Station (9/7)
PAUL SIMON, In The Blue Light (9/7)
WAXAHATCHEE, Great Thunder (9/7)