This week, Malcolm Holcombe invites us back into his world of indelibly drawn down-and-out, hard-luck characters, Carrie Rodriguez revisits her roots, Mavis Staples raises the roof, Peter Erskine stays true to his school and Matmos does some laundry. Read on….
NEW GOODIES
CARRIE RODRIGUEZ, Lola (CD)
As a singer-songwriter and violinist, Carrie's repertoire includes country, folk and rock, but she's at her best when she explores her Mexican roots. This album is a mix of classic Mexican songs and her own compositions, which are often in the ranchera tradition. She's joined in this effort by Raul Malo's strong harmony work by Raul Malo and glorious twanging guitar Bill Frisell.
MALCOLM HOLCOMBE, Another Black Hole (CD)
Boasting a croak of a voice that makes Tom Waits sound like James Taylor, blues-folkie Malcolm Holcombe ain't cut out for tender love songs as this set of dark, gritty songs about those that are down and mostly out proves. With production, engineering, mixing and mastering from Ray Kennedy (Steve Earle, Billy Joe Shaver) and a backing band consisting of veterans like Tony Joe White and drummer Ken Coomer (Wilco, Uncle Tupelo), Holcombe spins 10 tales that mix country, bluegrass, blues and folk in a musky, dusky yet surprisingly melodic concoction.
MAVIS STAPLES, Living On A High Note (CD/LP)
Mavis Staples has created some of the most joyous music ever, and her latest solo effort, is just as exuberant and celebratory as they come. Featuring production by M. Ward and boasting songwriting credits from Nick Cave, Neko Case, Justin Vernon and others, the tempos percolate and pop, with flashes of horns and bold basslines supplied by members of her longtime backing band.
PETER ERSKINE, Interlochen Concert (CD)
Brilliantly versatile jazz drummer Peter Erskine returned to his alma mater, the Interlochen Arts Academy, in April of 2009 with bassist Darek Oles and pianist Alan Pasqua for a dynamic show that features an intriguing mix of straight jazz, sophisticated balladry and standards. The interplay between these three giants is stunning, and the original compositions by Erskine and Pasqua stand tall alongside works by Dizzy Gillespie, Jaki Byard and more.
MATMOS, Ultimate Care II (CD/LP)
What? It's just a new album by the experimental electronic music duo Matmos that's a 38-minute ode to their washing machine. Yep: Every sound on the single-track album is produced, in some way, by the machine­­, whether from a wash cycle or by the duo hitting, scraping, or manipulating it themselves. The result is an album full of hypnotic rhythms and bubbling textures, driving metallic tribal beats, tinkling marimba-­like tones, sweeping synth swells, and delightfully organic howls and squeals.
RA RA RIOT, Need Your Light (CD/LP)
Kind of a step outside the comfortable for this baroque pop group on their 4th album. None of the songs on the Syracuse indie-rock five-piece's last album, 2013's Beta Love, cracked four minutes; the ones on Need Your Light stretch longer and build a grandiose momentum that delves into electronic territory last time around, leaning heavily on synth riffs and hooky grooves.
RANGDA, The Heretic's Bargain (CD/LP)
A supergroup comprising fellow Drag City Records signees Ben Chasny, Sir Richard Bishop and Cris Corsano, Rangda specialize in long, instrumental guitar and percussions jams, creating a fascinatingly dark mix of prog, psychedelia and world-folk.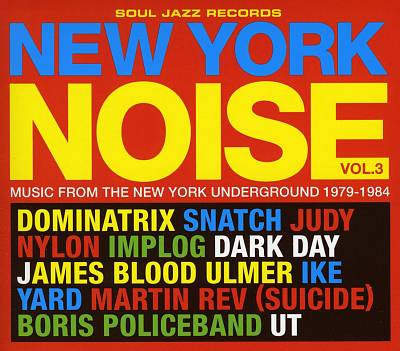 VARIOUS ARTISTS, Soul Jazz records presents New York Noise III (CD/2xLP)
The latest installment in Soul Jazz Records' journey into the underground music of New York City in the 1980s, this time focusing on the electronic dance/post-punk mutations and proto-electro music that originally came out on mainly small DIY labels. Featuring contributions from Implog, Suicide, Snatch, James Blood Ulmer, Dominatrix & more.
WOLFMOTHER, Victorious (CD/LP)
LAKE STREET DIVE, Side Pony (CD/LP)
YO GOTTI, Art Of Hustle (CD/LP)
Additional Tasty Re-issues & Re-Stocks.
LIGHTNIN' HOPKINS, Lightnin' Hopkins & The Blues: The Herald Sessions (CD)
16 tracks (including four unearthed specially for the CD) that the towering blues icon made for Herald Records in 1954, about the time his African American fans deserted his country blues for a more modern sound. Though usually thought of as an acoustic guitar picker, he plugs in here and lets that six string give an edge to his jagged rhythms.

JOHN LEE HOOKER, The Great John Lee Hooker (CD)
Ten tracks of endless boogie, circa 1948-54, right between John Lee's first hit single "Boogie Chillen'" and his signing with Vee Jay Records.
RED GARLAND,
Albums Collection Part 1: 1956-59 (4XCD)
Part Two: 1959-61 (4XCD)
Part Three: 1961-62 (4XCD)
Renowned for his unique playing style that drew influence from the likes of Ahmad Jamal and blended them with his own sense of swing and syncopation, Red Garland was one of the most influential musicians to rise to prominence during the hard bop era. These sets contain over five hours of fully-remastered music across four discs and demonstrate the depth of Garland's artistry.
WYNTON KELLY, Nine Complete Albums : 1951-61 (4XCD)
Jazz pianist and composer Wynton Charles Kelly, famed for his crisp, leaping rhythmic blues playing style, and expert sight reading abilities, was simply one of the finest accompanists in the business. As drummer Philly Joe Jones once said, Kelly puts down flowers behind a soloist. This 4 CD collection, presented in digitally remastered format, contains undoubtedly the finest recordings of a criminally underrated musician. This compilation, featuring almost five hours of music in total, is a fitting testament to one of the unsung heroes of jazz.
COMING SOON:
Anthrax, For All Kings (2/26)
Shooter Jennings, Countach (2/26)
Willie Nelson, Summertime (2/26)
Bonnie Raitt, Dig In Deep (2/26)
And don't forget these still-new platters that matter!
LUTHER DICKINSON, Blues & Ballads (CD/LP)
The frontman for North Mississippi All-Stars pays tribute to his larger-than-life father, Jim, who walked tall in the blues, rock and soul worlds from the 1960's til 2009. Mr. Jim worked with everyone from Aretha to the Stones to the Replacements as a producer and a musician, and he left quite a legacy behind. But rather than deal in morbidity, Luther celebrates his father's art and life with a low-key, laid-back, gritty Memphis-soul style session that would do his Pop proud. And he even brings Mavis Staples, Amy LaVere, JJ Grey, and Mr. Jason Isbell along for the ride.
BONNIE PRINCE BILLY, Pond Scum (CD/LP)
Leave it to indie folk stylist Bonnie Prince Billy, aka Will Oldham, to create something new out of old material. On this set, he collects some decade-old sessions for the great British DJ and musical omnivore John Peel, weaving densely poetic lyrics, a deeply emotional vocal style and his delicate-yet-forceful acoustic guitar into hypnotically intense songs.
LUCINDA WILLIAMS, Ghosts Of Highway 20 (CD/LP)
Miss Lucinda claws her way back into your heart with a collection of covers and originals, all as a reflection on the passing of her father, the poet Miller Williams. Using that same scarred, sensual drawl that she's snared us with since 1978, Lucinda slings ragged alt-country, A-list jazz players (Bill Frisell and Greg Leisz) and literary lyrics, Williams loses herself in another masterpiece.

SNARKY PUPPY, Family Dinner Vol. 2 (CD/DVD)
Snarky Puppy, the jumbo-size brainchild of bassist-composer Michael League, is one of the more versatile groups on the planet right now. On its own, the Grammy-winning orchestra plays a virtuosic, high-energy blend of jazz, funk, hip-hop and more. But the group is also an expert backing band, as demonstrated on its Family Dinner albums, guest-studded affairs that raise money for worthy causes. This new version features David Crosby, Charlie Hunter, Salief Keita and many more.
FRANK TURNER, Ten For Ten (CD)
The Bahrain-born frontman for the seminal punk outfit Million Dead a decidedly more acoustic folk approach to his post-breakup work, and this release collects ten never-before-released tracks to celebrate the 10th anniversary of his solo career.
MICHEL BENITA, River Silver (CD)
The Algiers-born double-bassist has created a more world-folkish venture than his collaborations with Andy Sheppard. Featuring Japanese koto, atmospheric electronics and Swiss flugelhornist Matthieu Michel, the melodies on River Silver range from near-rockish to seductive and delicate.

AVISHAI COHEN, Into The Silence (CD)
The jazz trumpeter 's ECM leader debut is a collection of expansive and impressionistic compositions for jazz quartet (Cohen on trumpet, Yonathan Avashai on piano, Eric Revis on bass, and Nasheet Waits on drums), augmented by tenor saxophone on a few pieces. Into The Silence is dedicated to the memory of Avishai's father David, reflecting upon the last days of his life with grace and restraint.
MICHAEL FORMANEK & ENSEMBLE KOLOSSUS, Distance (CD)
Bassist and composer Michael Formanek leads the 18-piece Ensemble Kolossus, his first-ever big-band outing.