Thanks so much to William Tyler for working his guitar magic at our humble abode this evening, and thanks to Greenville for being such a respectful and attentive audience. We've still got William's new album "Goes West," in-stock, and let's not wait six years to do it again, ok?

We could spout a lot of love for the Silver Jews/Lambchop ace, but perhaps it would be better to let one of Tyler's friends and peers, M.C. Taylor of the similiarly-exploratory HISS GOLDEN MESSENGER.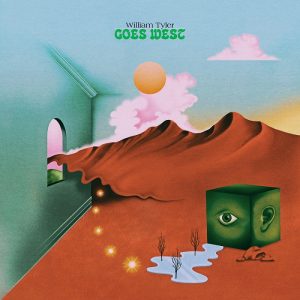 William Tyler's new record, Goes West, is the best music that he's ever made. I'm sure of this because I know and love all of his music intimately, and this album moves me the most, and the most consistently. The first time I heard it was in the late spring in the Texas Hill Country, rolling between limestone and scrub. I was on a cleanse then—no alcohol, no drugs, no evil thoughts—and was astonished at the emotional clarity that the album held. It offered up a model for what I wanted my head to feel like. Goes West marks a sort of narrowing of focus for William's music; it sounds as though he found a way to point himself directly towards the rich and bittersweet emotional center of his music without being distracted by side trips. Perhaps this is down to the fact that William only plays acoustic guitar on the album, a clear and conscious decision considering that he is one of Nashville's great electric guitarists. The band that performs Goes West alongside William—including guitarists Meg Duffy and Bill Frisell, bassist and producer Brad Cook, keyboardist James Wallace, drummer Griffin Goldsmith, and engineer Tucker Martine—is the best and most sympathetic group of players that William could have assembled to play these songs.
William and I bonded early in our relationship over Barry Hannah, a hellraising writer from Mississippi who practically reinvented the way that words could be assembled on a page. Like Hannah, William Tyler knows the South—as a crucible of American histories and cultures, an entity capable of expansive beauty and incomprehensible violence, often in the same beat—as his native place, the place that holds him and that he runs from. In the music of William Tyler, the South is not apart from America; the South is America condensed. And like Hannah—and this part is important—William moved to California, where Goes West was written. We don't know how long William will stay—Hannah lasted just a couple of years, writing in the employ of director Robert Altman—but the change of scenery seems to suit him.
'Nuff said.
To whet your appetite for his in-store show, check out this clip of William working his six-string magic right here at Horizon back in 2013:
Horizon Records has GOES WEST in-stock on CD and vinyl LP, along with these other great William Tyler releases: