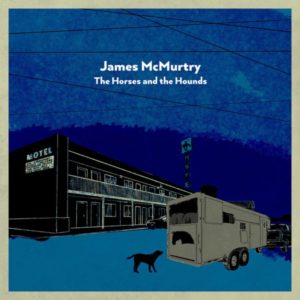 In a brilliant economy of words, JAMES MCMURTRY can bring alive entire characters and expansive landscapes in songs, revealing details down to the crevices in the dried soil, and the contours of a face in the mind's eye. He's compiled a body of work that rivals most any other songwriter, and most certainly made his world-renown novelist father—the recently-passed Larry McMurtry—monstrously proud.
On his new effort, THE HORSES AND THE HOUNDS, the acclaimed songwriter backs personal narratives with effortless elegance ("Canola Fields") and endless energy ("If It Don't Bleed"). This first collection in seven years spotlights a seasoned tunesmith in peak form as he turns toward reflection ("Vaquero") and revelation (closer "Blackberry Winter"). Familiar foundations guide the journey. "There's a definite Los Angeles vibe to this record," McMurtry says. "The ghost of Warren Zevon seems to be stomping around among the guitar tracks. Don't know how he got in there. He never signed on for work for hire."
The Horses and the Hounds boasts McMurtry's well-developed sound, which could only come from an experienced musician, accompanied by personal narratives that range from reflection to revelation.
Get it on 2xLP, indie-store-only slate grey vinyl or CD HERE.
The album is a reunion of sorts; McMurtry recorded The Horses & The Hounds with legendary producer Ross Hogarth (Ozzy Osbourne, John Fogerty, Van Halen, Keb' Mo') at Jackson Browne's Groovemaster's in Santa Monica, California. Hogarth recorded McMurtry's first two albums, Too Long in the Wasteland and Candyland and later mixed McMurtry's first self-produced album, Saint Mary of the Woods. Another veteran of those three releases, guitarist David Grissom (Joe Ely, John Mellencamp, Dixie Chicks), returns with some of his finest work.
McMurtry's most recent studio albums, 2008's Just Us Kids and 2015's Complicated Game, helped cement him as arguably the greatest narrative-style songwriter of his generation. Even in his 20s, McMurtry seemed to possess both the wisdom and dry, conversational drawl or a curmudgeon. And over the decades, his voice has grown craggier, making him sound even more of a natural as he delivers layered tales of average folks confronting the indignities and moral quandaries of American life.
McMurtry has always been a superb, instinctive storyteller, using his characters as conduits to get at more profound truth than a more diaristic lyricist might.  The Horses and the Hounds, features no shortage of great stories, but some of the details betray a self-aware preoccupation with aging that lend the album a more endearingly personal bent than his previous efforts.
McMurtry had already produced a pretty definitive treatise on the art of getting older in one of his most beloved songs, "Just Us Kids." But that ambitious, decades-spanning character study doesn't seem as directly culled from McMurtry's own experience as Horses and the Hounds standouts like "Canola Fields" or "If It Don't Bleed," which approach the subject with affirming acceptance and characteristically wry humor. "Now it's all I can do just to get out of bed/There's more in the mirror than there is up ahead," he opines on the latter.
On the electrifying "Ft. Walton Wake-Up Call," McMurtry winkingly inhabits the role of cranky old man with relish, ranting about cable news, faulty Wi-Fi, and, above all, how he can't stop losing his glasses. Of course, he also voices trepidation and regret across The Horses and the Hounds, as in the middle-aged marital grumbling depicted on "What's the Matter. But it's the sweet catharsis of rekindled romance on "Canola Fields" that makes the most lasting impression: "Cashing in on a 30-year crush/You can't be young and do that."
If McMurtry has become lyrically preoccupied with aging, the crisp, spry playing on his latest defies that notion. Some of the album's featured players, including percussionist Kenny Aronoff and Grissom, first worked with McMurtry all the way back on his debut, 1989's Too Long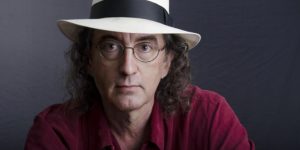 in the Wasteland, but they haven't lost a bit of verve, as evidenced on the confident "If It Don't Bleed" and the driving "What's the Matter."
The band's energy and tight musicianship deepens the subtext of McMurtry's songs. The chunky riffs and bright melody of "Operation Never Mind" at first seem at odds with the song's weighty subject matter—namely the degradation of post-Vietnam wartime journalism. But like Bruce Springsteen's "Born in the U.S.A.," those elements are the sugar that coats the pill: "We just go on about our business/Drop the kids off at the mall/Play the Black Ops on the laptop/And don't make too big a fuss about it all."
Conversely, "Jackie" is a somber waltz, complete with a mournful fiddle line, that seems like an odd fit for a seemingly sweet story about a tough lady rancher and her Friday night dance date. Only when that tale comes to a sudden and tragic end in its final verse does the arrangement's logic become clear. He may be getting old, but The Horses and the Hounds proves that McMurtry's nearly peerless ability to tear our hearts out with a good yarn hasn't waned a bit.
The Horses and the Hounds is in-stock now at Horizon and in our webstore, along with these other classic McMurtry releases!