Kinda slim pickins in the New Release dept. this week, probably due to the massive, lovely chaos of Record Store Day, so we thought we'd let you know about some RSD goodies we've still got in stock on vinyl LP!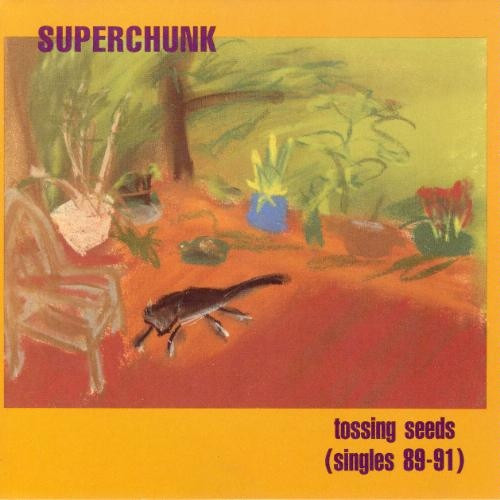 SUPERCHUNK, Tossing Seeds (Singles 1989-91)
A special Record Store Day reissue of the first full length album ever released by Merge Records. This edition's artwork contains images from the singles that make up the track listing of Tossing Seeds.
EMMYLOU HARRIS, Wrecking Ball
The long awaited audiophile-quality vinyl reissue of Emmylou Harris' 1995 Grammy winning masterpiece Wrecking Ball, produced by Daniel Lanois (U2, Bob Dylan, Neil Young, Willie Nelson) and featuring appearances by Brian Blade, Neil Young, Lucinda Williams, Kate and Anna McGarrigle, among others. Includes original album sequence as well as outtakes and alternate versions from the original recording sessions. This Record Store Day release features three 180 gram LPs remastered with bonus tracks, and 4 page lyric insert. Limited to 5,000 copies.
MUDDY WATERS, Hoochie Coochie Man– Live at the Rising Sun Celebrity Jazz Club
Recorded in January of 1977 at Montreal's legendary Rising Sun Celebrity Jazz Club, the record features some of Muddy's greatest bandmates, including Luther "Guitar Junior" Johnson and "Steady Rollin'" Bob Margolin on guitar, Jerry Portnoy on harmonica, Pinetop Perkins on piano, along with Calvin Jones on bass and Willie Smith on drums. The band are terrific throughout which is why it is no surprise that they, like many others, went on to have outside recognition after playing with Muddy's band. The standout track is an 11 minute version of the classic, "Kansas City," in which Muddy shares vocals with Perkins. This rare recording captures the raw and electric intensity of the small club with Muddy's commanding voice front and centeFirst time on vinyl. Rare recording. This special Record Store Day deluxe 2LP gatefold package includes coloured heavy weight vinyl, download card will include album track-listing and digital booklet.
J DILLA, The Diary
Dilla's classic, out of print for over a decade, remastered from Dilla's original mixes and issued on Pay Jay as a badge-shaped picture disc single for Record Store Day 2015. The Estate of James Yancey revived J.Dilla's Pay Jay Productions as a functioning imprint and announced its release of Dilla's long lost vocal album, The Diary. But before that full-length is issued, Pay Jay now announces the final single to be released from the project. It's a classic in every way. This single of Dilla's anthem was originally released as a standard 12". That vinyl is now rare and out of print. On the Pay Jay issue coming for Record Store Day, both the vocal and instrumental are sourced directly from mix-downs that Dilla himself created. This limited edition Record Store Day release is a badge-shaped picture disc single and features Jeff Jank's ironic take on Dilla's message. The vinyl comes in a custom-made pocket inserted into a Japanese-style, resealeable clear plastic sleeve well suited for the collectible this release is destined to be.
JD CROWE & NEW SOUTH, J. D. Crowe & The New South (40th Anniversary Edition)
Record Store Day celebrates the 40th anniversary of this revolutionary bluegrass album with this special pressing, featuring two bonus tracks, PLUS extensive liner notes, based on new interviews with J.D. Crowe, Jerry Douglas, Tony Rice, Ricky Skaggs and Bobby Slone. Includes original the "flipping the bird" album cover photo (unseen since '75.). The initial pressing is 1500 copies.
MILES DAVIS/ROBERT GLASPER, "Ghetto Walkin'"
Grammy award winning producer and musician Robert Glasper and singer-songwriter Bilal re-interpret the classic Miles Davis song "The Ghetto Walk" with the new track "Ghetto Walkin". This new song will be on the upcoming release "Everything's Beautiful."

LESTER YOUNG, Blue Lester
Lester Young ( the Prez )'s classic Lp Blue Lester features the tenor master at his peak and includes what would become his lifelong theme song – Blue Lester. Guests include Roy Haynes, Johnny Guarneri, Count Basie, Freddie Greene and many other jazz luminaries.
JOHN RENBOURN, The Attic Tapes
Lovingly mastered from old tapes found in a friend's attic, this is a vintage collection of previously unreleased rarities and early works by one of the guitar's truly great innovators. The Record Store Day edition features five vinyl-only tracks and sleeve notes written by John shortly before his death in March 2015.