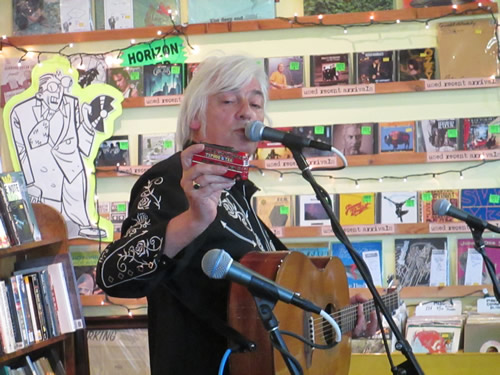 Join the event
hell yes; a Horizon Sunday afternoon in-store from our favorite surrealist sci-fi indie rock folk psyche icon. Mr. Hitchcock presents a brief free concert to share tunes from his latest opus The Man Upstairs. we absolutely love this latest of his dozens of astounding records. Do not miss this. Gene will be waving around the sacred mini orange plastic pylon randomly that afternoon. ok. More details and gushy musical opinion prose will appear here soon. For now take note. thank you earthlings from Carolina galaxy.
From americansongwriter.com
Robyn Hitchcock is one of those rare artists capable of creating anticipation merely through the mention of an impending project. Over the course of his 20 or so albums – not including his numerous compilations of rarities, outtakes and demos, or, for that matter, his seminal efforts with the Soft Boys – he's managed to dazzle and delight his swarm of fans who have long since become enamored with his particular brand of overt eccentricity.
However, this time around, Hitchcock indulges himself by satisfying some apparently long held desires. The first was to work with legendary folk producer Joe Boyd – the man behind the boards for such vintage performers as Nick Drake, Sandy Denny and Fairport Convention – and to record songs that provided a personal connection. A few are familiar; his scaled back takes on Psychedelic Furs' "The Ghost in You," Roxy Music's "To Turn You On" and The Doors' "The Crystal Ship" ensure instant appeal. Other covers – songs from compatriot Grant-Lee Phillips and recent collaborators I Was a King – don't ring with the same recognition factor, but fit the album's lo-fi format regardless. Likewise, a handful of Hitchcock' originals – "Comme Toujours" and "Trouble in Your Blood" in particular – conform to the same motif, a hushed, somewhat solitary strum that warrants only occasional accompaniment.
Truth be told, it's the warm embrace and tsupple glow of Hitchcock's unfettered approach that provides The Man Upstairs with its unifying theme. The snarling, sardonic tone that characterized "The Ghost In You" in its original incarnation, and the drug haze that pervaded "The Crystal Ship" when it was done by the Doors are replaced here by a beguiling set of circumstance that mitigate any lingering vestige of cynicism or psychedelia. And indeed, for all the assertive means that Hitchcock applies, the overall mood is one of quiet assurance and a soothing caress.
Ultimately, despite any indulgence, it's that softly lit shimmer that makes The Man Upstairs a remarkable if unassuming affair. That in itself makes it something of a standout, especially in light of Hitchcock's usual extravagance. Intriguing and introspective, The Man Upstairs warrants considerable praise.