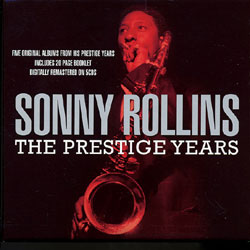 This set begins with his collaboration with Theolonius Monk and The Modern Jazz Quartet, and moving through his classic works as leader of some of the finest Jazz combos ever to record together.
Theodore Walter "Sonny" Rollins, born September 7, 1930, remains one of the most influential and important American Jazz musicians of all time and is widely recognized as the finest tenor sax player in Jazz's long history. Although now well into his 80s, Rollins continues to perform and release new recordings. Rollins was born in New York City, to parents who were themselves born in the U S Virgin Islands. Rollins received his first saxophone at age 13, initially attracted to the jump and R&B sounds of performers like Louis Jordan, but soon he became drawn into the mainstream tenor sax tradition. Rollins began to make a name for himself in 1949 as he recorded with Johnson and Bud Powell what would later be called "hard bop", with Davis in 1951, with the Modern Jazz Quartet and with Monk in 1953, but the breakthrough arrived in 1954 when he recorded his famous compositions "Oleo", "Airegin" and "Doxy" with a quintet led by Miles Davis.
Rollins was invited later in 1955 to join the Clifford Brown-Max Roach quintet. After Brown's death in 1956, Rollins continued to play with Roach and released his own albums on Prestige Records, Blue Note, Riverside, and the Los Angeles label Contemporary. His widely acclaimed album Saxophone Colossus was recorded on June 22, 1956, and included his best-known composition "St. Thomas". In 1956 he also recorded Tenor Madness, using Davis' group. The title track is the only recording of Rollins with John Coltrane, who was also in the group at this time. It was this musical titan's recordings made with Prestige 1953-1956 which established Sony Rollins as one amongst the finest Jazz players to grace the genre.