"Sea Of Noise lifts this Alabama eight-piece from its spot as the nation's best young party band into headier and more exciting territory, where insights matter more than mere imitation. If its 2014 debut album Half The City proved that the group had the chops to refresh bar-band revivalism, this new release stands firmly in the present." – Ann Powers, NPR
Click HERE or call 864.467.3000 for ticket info!
Grit,  elemental  rhythm,  tight as a drumhead  playing,  and  a  profound  depth  of  feeling: these are the promises of a great soul band. And St. Paul & The Broken Bones deliver on those promises with Sea Of Noise,  the compelling  second album by  the Birmingham,  Alabama-based  sextet,  who  have already created a maelstrom of interest with their roof-raising live shows. Credit producer Paul Butler, fresh off Michael Kiwanuka's stunning new disc, for molding these tracks with a restraint and balance. verything about the intriguingly titled Sea of Noise — from the classy but never predictable production, to sharp playing, clever lyrics, memorable melodies and especially the dialed down arrangements — is an enormous step forward.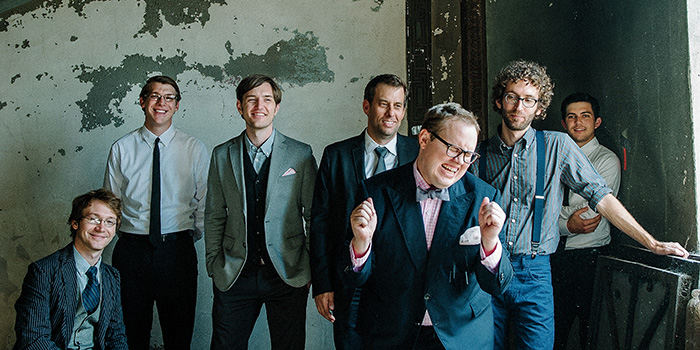 Front man Paul Janeway's handle "St. Paul" is a wry allusion to the vocalist's grounding in the church. Like many a legendary soul singer, Janeway, a native of the small town of Chelsea, Alabama, was raised on the gospel side, in a non-denominational, Pentecostal-leaning local church. Virtually no non-religious  music  could  be  heard  in  his  devout household.
Janeway says, "The only secular music that I heard at all was a '70s group called the  Stylistics,  and  Sam  Cooke. That was about it. The rest of it was all gospel music. When I was about 10 years old, I was groomed to be a minister. My goal in life until I was about 18 years old was to be a preacher." He adds, "My pastor was the reason that I learned to play guitar. They would let me play guitar and sing in church. What was weird was that he would never let me sing lead. I'd sing background vocals. I always  thought, 'Well,  maybe  I'm  just  a  good  background vocalist.' So I never thought I could really, really sing, at all. I never thought it would be a living, ever."
St. Paul & The Broken Bones' Sea Of Noise & Half The City are in-stock now at Horizon Records!