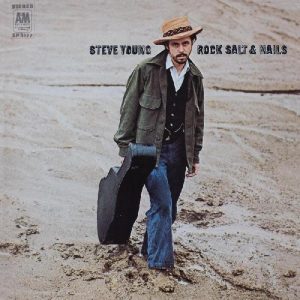 Folks can argue if STEVE YOUNG's debut ROCK, SALT AND NAILS is the first "outlaw country" album. We at Horizon would humbly submit "Seven Bridges Road," "Honky Tonk Man" and "No Place To Fall" to Young's list of classic releases. But there is no argument that "Rock, Salt and Nails" is one of his best. Somehow, though, it had never been reissued on vinyl in the U.S.. Now, thanks to Real Gone Music, that's changed. "Rock, Salt & Nails" is coming out once again THIS FRIDAY, DECEMBER  9th, this time on natural, "rock salt" vinyl.
Preorder your copy HERE.
Featuring a star-studded line-up of like-minded players like Gram Parsons, Gene Clark, James Burton, Chris Ethridge, and Bernie Leadon, this 1969 record starts out with Young's impassioned interpretation of the O.V. Wright/Otis Redding classic "That's How Strong My Love Is," which offers an emphatic bookend to Parsons' own country-soul masterpiece "Dark End of the Street," recorded the same year with the Flying Burrito Brothers.
The rest of the record (produced by Tommy LiPuma) is a beautifully-paced blend of covers and originals, highlighted by Young's immortal "Seven Bridges Road," memorably covered by The Eagles among many others.  A flat-out masterpiece.
Side One
1. That's How Strong My Love Is
2. Rock, Salt and Nails
3. I'm a One Woman Man
4. Coyote
5. Gonna Find Me a Bluebird
6. Love in My Time
Side Two
1. Seven Bridges Road
2. Kenny's Song
3. Holler in the Swamp
4. Hoboin'
5. My Sweet Love Ain't Around