The best albums create their own world. Through music and lyrics and production, they immerse the listener in whatever universe they've conjured through the speakers. Donuts, the 2006 masterpiece by rapper and producer J Dilla is one of those great records. After rising from the rap underground in the mid 90's as part of the group Slum Village and working with A Tribe Called Quest, De La Soul, Busta Rhymes, Erykah Badu and The Roots, Dilla launched his own solo career in 2001 with Welcome 2 Detroit, an innovative, stunningly assured debut that threw jazzman Donald Byrd, Afro-beat, Brazilian dance music and electronic psychedelia into the hip-hop blender and created a darkly propulsive meta-rap opus.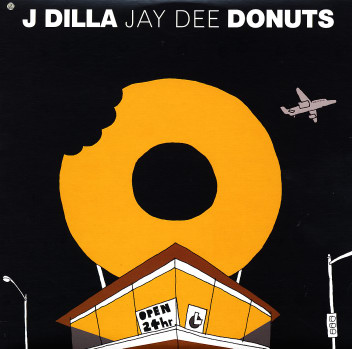 Then in 2006, he did it better. Donuts is a kaleidoscope of sounds that leaves no influence unturned, blending light, remarkable beats, dense, abrasive samples, clanging guitars and all manner of spliced moans and groans borrowed from Zulu chants and '60s soulsters, sliced and diced with manic precision.
And over top of it all is J Dilla's inimitable flow, skipping from old-school crooning one moment to skittering, dizzy blasts of rhyme in another. He can change personas from a crazed man declaiming the end of the world to the smoothest cat on the block, no sweat. And by the way, he did all this from a hospital bed, where he was dying from a rare blood disease.
And then he was gone. J Dilla passed away a mere three days after Donuts was released, leaving a stone-cold classic and a lot of unrealized potential behind him.
To commemorate the 10th anniversary of Donuts' release, Stones Throw Records has reissued the album on double-vinyl with its original illustrated gatefold cover (not seen since the original release), a UV-coated sleeve, and liner notes by  Jordan Ferguson, who wrote a book about the making of Donuts as part of the "33 1/3" series.