Sunflowers & Sin, the duo of singer/guitarist Lorra Amos and singer Kaitlin Casteel, will bring their dazzling vocal harmonies and stunning acoustic guitar fireworks to The Bohemian Cafe on Saturday, Nov. 16th at 2 p.m. The show is free, the music is great, and the food-and-drink will be plentiful!
Sunflowers & Sin, aka singer/guitarist Lorra Amos and singer Kaitlin Casteel, describe themselves as "distilled in Tennessee, distributed in Charleston." It's about as apt a description of the pair's music as one could imagine.
Amos and Casteel have plenty Greeneville, Tenn. bluegrass, country, and Appalachian folk in their high-lonesome vocal harmonies and Amos' quicksilver acoustic guitar skills. When it's just the two of them onstage, that's the main thrust of their rustic, rootsy sound.
But Charleston is where the duo was able to work in some of their other influences, specifically the mainstream rock of classic bands like Tom Petty and the Heartbreakers and Fleetwood Mac. On their soon-to-be released album, Of Water & Whiskey, the nucleus of Amos and Casteel's tightly intertwined vocal harmonies and single acoustic guitar are bolstered by full-band arrangements, courtesy of guitarist/keyboard player Will Evans of the Dead 27s, who both produced and played on the album, along with members of Sol Driven Train, the Hungry Monks, Dangermuffin, and other popular local and regional acts. Essentially, the music on Of Water & Whiskey wouldn't exist if it weren't for Charleston's music scene.
In fact, the band itself might not even exist. Amos and Casteel have known each other since they were in high school; they were in chorus together and began making music together as teenagers. But it was only after they graduated from college and decided to move to Charleston five or six years ago that Sunflowers & Sin became a serious project. Exactly why they decided to move here in the first place is an interesting tale. Amos was offered a job here and Casteel followed shortly thereafter, but there's another reason.
"We both happened to be obsessed with Shovels & Rope before we moved here," Amos says. "That big sound that they make as a two-piece; how rock 'n' roll and raw it is with some roots and singer/songwriter elements to their music. They were such a huge influence."
"They're one of the reasons why we started playing music," Casteel adds. "And the only thing that we knew about Charleston was that Shovels & Rope were from here."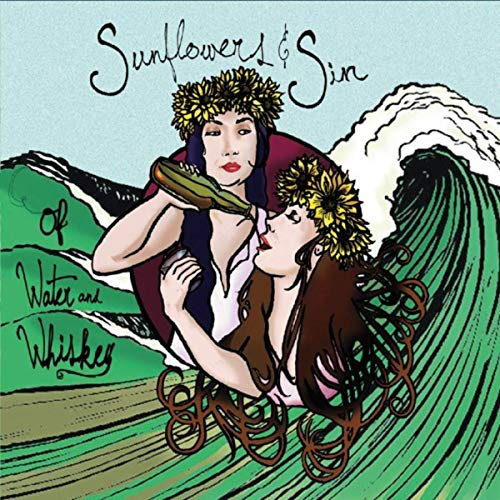 About a year after they arrived, the two finally dove headfirst into live performances around town and found a far more supportive, and healthy, scene than they'd expected.
"We were hoping there was a music scene here, but we were from East Tennessee," Amos says. "So we were aware of the Knoxville scene and the Asheville scene, but we didn't know what to expect. But we were blown away by how big of a scene it was, how much collaboration there was. We found a lot of people that we were drawn to, just to sit around and play with. We have been so blessed to have gotten to know so many people in the city."
Evans was an early booster of the duo, and he invited the two of them to record with him back in 2017. Which was something of a daunting prospect since they'd never done so before.
"We were used to playing live," Amos says, "We'd been doing that for three years but had zero recording experience. Plus we were kind of slow to the songwriting process, just trying things out and slowly writing songs and getting them to the point that we were happy with them. So we were nervous about going into a studio and being under the pressure of time. And we weren't certain about the sound we wanted. We're an acoustic duo, but these songs on the album have full-band arrangements because that's what we heard when we wrote them."
Luckily, in this case, Evans was a bit of a beginner as well.
"Will told us he was setting up a home studio and he said he'd love to get us in there and we could all learn together," Amos says. "So that's what we did, and he did an amazing job. He produced it and did all of the mixing for us."
And there are few things more soothing for a group that hasn't recorded before than a home studio.
"By getting to record with Will, we were able to take our time," Amos says. "We'd be there all day for one song, and that wouldn't have happened if we were in a typical studio."
Over the two years that it took to record Of Water & Whiskey, Sunflowers & Sin was able to bring in a guest for every track on the album, even the more stripped-down songs that reflect their acoustic-guitar-and-two-voices roots. And when Amos looks over the list of collaborators on the album, Sol Driven Train's Wes Powers on drums, the Hungry Monks' John Kennedy on bass, the Travelin' Kine's Mark Davis on harmonica, and so forth, it still seems surreal to hear.
"It still blows my mind when I read it out loud," she says. "We were lucky enough to get to know these people and they were all super supportive, and when we were talking about going in the studio, so many of them asked if we wanted them to play."
"We had all of these bands that we looked up to and loved to go see, and now we get to play beside them," Casteel adds. "It's wild. There was just about literally a person from every single band we admired playing on this album. It's unbelievable that they're our friends now. We're really lucky girls."